Expedition Overview (Part 2)
From July 27 to August 23, 2023, a team of researchers will return to the Asan and Agat units of War in the Pacific National Historical Park on the western coast of Guam for the second part of this two-part project.
During this visit, divers will investigate each of the targets identified in the deep water outside the barrier reef during the earlier fieldwork and document cultural resources on the seafloor (e.g., shipwrecks, aircraft, amphibious vehicles, and artillery) that may be related to the 1944 invasion of Guam. Select significant resources will be documented with photogrammetry. In addition, team members will walk and snorkel the shallow waters inside the barrier reef to search for and document potential cultural resources. The team will also continue their studies of how World War II-related activities have altered Guam's coral reef ecosystem and coastal processes, especially in light of May 2023's Typhoon Mawar.
Project Summary (Part 1)
From January 27-February 25, 2023, a team of researchers exploring Guam's World War II (WWII) underwater battlefield located and documented blasting sites and identified almost 250 targets that warrant further investigation.
This fieldwork was done during the first part of a two-part project. The objectives of the project are to inventory submerged material (including shipwrecks, aircraft, amphibious vehicles, artillery, and other artifacts) related to the 1944 invasion of Guam and to study how WWII-related activities have altered the coral reef ecosystem and coastal processes on Guam today.
The most exciting result of this winter's fieldwork was the unexpected discovery of a clear line of blast craters inside the barrier reef off Asan. The locations of these craters correspond with the positions of Japanese obstacles destroyed by U.S. underwater demolition teams (UDTs) shown on a historic map. Other evidence of blasting by UDTs included a 200-foot area of the barrier reef off Agat that enabled tank landing ships (LSTs) to beach to offload cargo. To document the sites, the researchers used photography, photogrammetry, a multibeam sonar system on an uncrewed surface vessel (USV), and high-precision Global Navigation Satellite System (GNSS) equipment.
This blast damage to Guam's offshore environment, 80 years later, is a reminder of the military activities that took place there and provides evidence that such activities can have lasting environmental impacts. To search for indications of potential blast-related coastal impacts (e.g., erosional hot spots) and to establish a baseline for future comparison, the team also used the GNSS equipment and a scanning total station to conduct coastal elevation surveys.
In addition, using vessel-based side-scan sonar and a magnetometer, the team found almost 250 targets. While some of these targets may be unrelated man-made objects or natural features, the amount of data collected and the supporting archival research suggest the likelihood of discovery of cultural resources is high. Data were also collected in shallower waters with the USV and its multibeam sonar system. These data are still being analyzed for additional targets. This summer, divers will closely investigate and document each individual target.
Today, the landing beaches of Asan and Agat are part of War in the Pacific National Historical Park. Documenting the remains of the battle and understanding the impacts of erosion and sea level rise that the park is now experiencing — and can anticipate in the future — will help park managers preserve and manage its resources (both submerged and on land).
Ultimately, this project will expand our knowledge of one of the most significant invasions of the Pacific Theater — and a turning point in WWII — both from historical and ecological perspectives.
Check out the gallery and story map to see more images and learn more about the first part of this exciting project.
Published March 30, 2023.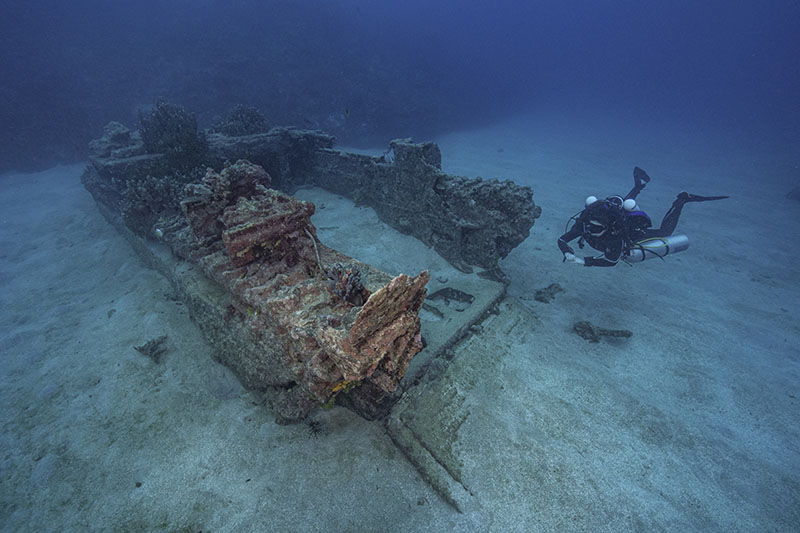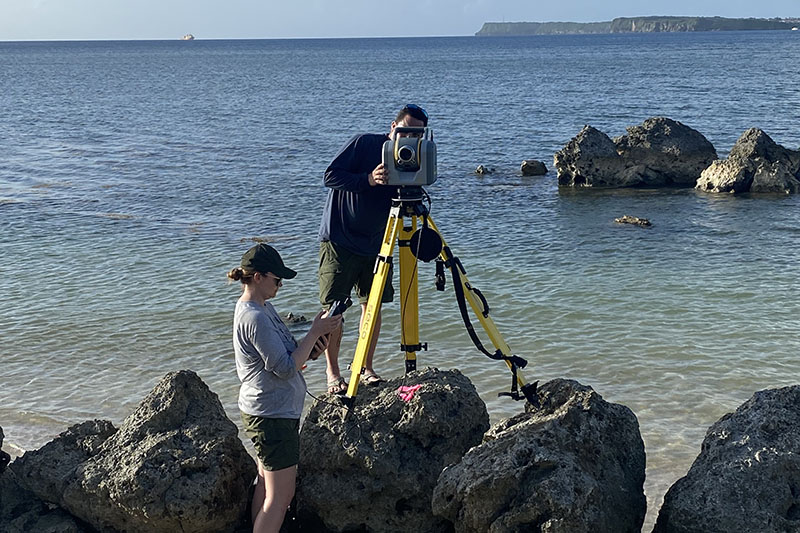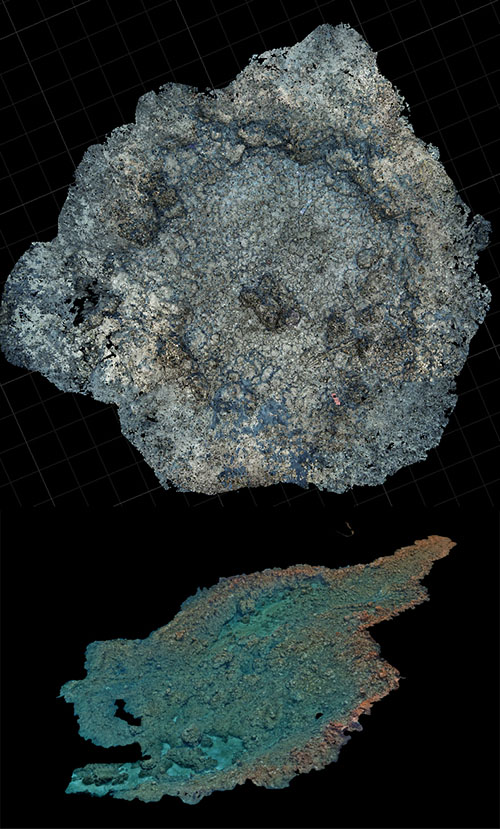 Funding for this expedition was provided by NOAA Ocean Exploration via its Ocean Exploration Fiscal Year 2022 Funding Opportunity.