Educational Materials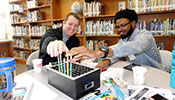 The NOAA Office of Ocean Exploration and Research provides a variety of learning and teaching tools designed to engage broad audiences and enhance America's environmental literacy through the excitement of ocean discovery. In this Educational Materials section, you will find links to hundreds of lesson plans written by teachers for teachers, lessons built around specific ocean exploration expeditions across the globe, multimedia packages on specific ocean science topics, the
Learning Ocean Science through Ocean Exploration
curriculum, and a collection of background information and lessons associated with the Gulf of Mexico and the Deepwater Horizon oil spill. You will also find the
Okeanos Explorer
Education Materials Collection, comprised of Volume 1:
Why Do We Explore?
targeting seven modern reasons for ocean exploration including climate change, energy, human health and ocean health, and Volume 2:
How Do We Explore?
targeting the technology and engineering behind ocean exploration aboard the
Okeanos Explorer
.
Shortcuts:

NOAA Ship Okeanos Explorer Collection
Ocean Explorer Theme Pages
Lesson Plans
Expedition Education Modules
Multimedia Discovery Missions
Learning Ocean Science through Ocean Exploration Curriculum
Gulf of Mexico Ecosystems Collection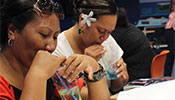 The Okeanos Explorer Education Materials Collection was developed to encourage educators and students to become personally involved with the voyages and discoveries of NOAA Ship Okeanos Explorer. The collection is presented in two volumes: Volume 1: Why Do We Explore? and Volume 2: How Do We Explore?. Several of the lessons from the Okeanos Explorer Education Materials Collection are also now available in Spanish.
NOAA Ocean Explorer theme pages provide collections of some of the best of our website content on specific topics. Each theme page includes essays, lessons, videos, and images. Look for theme pages on seamounts, deep-sea corals, marine archaeology, vents and volcanoes, and more.
Hands-on and standards-based lesson plans have been developed that bring entire classrooms "on board" for ocean exploration and discovery. Using new technology to see, sense, measure, image, and describe a little-known ocean world, scientists and educators are bringing the excitement of late-breaking ocean discoveries into classrooms through the more than 450 lesson plans presented here.
Additionally, several of the lessons from the Okeanos Explorer Education Materials Collection are now available in Spanish.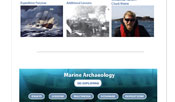 Expedition Education Modules are designed to reach out in new ways to teachers, students, and the general public and share the excitement of daily at-sea discoveries and the science behind NOAA's major ocean exploration initiatives with the people around the world. Each module provides access to an expedition purpose/overview, lessons, Multimedia Discovery Missions, OceanAGE Career Connections, and other resources.

The Multimedia Discovery Missions are a series of 14 interactive multimedia presentations and learning activities that address topics ranging from Chemosynthesis and Hydrothermal Vent Life to Deep-sea Benthos, Plate Tectonics, Tides, and more.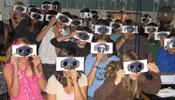 Learning Ocean Science through Ocean Exploration is an updated curriculum for teachers of Grades 6-12 that takes lesson plans that were developed for NOAA ocean explorations and the Ocean Explorer website and presents them in a comprehensive scope and sequence through subject area categories that cut across individual expeditions. Each lesson focuses on an inquiry-based approach to teaching and learning and is correlated to the National Science Education Standards.


Between 2001 and 2009, the NOAA Office of Exploration and Research (OER) sponsored 11 expeditions to explore deep-sea organisms and ecosystems in the Gulf of Mexico. Some of these sites are within a few miles of the Deepwater Horizon well. Each of these expeditions was documented with an extensive web presence that included lesson plans for educators at grade levels 5 through 12. OER's Gulf of Mexico Deep-Sea Ecosystem Education Materials Collection includes a selection of these lesson plans together with new lessons and additional background information about the Deepwater Horizon blowout event.
Resources
This Resources section provides you with access to video interviews, profiles, and mission logs from several individuals who have built their careers in different disciplines of ocean science; an ocean challenge puzzle; an interactive animated ocean exploration learning tool for younger grades; and other resources to enhance classroom instruction in ocean science and exploration.
Shortcuts:

OceanAGE Careers | RSS Feeds
Ocean Challenge Puzzle
Creatures and Features Game - Flash version
Creatures and Features Game - non-Flash version
CoRIS Glossary
The Smithsonian Ocean Portal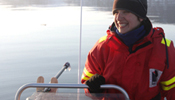 Interact with some of the talented explorers who study the ocean world. From underwater pilots to research scientists, these marine mentors will provide students with first-hand knowledge of exciting careers through their video interviews, profiles, and mission logs.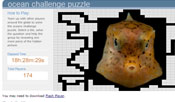 Team up with other players in your classroom or around the globe to solve the ocean challenge puzzle. Answer ocean trivia questions to help the group by revealing one more piece of the hidden picture.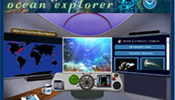 With My Submarine Ocean Explorer, you will explore exciting creatures and features found in the ocean through videos, text, and photos collected on NOAA Office of Ocean Exploration and Research expeditions. View maps and charts showing the locations of the creatures and features and hear the scientists talk about their exciting work! We also have a non-Flash, html version of My Submarine Ocean Explorer.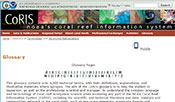 This glossary contains nearly 3,000 technical terms, with their definitions, explanations, and illustrative materials where appropriate. The aim of the Coral Reef Information System (CoRIS) glossary is to help the student or layperson, as well as the professional scientist and manager, to understand the complex language and terminology of coral reef ecosystem science.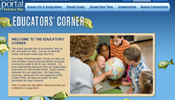 The Smithsonian Ocean Portal, created in collaboration with organizations including NOAA, contains dynamic, multimedia content designed to engage young adults, ocean enthusiasts, and middle school teachers and their students in ocean science, education, and conservation.