Expedition Plan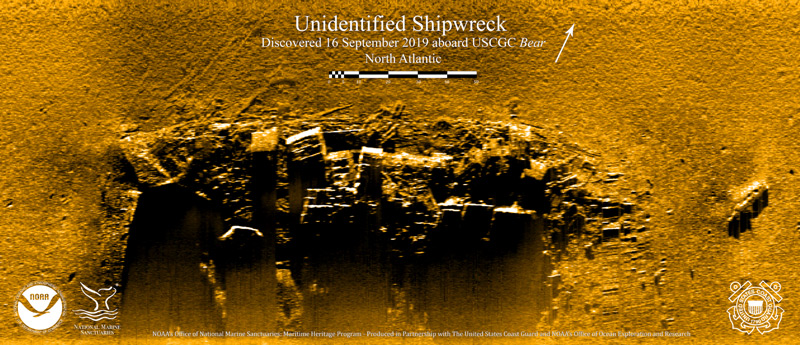 For nearly two decades, NOAA Ocean Exploration, the NOAA Office of National Marine Sanctuaries' Maritime Heritage Program, the U.S. Coast Guard, and a number of academic research partners have been engaged in a search for the final resting place of U.S. Revenue Cutter (USRC) Bear.
Originally built in Scotland as a sealer in 1874, Bear served for nearly 80 years in the U.S. Revenue Cutter Service, the U.S. Navy, as a ship of exploration in the Antarctic, as a merchant ship, and even as a movie set, featured in the 1930 film, The Sea Wolf. It is considered one of the most historically significant ships in U.S. history for its long and meritorious service.
Particularly relevant today, during its time in the Revenue Cutter Service in the Arctic, one of its many essential tasks as the sole representative of the U.S. government in this remote region was to provide aid and comfort to the people in the villages along the Alaskan coast during the 1912 Spanish flu pandemic. After it was decommissioned and sold to a new owner in Nova Scotia, it languished on the beach for more than a decade, until it was bought and refitted to be towed to Philadelphia to, once again, become a museum ship and floating restaurant on the waterfront there. While being towed to Philadelphia in 1963, Bear was lost in a storm near the U.S.-Canadian international boundary, approximately 260° due east of Boston and 90 miles south of Cape Sable, Nova Scotia.
In September of 2019, "Phase I" of our search for Bear was conducted aboard U.S. Coast Guard Cutter (USCGC) Bear (the namesake of USRC Bear). During this two-week mission, using advanced side scan sonar technology to map the seabed, the survey team collected data from more than 62 square nautical miles of the area where extensive background archival research and previous surveys suggested the wreck might be located, near the last known position reported when the ship was lost.
While most of the area surveyed was largely flat sand and sand waves with a number of interesting rock formations of various shapes and sizes (some located in places previous surveys identified as potential "targets" where the wreck might be), we did locate two sites where wreckage was present. Of these, one was about the right length and beam of Bear, located relatively close to the last known location and containing features that suggested this deserved a closer look. Dubbed the "Unidentified Wreck," this is the primary target of our current mission, with a goal of determining whether this is, indeed, the last resting place of the iconic Bear.
On this "Phase II" mission, we are headed back to sea once again to relocate these sites identified in Phase I, this time on USCGC Sycamore, a seagoing buoy tender out of Newport, Rhode Island. The highly capable Sycamore and its well-trained crew will be supporting the operations of a remotely operated vehicle (ROV) provided by our newest partner, Marine Imaging Technologies out of Woods Hole, Massachusetts. They will be aboard to deploy ROV Pixel, which has very high-resolution underwater cameras and other advanced imaging technology to document the "unidentified wreck" and the other wreckage located during the Phase I mission.
From the imagery collected by Pixel, we will compare what is observed there with historic images of Bear collected by the mission team through our archival research, as well as construction blueprints of the ship provided by the library at Mystic Seaport and USCG Archives. In these data, we will look for "diagnostic features" that might tell is whether we have, indeed, found the last resting place of USRC Bear.