Mission Plan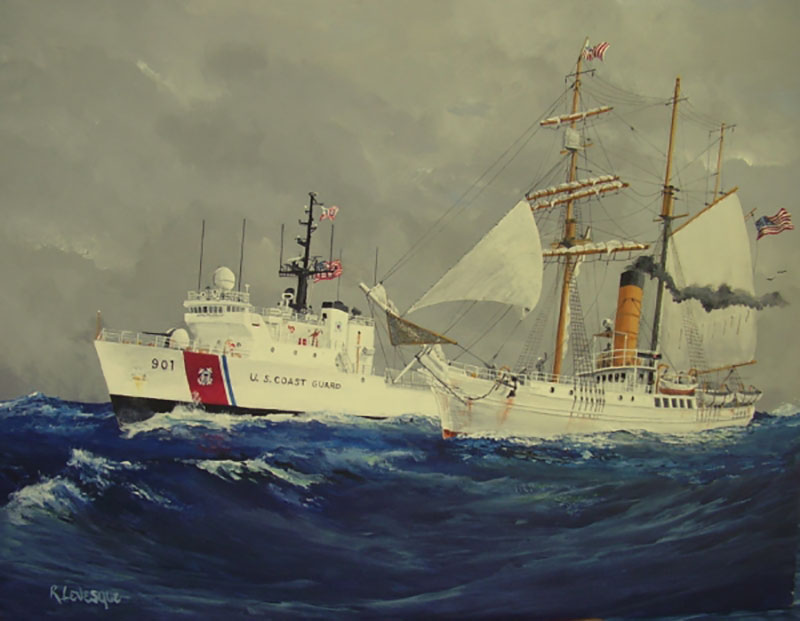 Project Background
U.S. Revenue Cutter Bear is one of the most storied ships in Coast Guard history. Largely associated with polar exploration, and particularly its Arctic service, the ship's history is a series of compelling stories of bravery, dedication to duty, and legendary exploits.
Built in Scotland originally as a sealer in 1874, for the first 10 years of service, Bear operated as part of the commercial sealing fleet off Newfoundland. Purchased by the U.S. Government, it was put into service by the U.S. Navy as part of the rescue fleet for the Greely Expedition to the Arctic in 1884, and first came to world-wide acclaim as the vessel that rescued the few survivors of that disastrous expedition. In 1885, the Bear was transferred from the Treasury Department for service in the Arctic as a Revenue Cutter, and for an unprecedented 41 years patrolled the Arctic, saving lives and dispensing justice in this remote and often challenging region.
Between 1886-1895, the captain of Bear was the legendary "Hell Roaring Mike" Healy. The Coast Guard Cutter Healy, commissioned in 1999 and routinely operating in Alaska, was named in his honor. Particularly notable was the so-called "Overland Rescue of 1897." Discovering that eight whaling ships were trapped in the ice off Barrow, Bear dispatched a small team from Nelson Island near the Bering Strait to drive a herd of 450 reindeer 1,600 miles in driving snow and perilous conditions to Barrow to provide food to the 275 men from the whaling ships stranded onshore.
The U.S. Coast Guard's highest honor for bravery is named for the leader of that expedition, Lt. David Jarvis. She stayed in meritorious service in the Arctic until 1917, when she was transferred back to the Navy during World War I and, after the war, remained on patrol in Arctic waters. Bear was decommissioned by the U.S. Government in 1929 and given to the City of Oakland, California, where it was repurposed as a maritime museum and used as the movie set for the film of Jack London's "Sea Wolf." Shortly thereafter, Admiral Richard Byrd purchased the still stout ship for his Second Antarctic Expedition. Bear was refit and performed admirably for both this successful expedition, in 1933-1935, and later for the U.S. Antarctic Expedition of 1939-1941.
During World War II, Bear again went into service for the U.S. Navy in the Greenland Patrol and notably participated in the capture of a German spy vessel, the trawler Buskoe. Bear ended service as a commissioned vessel in 1944 and was sold in 1948 to a Canadian steamship company to be re-converted to its original purpose as a sealer, but poor market conditions caused the company to abandon the vessel on a beach in Nova Scotia. An entrepreneur from Pennsylvania purchased the ship in the early 1960s to become a museum and restaurant near Philadelphia, Pennsylvania, but the ship was lost while being towed in 1963. The approximate location, according to the position recorded at the time of the sinking, is 260 miles off Boston and 90 miles South of Cape Sable, Nova Scotia.
Goals and Objectives
The goal of the 2019 project is to execute an acoustic survey in the areas assessed to probable locations for the remains of Bear. These locations were developed based on historically reported positions of the sinking event, coupled with estimates of prevailing weather conditions.
This is a reconnaissance-level geophysical survey. The primary objective is to locate and catalog acoustic anomalies on the seabed that may represent human-made objects. Such anomalies will be evaluated and prioritized for their potential candidacy for the remains of Bear.
Given the level of information attainable from remote sensing data products, it is not likely that a positive identification can be made conclusively from this survey. Consequently, promising targets will require follow-up characterization with higher-resolution sensors and video/photographic survey.
In addition to the exploration goals, this project highlights cooperation between the U.S. Coast Guard and NOAA Office of Ocean Exploration and Research. It is hoped this project will showcase the importance of collaboration and supporting missions across agencies.
Project Dates and Logistics
Field operations will take place over the course of two weeks, between September 14 and September 28, 2019. Operations will be conducted from U.S. Coast Guard Cutter Bear, operated by the U.S. Coast Guard. Onshore activities will be staged from Boston, Massachusetts.
Science Party – Personnel and Roles
Brad Barr- NOAA Co-Principal Investigator (Mission Coordination)
Joseph Hoyt - NOAA Co-Principal Investigator (Operations Coordination)
John Bright – CSA (Survey Lead Technician)
Beth Crumley – U.S. Coast Guard (PAO)
Methodology

Several tasks will be completed to achieve the research goals, including:
Acoustic Survey: A Klein 3000 and a Klein 3900 sonar system operating between 100 and 900khz will be used. Survey lines are be planned in order to cover as much area as possible, consequently the lower-frequency system will be utilized for wide area survey. As needed, high-frequency survey of priority targets will be conducted to:

Confirm the location of the target.
Determine the geographic extent of the site and any associated debris fields.
Gather sonar imagery to assist in identifying the type or identity of the site through imaging notable or diagnostic features.
The sonar will be towed behind the vessel via an armored coaxial towcable spooled onto a 10 horsepower self-contained hydraulic winch powered by 460 volts. A fixed A-frame like tow point will be established astern of the winch, equipped with an Interocean metered sheave that will provide measurement for cable-out.
Schedule and Operational Work Flow
13 September: Science party arrives in Boston
14 September: Staging and systems integration and testing. Items to be completed:
Unload winch in coordination with port facility (fork-lift required)
Load winch aboard Bear
Install winch on prepared footers
Affix GPS to A-frame
Affix metered sheave to A-frame
Cable runs:

Run deck cable from winch slip-ring into dry-lab space
Run GPS cable into lab
Run VGA cable to bridge

Setup dry lab space:

Setup TPU
Setup computers and monitors

Conduct systems test:

Configure Klein System and Hypack
Run system, ensure integration and communication
Perform rub-test
Setup file directories

Conduct launch and recovery briefings with science party and ships crew
Complete a dip test
Assign science party watch rotations


September 15: Underway to primary search area
September 16 – 25: Conduct survey operations
September 25: Transit back to Boston
September 26: Breakdown and departure
Launch and Recovery
Once the systems are integrated, operational survey operations can commence. The highest-risk activity in this operation is the launch and recovery procedure. Thorough briefings will be held with the deck crew to walk through this process and learn peculiarities unique to this system. The towfish will need to be manually deployed astern with at least two people physically holding the fish. Once clear of the fantail, the weight of the fish can be managed with the winch.
Upon recovery it will be imperative to fend the fish off from the fantail of the vessel. This will be accomplished by means of boathooks and poles to stabilize and shield the fish from impacting the vessel. Once deployed, the fish will not be recovered again until the survey box is completed, the vessel needs to alter course, severe weather arises, or a fault in the system occurs.
Watch Rotations
The science party will operate on 12-hour rotations. Responsibilities will include:
Logging data (ensuring line files are recorded and sent to appropriate file directory)
Target logging
Keeping a manual event log and line file log
Communicating with the bridge on speed and turns to ensure proper towfish altitude
Tether/winch management as needed
The 12-hour cycle will be timed to coincide with ship meal times. A sample watch rotation is as follows (subject to change):
Day Team: 08:00 - 20:00
Survey Lead- Bright
Data monitoring support – Crumley
Team Night: 20:00 – 08:00
Survey Lead - Hoyt
Data monitoring and tether management - Barr
Data Acquisition and Work Flow
Three software programs will be employed to acquire data, manage navigation, and process sonar survey into final products.
Sonar data will be acquired simultaneously in SonarPro; Klein's proprietary software; and Hypack, a general marine navigation and data processing suite. Sonar files will be collected in .xtf and .sdf file formats.
Navigation will be primarily managed via Hypack. In order to reduce offsets and ease vessel systems integration, a GPS configured for Klein and Hypack will be affixed to the A-frame, directly above the metered sheave. This will help calculate layback, which will determine the position of the towfish relative to the survey vessel. A data feed containing the Hypack interface will be sent to the bridge to supply the helmsman with navigation on the planned survey lines.
Once data is acquired, it will be post-processed and mosaicked into final products. Chesapeake Technologies SonarWiz software will be used for this function. Individual targets will be processed to produce the best visual images possible. Individual targets will be cataloged as high-resolution Geo-TIFF files. Likewise, complete coverage maps will be generated and output in a variety of readable geodetic file formats.
Deliverables
Complete geophysical data set. All raw and processed acoustic data will be archived and delivered to National Center for Environmental Information; Office of National Marine Sanctuaries, Maritime Heritage Program; and U.S. Coast Guard in a geo-rectified format.
Final report detailing survey data and results. Specific emphasis on recommendations on targets for follow-up inquiry.
Scope and Limitations
This project is not designed to represent a comprehensive investigation, and therefore should only be viewed as a preliminary reconnaissance survey upon which future investigations can be founded. Furthermore, this investigation will not replace the need for site-specific archaeological identification surveys to take place in order to make positive identification of targets.
As with any project, certain limitations are present that are taken into account in preparing the expedition. Fiscal and operational constraints ultimately limit the amount of time and the availability of resources.