Dive 08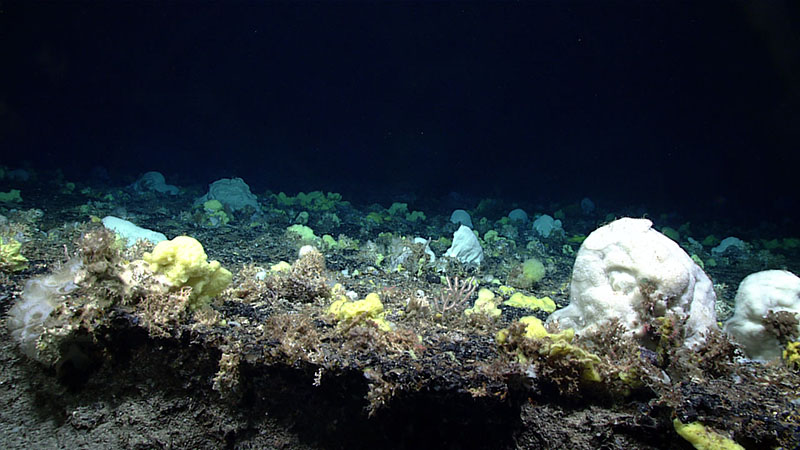 Dive 08 was the shallowest dive of the 2021 North Atlantic Stepping Stones expedition thus far, as we explored MacGregor Seamount, starting at a depth of approximately 1,270 meters (4,167 feet). The primary objective of this dive was to explore and characterize ecological conditions and geological features of this unexplored seamount within the Corner Rise Seamount Chain.
The dive started on coarse sediment near the base of a very steep, near-vertical wall. The wall itself was continuous and not rugged, with many holes in the rock indicative of an ancient reef platform. We then moved to the flat upper surface of a carbonate platform, which had a thin layer of sediment over sporadically exposed rocks, indicating sustained strong currents were preventing the volume of sediment accumulation that might be expected for a feature of this age.
Biological communities were diverse in different areas of the dive. The diversity of deep-sea corals was greatest along the carbonate wall. Though sponges were represented on the sediment and along the vertical face of the wall in mostly small numbers and sizes, at the top of the carbonate wall, we encountered a large sponge garden, with innumerable diversity and high densities of sponges. Associate organisms were present throughout the dive as well, particularly echinoderms, and, for a change of pace, we saw fish throughout the dive as well.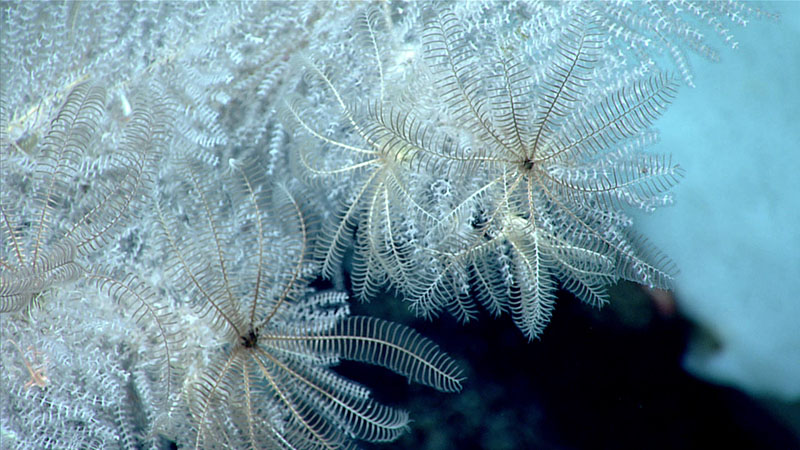 ---