Expedition Summary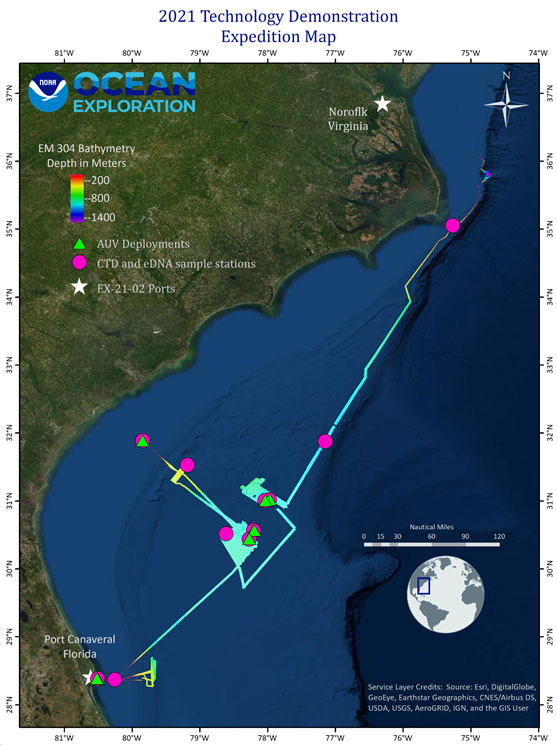 From May 14-27, 2021, NOAA Ocean Exploration led the 2021 Technology Demonstration aboard NOAA Ship Okeanos Explorer as it sailed from Cape Canaveral, Florida, to Norfolk, Virginia. The expedition provided the opportunity to scope the potential for expanded NOAA Ocean Exploration sampling operations and to test technology that may one day enable the ocean exploration community to systematically, explore hadal depths. To achieve these goals, 24-hour-a-day operations centered on field engineering trials of Woods Hole Oceanographic Institution's (WHOI) Orpheus class autonomous underwater vehicles (AUVs), piloting NOAA Ocean Exploration's environmental DNA (eDNA) sampling protocols, regular CTD rosette casts, and mapping of priority deepwater areas offshore the U.S. Southeast with the new Kongsberg EM 304 multibeam sonar system. The expedition brought together expertise, resources, and personnel from NOAA Ocean Exploration, NOAA's Ocean Exploration Cooperative Institute (OECI), NOAA's Northwest Fisheries Science Center, NASA's Jet Propulsion Laboratory (NASA JPL), and two OECI member institutions: the Woods Hole Oceanographic Institution and the Inner Space Center of the University of Rhode Island. The Orpheus class AUV project was the first OECI-supported project to take place aboard a NOAA vessel. Various aspects of the expedition supported the NOAA Uncrewed Systems Strategy, the NOAA Artificial Intelligence Strategy, the NOAA 'Omics Strategy, the NOAA Cloud Strategy, NOAA's Atlantic Seafloor Partnership for Integrated Research and Exploration (ASPIRE) campaign, the National Strategy for Mapping, Exploring, and Characterizing the United States Exclusive Economic Zone, and Seabed 2030 . Expeditions like this are vital for the advancement of ocean exploration technologies that will benefit the broader field of ocean exploration in our collective efforts to explore, map, and understand the vast ocean realm. Major accomplishments of this expedition are summarized below.
Autonomous Underwater Vehicle (AUV) Testing
During the 14 days at sea, eight AUV deployments were completed at depths between 12-866 meters (39-2,841 feet). AUVs Orpheus and Eurydice, the latter of which completed its inaugural dive during the expedition, surveyed 30 linear kilometers (18.6 miles) of seafloor, logged over 16 hours of bottom time, and collected over 724 GB of 4K video. Together, the AUVs spent a total of 32 hours and 59 minutes in the water, which included water column exploration during descents and ascents and surveys of Blake Plateau coral mound features. The visual data collected by the AUVs will be used by NASA JPL to inform the advancement of terrain relative navigation.
Environmental DNA (eDNA) Sampling Protocols
Twelve conductivity, temperature, and depth system (CTD) rosette casts were completed during the expedition, mostly in conjunction with AUV operations. These casts resulted in 120 water samples collected over a variety of seafloor features and in different water masses which will undergo eDNA analysis in a laboratory after the expedition. Thirteen control samples were also collected. eDNA has the potential to be a valuable and complementary technique to enhance the office's current repertoire of exploration technologies and methods. Based on what was learned during the expedition, a detailed standard operating procedures document for eDNA collection was developed. (For more information on the potential for eDNA use in NOAA Ocean Exploration operations, including a full eDNA feasibility assessment, see Appendix E of the office's Exploration Variables memorandum.)
Priority Mapping Operations
A total of 9,669 square kilometers (3,733 square miles) of largely unmapped seafloor were mapped using the EM 304 multibeam during overnight mapping operations, most of which filled data gaps in priority areas of the Blake Plateau. During the course of these operations, new seep sites were discovered along the U.S. East Coast. Additionally, in a show of interagency collaboration, mission personnel were also able to respond to a request to map priority targets for Monitor National Marine Sanctuary.
Traditional and Novel Outreach and Engagement Efforts
A key aspect of the mission of NOAA Ocean Exploration is sharing the excitement of exploration and discovery with the public through our website, social media, and more. During the 2021 Technology Demonstration, the expedition live feed received nearly 20,000 views, while expedition-specific web content had close to 5,000 visits. Twenty-two news articles helped to tell the story, including stories by Forbes, Space.com, and NASA. In a novel approach for our office, expedition personnel also conducted a live interaction via Twitch, reaching new audiences within the gaming community. And before the expedition began, mission personnel from NOAA Ocean Exploration, NOAA Fisheries, WHOI, and NASA JPL participated in a live interaction in which they discussed the upcoming expedition and goals, and answered questions from the public. The event was livestreamed across multiple social media platforms, and attained a viewership of about 170,000!