Live Interaction
On May 13, two members of the 2021 Technology Demonstration expedition team, NOAA Ocean Exploration expedition coordinator Michael White and Woods Hole Oceanographic Institution research engineer Casey Machado, joined Cecilia D'Anastasio, a reporter with WIRED Games , for a live event to explore the ocean on Planet 4546B.
Not a planet you are familiar with? That's because it's fictional — the setting of survival adventure video game Subnautica: Below Zero . In the game, players use submersible technology to explore the depths of an underwater world, discovering new and mysterious creatures while surviving harsh, arctic conditions.
During the event, which was streamed live to WIRED Games' Twitch account , Cecilia played Subnautica while Mike and Casey (who are also avid gamers — when time allows) watched on, offering commentary and personal experiences about real-life deep-ocean exploration as they sat in the control room of NOAA Ship Okeanos Explorer while it was docked in Florida.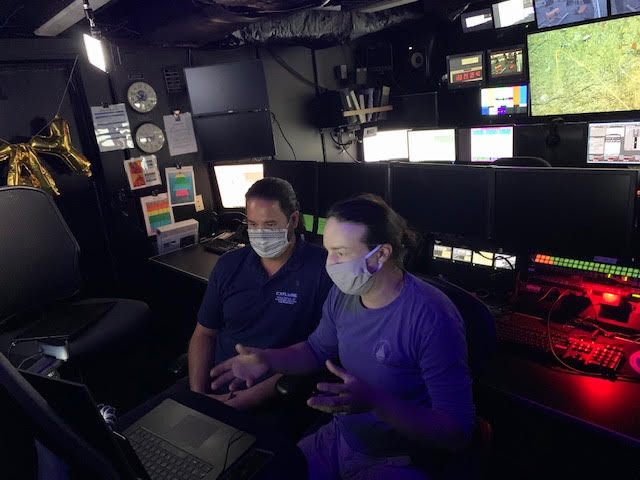 Over the course of the hour-long interaction, Mike and Casey covered topics ranging from the many mucus-covered animals encountered in the ocean to what it's like to lose an underwater vehicle or encounter a six-gill shark while exploring. Casey explained how robots used to explore the ocean are similar to those used to explore on places like Mars and why the ocean makes a good test bed for technologies to explore on other planets. Mike shared how the ship makes water while at sea and even revealed the "secret" ice cream freezer on Okeanos Explorer. Both explorers offered insights into their career paths and advice to aspiring explorers looking to enter the field of ocean exploration, and more.
All the discussion was set to the backdrop of the fictional underwater world within the Subnautica: Below Zero video game being played by Cecilia. Through this interaction, viewers also learned about the upcoming 2021 Technology Demonstration; the tools and technologies that will be tested during the expedition; the partnerships between NOAA, Woods Hole, NASA Jet Propulsion Laboratory, and the Ocean Exploration Cooperative Institute; and the value and importance of ocean exploration.
If you missed it, head over to WIRED Games' Twitch account and settle in for a learning adventure!