NOAA Ship Okeanos Explorer: 2023 Expeditions Overview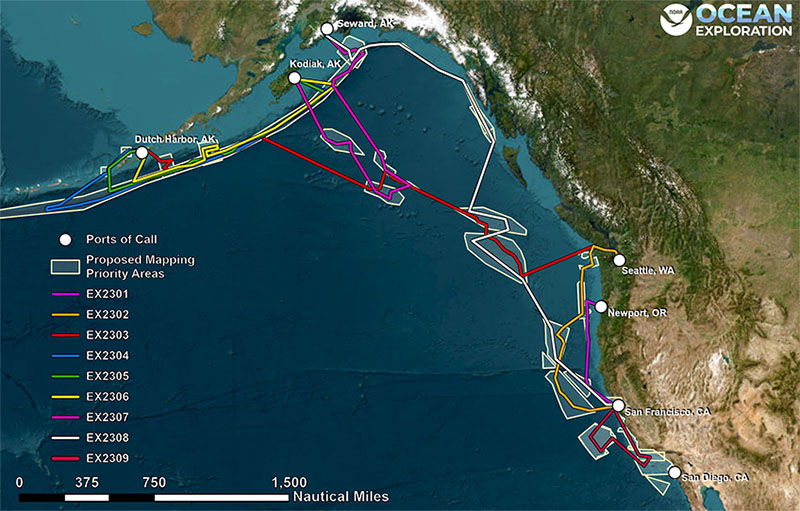 In 2023, NOAA Ocean Exploration will spend over 160 days at sea on NOAA Ship Okeanos Explorer while exploring the waters off the U.S. west coast and Alaska. From the end of March through April, NOAA Ocean Exploration will conduct shakedown mapping and remotely operated vehicle (ROV) diving operations along the U.S. west coast before transiting to Alaska and spending the majority of the field season in Alaskan waters and throughout the Aleutian Islands. In October, the ship will return to California to conduct mapping and autonomous underwater vehicle (AUV) operations to finish the year before transitioning into the offseason repair period.
NOAA Ocean Exploration's activities in the Pacific in 2023 will support two major initiatives, the EXpanding Pacific Research and Exploration of Submerged Systems (EXPRESS) campaign and Seascape Alaska.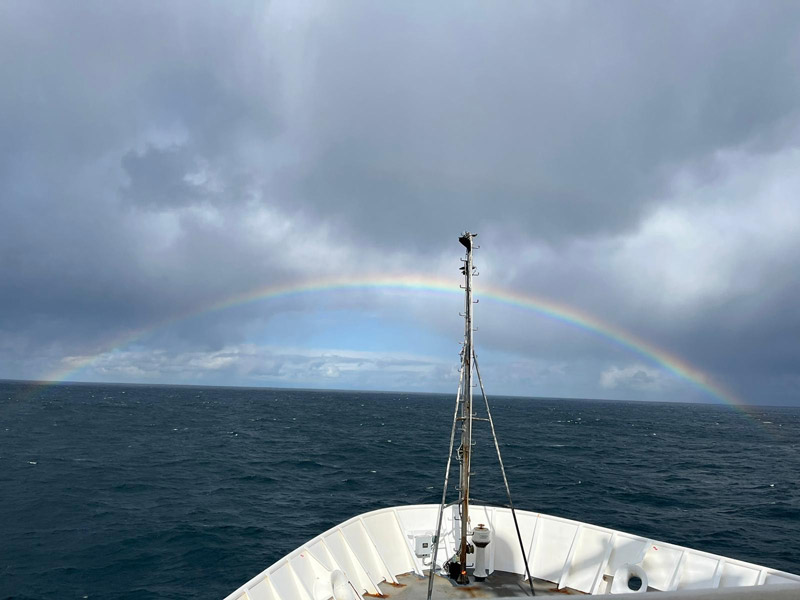 EXPRESS is a multiyear, multipartner cooperative research campaign designed to collect deep-sea data to guide wise use of living marine resources and habitats, inform ocean energy and mineral resource decisions, and improve offshore hazard assessments. Expeditions in 2023 to support this campaign include:
April 3 - 27:

2023 EXPRESS: Shakedown and West Coast Exploration (ROV and Mapping) (EX2301)
San Francisco, California, to Seattle, Washington

October 21 - November 10:

2023 EXPRESS: Exploration of Central California Coast (AUV and Mapping) (EX2308)
San Francisco, California, to San Francisco, California

November 29 - December 8:

2023 EXPRESS: West Coast Exploration (ROV and Mapping) (EX2309)
San Francisco, California, to San Francisco, California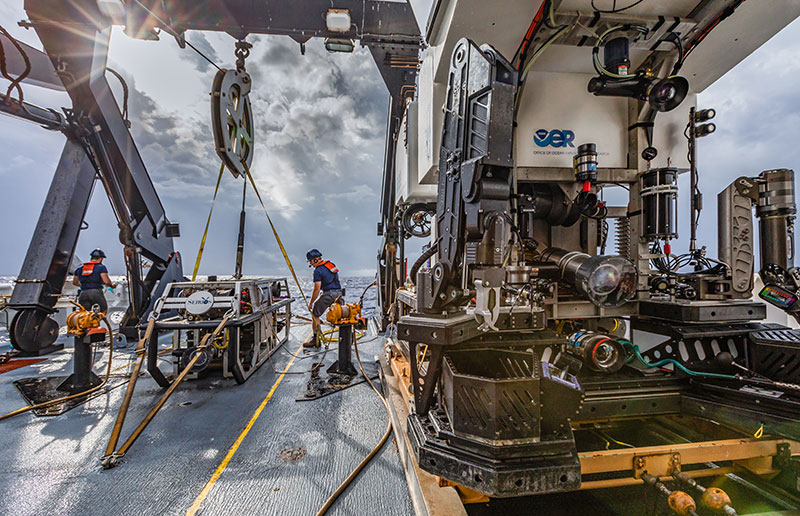 Seascape Alaska is a regional campaign supporting the National Strategy for Mapping, Exploring, and Characterizing the United States Exclusive Economic Zone. It is a collaboration of federal, tribal, state, and nongovernmental partners, representing a wide range of interests and dependencies on mapping data across coastal and ocean waters throughout the U.S. Exclusive Economic Zone (EEZ), working to fully map the U.S. waters off Alaska.
Despite contributing the largest area to the U.S. EEZ, Alaska waters remain one of the least explored areas in the United States. Current mapping data in the waters around Alaska address only 31% of the seafloor, much of which is sparse and pre-dates modern mapping technologies. Additionally, much of the deepwater habitats of the Gulf of Alaska, Aleutian Islands, and the Aleutian trench remain predominantly unexplored.
Through mapping and exploration of Alaska's deep waters, we can establish baseline information needed to sustainably manage and protect these areas. Filling data gaps and increasing our understanding of this region has far-reaching benefits, including safer navigation and community access, hazard mitigation, preservation of marine habitats and heritage, a deeper comprehension of natural resources, and fisheries management.
NOAA and partners will conduct six telepresence-enabled expeditions offshore Alaska in 2023. Planned expedition dates, numbers and names, operational modes, and ports of call are as follows:
May 5 - 27:

Seascape Alaska 1: Aleutians Deepwater Mapping (EX2302)
Seattle, Washington, to Dutch Harbor, Alaska

June 5 - 20:

Seascape Alaska 2: Aleutians Deepwater Mapping (EX2303)
Dutch Harbor, Alaska, to Kodiak, Alaska

June 28 - July 25:

Seascape Alaska 3: Aleutians Remotely Operated Vehicle Exploration and Mapping (EX2304)
Kodiak, Alaska, to Dutch Harbor, Alaska

July 31 - August 17:

Seascape Alaska 4: Gulf of Alaska Deepwater Mapping (Mapping) (EX2305)
Dutch Harbor, Alaska, to Kodiak, Alaska

August 23 - September 16:

Seascape Alaska 5: Gulf of Alaska Remotely Operated Vehicle Exploration and Mapping (EX2306)
Kodiak, Alaska, to Seward, Alaska

September 23 - October 14:

Seascape Alaska 6: Gulf of Alaska Transit Mapping (EX2307)
Seward, Alaska, to San Francisco, California
Participate in the Expeditions
While we're at sea, join us virtually via telepresence! Video during ROV dives will be streamed live to shore, meaning anyone with an internet connection can watch live through the NOAA Ocean Exploration website and enjoy new discoveries with us in real time.
We are currently seeking scientists and managers interested in remotely participating in our 2023 expeditions. For details about how to get involved in the expeditions above, please visit the NOAA Ship Okeanos Explorer Get Involved web page. If you are interested in playing a more direct role (e.g., by providing input into expedition planning or participating as a scientist or student), contact our expedition manager for the upcoming expeditions, Sam Candio, at samuel.candio@noaa.gov.
Data Access
NOAA Ocean Exploration ensures public access to scientific data and information collected during expeditions on Okeanos Explorer. Data collections typically include oceanographic and geophysical parameters, video, images, documents, and more, provided in a range of data formats. Data are available in NOAA's public data archives and accessible via the NOAA Ocean Exploration Data Atlas.
Published February 1, 2023