Call for Input - Gulf of Mexico and Atlantic
Call for Input: Okeanos Explorer 2018 Gulf of Mexico and Atlantic Exploration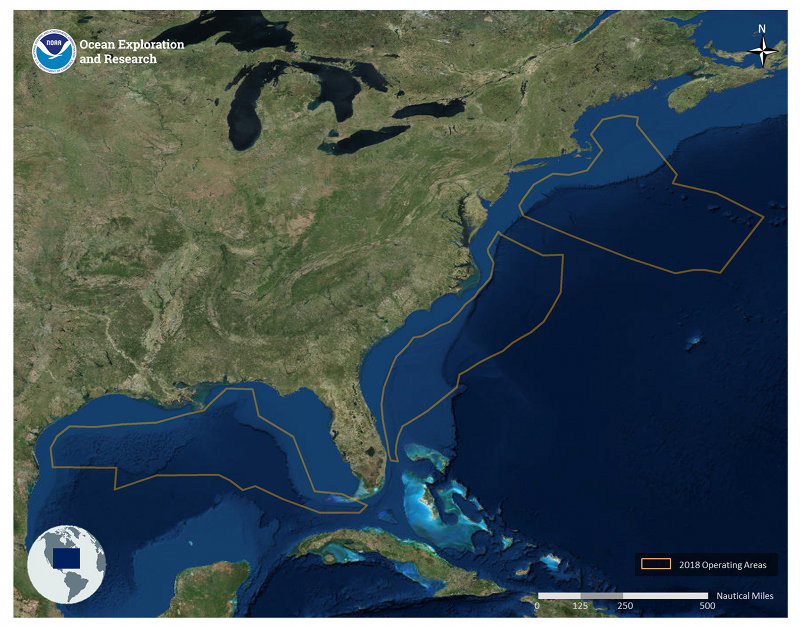 On behalf of NOAA, the Office of Ocean Exploration and Research (OER) invites members of the ocean science and management community to submit areas and sites for seafloor and water column acoustic mapping and remotely operated vehicle (ROV) investigation within our 2018 operating areas. The information received will be used to refine our cruise tracks, and a selection of these targets and areas will be explored during upcoming expeditions.
In Spring 2018, NOAA intends to investigate and document a diversity of deep-water environments in:
The U.S. Gulf of Mexico;
Offshore of the U.S. Atlantic coast; and
U.S. and high seas locations crossed during transits to and from specified operating areas.
Target recommendations are due for: 1) The U.S. Gulf of Mexico by close-of-business on Friday, March 2, 2018, and 2) The U.S. Atlantic exclusive economic zone and high seas by close-of-business on Monday, April 2, 2018. Recommended areas and sites can be provided through our SeaSketch portal (http://seasket.ch/O0ADwNe53Q) – a web-based GIS portal showing our general operating areas, marine protected areas and U.S. boundaries, and existing publicly available bathymetric sonar data in the region. Be sure to review the operational restrictions listed in the survey. Instructions on using SeaSketch are available here.
2018 is the second year of the Atlantic Seafloor Partnership for Integrated Research and Exploration (ASPIRE) campaign – a major multi-year, multi-national collaborative field program that supports the Galway Statement on Atlantic Ocean Cooperation . The Galway Statement is an initiative between the U.S., Canada, and the European Union to advance knowledge of the Atlantic Ocean leading to improved stewardship and understanding. OER plans to conduct operations in broad areas identified by ASPIRE partners as high priority. This data call will help refine these priority areas. NOAA conducts telepresence-enabled mapping and ROV operations in poorly known ocean areas with NOAA Ship Okeanos Explorer to support deepwater habitat characterization and spur follow-on investigations.
For those new to Okeanos Explorer operations or the SeaSketch Portal, tutorials are available describing Okeanos Explorer capabilities and how to use the SeaSketch portal to provide your input. The link to these instructions and recordings are available online:
Following consideration of all submissions, draft cruise plans will be developed and discussed during open cruise planning meetings. Scientists and managers with appropriate expertise can join the expedition team (sign up here) and participate remotely in the expedition via telepresence. Science team members participate in cruise-planning meetings, ROV dives, real-time mapping sonar data acquisition and access, and daily science meetings before and during the expeditions.
We value your input and look forward to your participation in our upcoming expeditions. Please don't hesitate to contact Craig.Russell@noaa.gov with questions or for more information.