Call for Input - Caribbean
Call for Input: Okeanos Explorer 2018 Caribbean Exploration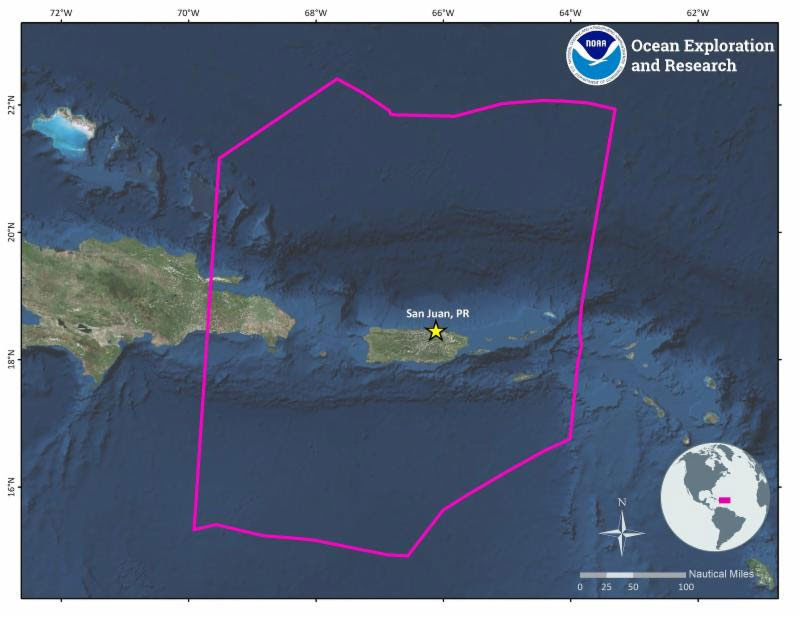 On behalf of NOAA, the Office of Ocean Exploration and Research (OER) invites members of the ocean science and management community to submit sites for remotely operated vehicle (ROV) and mapping operations for the 2018 NOAA Ship Okeanos Explorer expedition to the Caribbean. Building on previous deep-sea explorations in the region, including work done by Okeanos Explorer in 2015, the expedition will focus on exploring poorly known areas around Puerto Rico and the U.S. Virgin Islands, and may also include limited operations in adjacent waters off the Dominican Republic and the British Virgin Islands.
Please provide your input by August 17, 2018, so it can be fully considered for cruise planning. Information received will be used to refine cruise plans and a selection of these areas will be explored during the upcoming expedition, which is currently scheduled to start in San Juan, Puerto Rico, on October 30, 2018, and end in San Juan, Puerto Rico, on November 20, 2018.
Priority sites for ROV and mapping operations can be submitted through SeaSketch , a web-based GIS portal that shows the general operating area of the expedition, marine protected areas, U.S. boundaries, previous submersible dives, and bathymetry data in the region. Be sure to review the operational restrictions listed in the survey, and consider exploration priorities that have previously been identified to strengthen our understanding of the Caribbean Region. For those new to Okeanos Explorer operations or SeaSketch, tutorials are available describing Okeanos Explorer capabilities and how to use SeaSketch to provide your input.
Following consideration of all submissions, draft cruise plans will be developed and discussed during planning conference calls. NOAA invites all scientists and managers with appropriate expertise to join the expedition team and participate remotely in the expedition via telepresence. Science team members will participate and provide input in cruise planning, ROV dives, mapping operations, and daily science conference calls before and during the expedition.
We value your input and look forward to your participation in our upcoming expedition. Please don't hesitate to contact Daniel.Wagner@noaa.gov with questions or for more information about this expedition.