Expedition Education Modules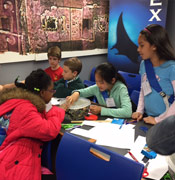 Expedition Education Modules are designed as an education unit to share the excitement of daily at-sea discoveries and the science behind NOAA's major ocean exploration expedition. Each module contains an Expedition Purpose, Lessons, Multimedia Discovery Missions, OceanAGE Career Connections, and Other Resources and Links. Click on each of the expeditions below to visit its corresponding Expedition Education Module.
2017

Gulf of Mexico 2017

Deep-Sea Symphony: Exploring the Musicians Seamounts

DEEP SEARCH: DEEP Sea Exploration to Advance Research on Coral/Canyon/Cold seep Habitats.

Southeast Deep Coral Initiative: Exploring Deep-Sea Coral Ecosystems off the Southeast U.S.

2017 Laulima O Ka Moana: Exploring Deep Monument Waters Around Johnston Atoll

Northern Neighbors: Transboundary Exploration of Deepwater Communities

Cuba's Twilight Zone Reefs and Their Regional Connectivity

Exploring the Sunken Heritage of Midway Atoll

Mountains in the Deep: Exploring the Central Pacific Basin

Discovering the Deep: Exploring Remote Pacific Marine Protected Areas

2017 American Samoa Expedition: Suesuega o le Moana o Amerika Samoa
2016

Deepwater Wonders of Wake

Hidden Ocean 2016: The Chukchi Borderlands

2016 Deepwater Exploration of the Marianas

Deepwater Exploration of Glacier Bay National Park

2016 Hohonu Moana: Exploring Deep Waters off Hawaii
2015

Hohonu Moana: Exploring Deep Waters off Hawai'i

Bioluminescence and Vision on the Deep Seafloor 2015

Tropical Exploration 2015

Océano Profundo 2015: Exploring Puerto Rico's Seamounts, Trenches, and Troughs

Mapping the Uncharted Diversity of Arctic Marine Microbes
2014

Submarine Ring of Fire 2014 - Ironman

NOAA Ship Okeanos Explorer: Our Deepwater Backyard: Exploring Atlantic Canyons and Seamounts 2014

Search for the Lost French Fleet of 1565

Coral Ecosystem Connectivity 2014: From Pulley Ridge to the Florida Keys 2014

NOAA Ship Okeanos Explorer: East Coast Mapping 2014

NOAA Ship Okeanos Explorer: Exploration of the Gulf of Mexico 2014
2013

Coral Ecosystem Connectivity 2013: From Pulley Ridge to the Florida Keys

Northeast U.S. Canyons Expedition 2013

NOAA Ship Okeanos Explorer: New England Seamount Chain Exploration

NOAA Ship Okeanos Explorer 2013 ROV Shakedown and Field Trials in the U.S. Northeast Canyons

NOAA Ship Okeanos Explorer 2013 Ship Shakedown: Kicking the Tires

Deepwater Canyons 2013: Pathways to the Abyss
2012

Submarine Ring of Fire 2012: Northeast Lau Basin

Russian-U.S. Arctic Census 2012

Deepwater Canyons 2012: Pathways to the Abyss

Exploring the Submerged New World 2012

Lophelia II 2012: Deepwater Platform Corals

INSPIRE: Chile Margin 2012

Okeanos Explorer: Gulf of Mexico 2012 Expedition
---
2011

Bermuda Deep Water Caves 2011: Dives of Discovery

Exploring the Hidden World of the Maritime Maya 2011

Okeanos Explorer: Mid-Cayman Rise Expedition 2011

Okeanos Explorer: Galápagos Rift Expedition 2011

Exploring the Submerged New World 2011
---
2010

Lophelia II 2010: Oil Seeps and Deep Reefs

Cradle of the Earthquake: Exploring the Underwater San Andreas Fault 2010

Thunder Bay 2010: Cutting Edge Technology and the Hunt for Lake Huron's Lost Ship

INDEX 2010: Indonesia-USA Deep-Sea Exploration of the Sangihe Talaud Region
---
2009

Bermuda: Search for Deep Water Caves 2009

Exploring the Submerged New World 2009

Lophelia II 2009: Deepwater Coral Expedition: Reefs, Rigs, and Wrecks


Bioluminescence 2009: Living Light on the Deep Sea Floor
---
2008

Lophelia II: Deepwater Coral Expedition: Reefs, Rigs, and Wrecks

Thunder Bay Sinkholes

AUVfest: Navy Mine-Hunting Robots help NOAA Explore Sunken History

Bonaire: Exploring Coral Reef Sustainability with New Technologies
---
2007

Exploring the Inner Space of the Celebes Sea

New Zealand American Submarine Ring of Fire

Expedition to the Deep Slope
---
2006

Operation Laser Line

Tracking Narwals in Greenland

Project PHAEDRA

Olympic Coast

Expedition to the Deep Slope

Submarine Ring of Fire

Davidson Seamount: Exploring Ancient Coral Gardens

The Aegean and Black Sea Expedition
---
We value your feedback about our Expedition Education Modules. Please send your comments to oceanexeducation@noaa.gov