Expedition Education Module
Expedition Education Module
Expedition Education Modules are designed to share the excitement of daily at-sea discoveries and the science behind NOAA's major ocean exploration initiatives with educators, students, and the public around the world.
The Océano Profundo 2018 expedition aboard NOAA Ship Okeanos Explorer will involve exploration of deep-sea habitats off Puerto Rico and the U.S. Virgin Islands, offering a unique opportunity for explorers of all ages to investigate a wide diversity of habitats and geological features, including seamounts, submarine canyons, troughs, and trenches within the region. You might choose to learn more about why NOAA and its partners are exploring this particular deep-ocean area, what advanced technologies are being used, and what explorers are hoping to find. You might also be looking to learn more about the explorers themselves, so your students more fully understand what skills and expertise are required to support careers in ocean exploration. You just might need a short video or images to complete your lesson unit on a particular topic. Whatever your NOAA deep-ocean exploration education needs, we hope that you will find them here.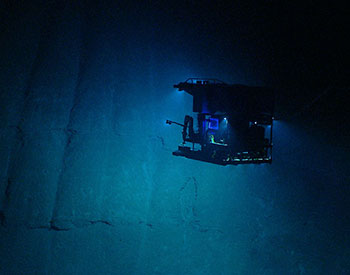 Expedition Purpose
Why explore the deep water habitats off Puerto Rico and the Virgin Islands?
Learn more
Aprende más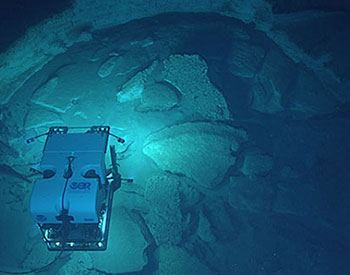 Exploring Live!
Explore in real time with the science team!
Learn more
Content Essays
These essays share more detail and science behind exploring this region.
Learn more
Classroom Lessons
Classroom lessons and learning tools relevant to the expedition are listed below by grade level. Although some of these resources may have been developed for past expeditions conducted in other regions of the world ocean, the Focus Questions and Student Learning Objectives are applicable to the current expedition.
View Lessons
Ver lecciones en español
Who Is Exploring?
Meet the expedition science team and learn more about careers in ocean exploration.
Learn more
Multimedia Content Themes
These Education Theme Pages are designed to provide the best of what the Ocean Explorer website has to offer to support your classroom during this expedition. Each Theme page provides links to content essays, lessons, multimedia interactive activities, career information, and associated past expeditions.