Expedition Education Module
Expedition Education Module
Ocean Explorer Expedition Education Modules (EEM) are designed to reach out in new ways to teachers, students, and the general public, and share the excitement of daily at-sea discoveries and the science behind NOAA's major ocean exploration initiatives with the people around the world. Bermuda Deep Water Caves 2011: Dives of Discovery Expedition offers a unique opportunity to engage explorers of all ages as we continue our journeys to parts of our ocean planet that few have seen - deep underwater caves around the island of Bermuda.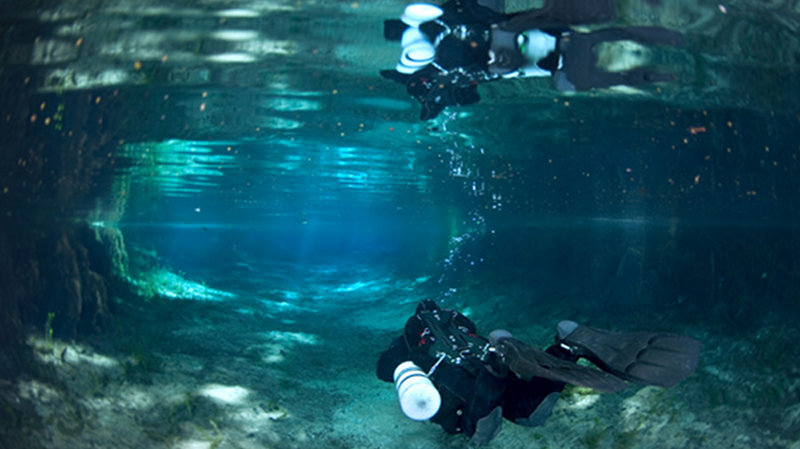 Expedition Purpose
Why Are Scientists Exploring Deep Underwater Caves Around the Island of Bermuda?
Learn more
Classroom Lessons
A collection of inquiry and National Science Education Standards-based lesson plans for students in grades 5-12 that have been specifically designed for this expedition. These lessons have also been correlated to the Ocean Literacy Essential Principles and Fundamental Concepts. You will also find links to other lesson plans residing on the Ocean Explorer Web site that have been developed for previous NOAA expeditions, and have content that relates to the Bermuda Deep Water Caves 2011: Dives of Discovery Expedition.
View Lessons
Multimedia Discovery Missions
The Multimedia Discovery Mission Demos are a series of 14 interactive multimedia presentations and learning activities that address topics ranging from Chemosynthesis and Hydrothermal Vent Life and Deep-sea Benthos to Food, Water and Medicine from the Sea.
OceanAGE Careers
Ocean Careers to Inspire Another Generation of Explorers, or OceanAGE Careers, invites students to learn about the talented people who explore our ocean planet.
Related Information
The web links below are provided for informational purposes only. Links outside of Ocean Explorer have been checked at the time of this page's publication, but the linking sites may become outdated or non-operational over time.
/explorations/11bermuda Website for the Bermuda Deep Water Caves 2011: Dive of Discovery Expedition.

http://celebrating200years.noaa.gov/edufun/book/ - A free printable book for home and school use introduced in 2004 to celebrate the 200th anniversary of NOAA; nearly 200 pages of lessons focusing on the exploration, understanding, and protection of Earth as a whole system.
Koenemann, S. and T. M. Iliffe. 2009. The Atlantida 2008 Cave Diving Expedition. Mar Biodiv 39:153.
Wilkens, H., T. M. Iliffe, P. Orom', A. Mart'nez, T. N. Tysall, and S. Koenemann. 2009. The Corona lava tube, Lanzarote: geology, habitat diversity and biogeography. Mar Biodiv 39:155- 167.
Gilbert, L.A., R. E. McDuff, and H. P. Johnson. 2007. Porosity of the upper edifice of Axial Seamount. Geology 35(1): 49-52.
Gordon, R. L. 1996. Acoustic Doppler Current Profiler Principles of Operation - A Practical Primer. RD Instruments. San Diego, California.
http://www.tamug.edu/cavebiology/index2.html - Website, Anchialine Caves and Cave Fauna of the World.
http://www.goodearthgraphics.com/virtcave/index.html - Virtual Cave Web site.
Iliffe, T. M. 1986. The zonation model for the evolution of aquatic faunas in anchialine caves. Stygologia 2:2-9. Iliffe, T. M. and L. S. Kornicker. 2009. Worldwide diving discoveries of living fossil animals from the depths of anchialine and marine caves. Smithsonian Contributions to Marine Sciences 38:269-280; available online at http://www.tamug.edu/cavebiology/reprints/Reprint-195.pdf