2023 EXPRESS: Exploration of Central California Coast (AUV and Mapping)
(EX2308)
Dates
October 21 - November 11, 2023
Vessel
NOAA Ship Okeanos Explorer
Location
Central Coast of California; Proposed Chumash Heritage National Marine Sanctuary
Goals
Test autonomous underwater vehicle operations and learn more about the biology and geology of the proposed Chumash Heritage National Marine Sanctuary.
Primary Technologies
Autonomous underwater vehicles Eagle Ray and Mola Mola
Expedition Overview
From October 21 to November 11, 2023, NOAA Ocean Exploration will lead an expedition on NOAA Ship Okeanos Explorer off central California and in and around the proposed Chumash Heritage National Marine Sanctuary. The primary goals of the expedition are to test autonomous underwater vehicle (AUV) operations and learn more about the biology and geology of the proposed sanctuary.
To speed up the pace of ocean exploration, NOAA Ocean Exploration is committed to technological innovation and expansion of our own capacity to explore. In partnership with the NOAA Ocean Exploration Cooperative Institute (OECI), we will test two AUVs during this expedition. This test will serve three purposes: it will help us understand how such vehicles might be incorporated into and augment standard operations on Okeanos Explorer, it will enable us to collect baseline data to support priority science and management needs in an area of national importance, and it will inform site selection for dives with remotely operated vehicles for future expeditions.
The two AUVs, Eagle Ray and Mola Mola, are owned and operated by the University of Southern Mississippi (an OECI affiliate) and have been recently updated with state-of-the-art mapping and imaging technologies. The duo will be used to explore seamounts, canyons, and other seafloor features.
Eagle Ray, a traditional mapping AUV, is equipped with a multibeam sonar and sub-bottom profiler to collect high-resolution seafloor and water column mapping data.
Mola Mola, a photo survey AUV, is equipped with powerful cameras and a laser to capture seafloor imagery and complementary mapping data.
NOAA Ocean Exploration is also working with NOAA's Office of National Marine Sanctuaries, Channel Islands National Marine Sanctuary, and local tribal members to identify targets for exploration, educate local tribal communities about deep-ocean exploration, and promote the proposed Chumash Heritage National Marine Sanctuary.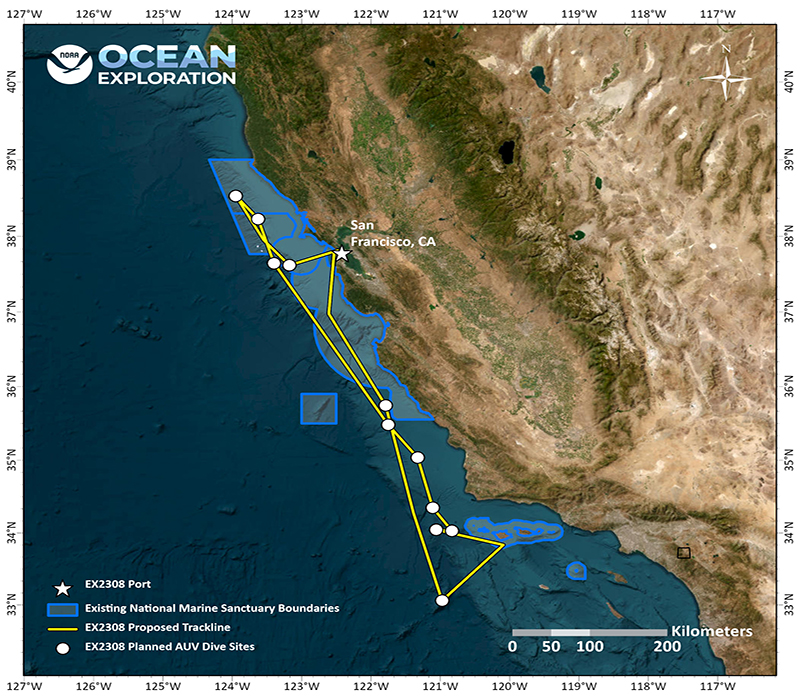 In proposing this designation, NOAA recognizes and celebrates Indigenous peoples' modern day and historical cultural connections to the place and plans to actively involve tribes and Indigenous communities in collaborative management, inclusive of their values, knowledge, and traditions. The sanctuary designation would also conserve the area's rich biodiversity and create new opportunities for research and economic development, including recreation and tourism.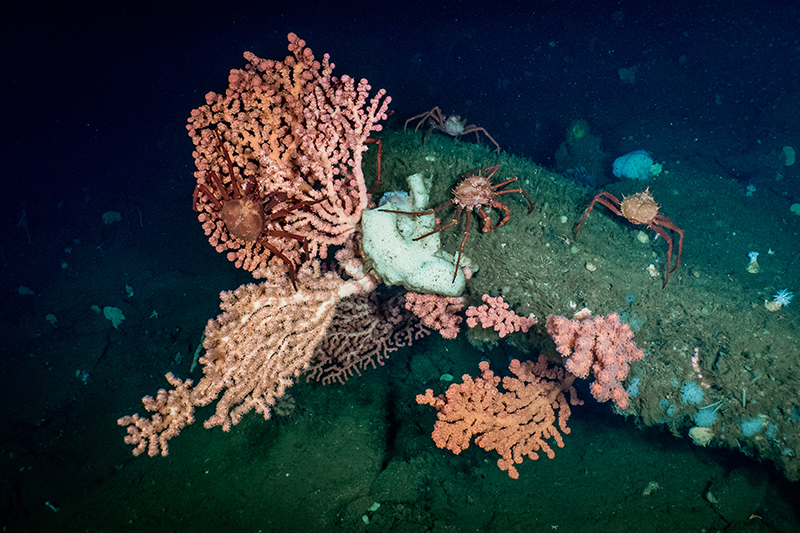 We are conducting this expedition from a place of respect for and recognition of the Indigenous peoples of California and their connection to and knowledge of the ocean, fish, birds, and other wildlife that sustain their livelihood, traditions, and communities. And, we are excited to be hosting two members of the Coastal Band of the Chumash Nation aboard Okeanos Explorer during this expedition.
As we travel through tribal territories along California's coast through October 26, join us at 3 p.m. PT on Camera 3 on our livestreams page as we acknowledge and honor the traditional stewards of these waters.
Education Content
Education theme pages provide the best of what the NOAA Ocean Exploration website has to offer to support educators in the classroom during this expedition. Each theme page includes expedition features, lessons, multimedia, career information, and associated past expeditions.
NOAA's Office of National Marine Sanctuaries and the individual sanctuaries also provide education resources for teachers and students.
---