Dive 15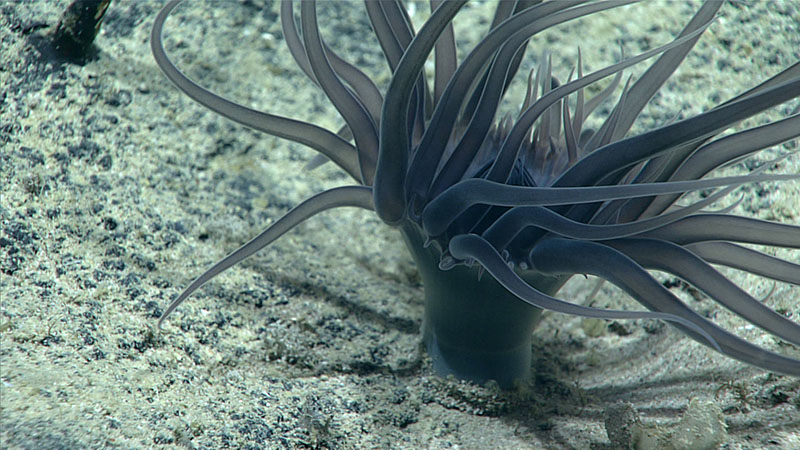 During Dive 15 of the 2021 North Atlantic Stepping Stones expedition, we dove to around 3,400 meters (11,155 feet) depth to explore Allegheny Seamount. The geology and substrate morphology encountered on this dive was some of the most varied seen during this expedition so far. The geology was diagnostic of the construction and destruction processes that have acted on the seamount. Biological observations were much more diverse than expected, given the depth of this dive.
We began the dive on a rock debris apron with a mix of sediment and blocks of volcanic material. Two geologic samples were collected at the landing site, both fully encrusted with ferromanganese. As the dive progressed, the remotely operated vehicle crossed over mixed pavement, rock debris, sediment, and tabular failure substrate on an overall moderate-gradient sloped bottom. We saw impressive stacked sheet lava flow layers and abundant evidence of downslope transport of large rocks and tabular blocks, which provided the background for the dive.
The sponge population was particularly diverse during this dive, as we encountered coral morphology sponges (Stelodoryx sp.), Hylanomema spp., encrusting and barrel sponges, as well as an unusual, cream-colored sponge thought to be a glass sponge.
Corals were also very well represented on this dive, particularly by Anthomastus sp. and bamboo corals, as well as Bathygorgia whip corals, Stauropathes black corals, small primnoids, and octocorals. Within the deep cracks of the final sloped overhang area of our dive, we observed a potentially new and unusual morphotype of a Chrysogorgia coral.
---