June 23
Dive 03: Stetson Mesa South Scarp
Date: June 23, 2019
Location: Lat: 29.75468692°, Lon: -79.57018864°
Dive Depth Range: 773 - 891 meters (2,536 - 2,923 feet)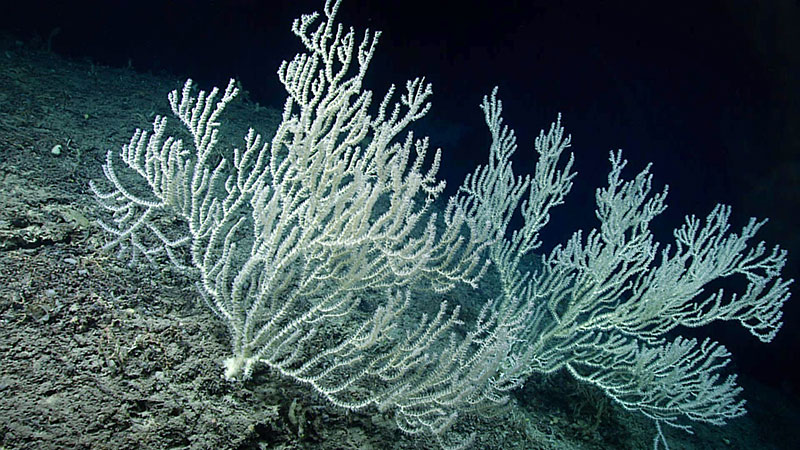 Our third dive of the Windows to the Deep 2019 expedition took place about 100 miles off the coast of Florida, at what we are calling the Stetson Mesa South Scarp, a site within the Stetson Miami Terrace Deep Water Coral Habitat Area of Particular Concern. Like many of the sites selected on this expedition, this dive site was just recently mapped on the first leg of the expedition earlier this month. This site was targeted for its high slope, as slope of a scarp is a good indicator of an area with a high likelihood for deep-sea coral and sponge communities.
We were expecting a steep scarp feature with less cold-water scleractinian (hard coral) rubble than the previous dives and more hard bottom. However, much of the seafloor during the entire dive was covered in a layer of coral rubble. At the base of the scarp around 891 meters (2,923 feet) depth, we encountered large bamboo corals that were a real highlight of the dive. As the remotely operated vehicle Deep Discoverer began to move from the base of the scarp upwards along its slope, we observed interesting biological communities within and atop the coral rubble, including crinoids, sponges, fishes, bryozoans, octocorals, and many others. As we moved up to the top of the scarp and began to proceed along the scarp ridgeline, we continued to see dense coral rubble, a few areas of carbonate outcrops, and complex ecological communities. One observation of particular interest was that of a stalked crinoid, Democrinus sp., which the science team thinks could potentially be the northernmost record of the species.
Tomorrow we will head further east and dive on the Blake Plateau Knolls.
---