Meet the On-ship Expedition Team
---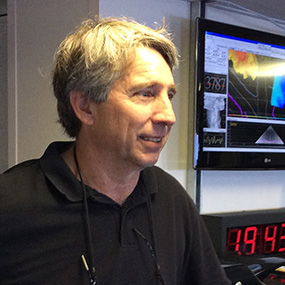 Dr. Chris Kelley
Science Lead
Program Biologist, Hawaii Undersea Research Laboratory – University of Hawaii
Dr. Christopher Kelley is serving as the science lead for the three-year CAPSTONE project in the Pacific. He has been the program biologist for the Hawaii Undersea Research Laboratory (HURL) at the University of Hawaii for the last 15 years. His core responsibilities have included the identification of deep-water fish and invertebrates recorded during submersible and remotely operated vehicle (ROV) operations and the extraction of video annotations for inclusion in HURL's deepwater animal database and online photo guide. He is also graduate faculty for the Oceanography Department as well as affiliate faculty at the Hawaii Institute of Marine Biology and serves on both masters and PhD graduate student committees.
In addition to his core responsibilities, Dr. Kelley has both led and worked on numerous external grants from federal and state agencies. Some projects have involved reviewing Essential Fish Habitat designations in Hawaii and elsewhere in the Pacific for the deep-water bottomfish fishery, as well as examining the impacts of bottom fishing and the effectiveness of bottomfish reserves. Other projects have involved the description of the deep-water communities living on manganese crusts in the Central Pacific, describing the deep water biological communities associated with disposed munitions off Pearl Harbor, and extracting and formatting HURL video records for inclusion in the new Deep Sea Coral Research and Technology Program national database of deep sea corals.
In addition to his deep-water biology work, Dr. Kelley has also lead a significant number of multibeam and sidescan sonar mapping projects throughout the Hawaiian archipelago, the latest of which involved 72 days of mapping in the Papahānaumokuākea Marine National Monument on board the R/V Falkor. His sidescan sonar towfish surveys off Oahu have led to the discovery of a number of submerged cultural resources.
Dr. Kelley received his Ph.D. in 1995 from the University of Hawaii while researching fish reproductive cycles. Prior to joining HURL, he traveled extensively, providing technical assistance for developing fish hatcheries in Indonesia, Taiwan, the Philippines, Egypt, and Cameroon, West Africa. He was also an aquanaut for the Hydrolab Undersea Habitat in 1982, assisting in a study on the ecology and social behavior of Caribbean angelfishes.
Dr. Jasper Konter
Co-science Lead
Associate Professor, University of Hawaii
Dr. Jasper Konter is interested in the origin and evolution of seamount and island volcanoes related to hotspot volcanism, as well as the implications they have for mantle geochemistry and plate tectonics. The seamounts of the western Pacific Ocean are some of the oldest submarine volcanoes in the world, and they provide us with rare insights into the interplay between hotspot sources and Pacific Plate motion back into the Cretaceous time period. Through determination of the ages of these volcanoes, as well as their geochemical compositions, we are able to trace many of these volcanoes to currently erupting hotspots in the central Pacific. In particular, Jasper works on the basaltic rocks that make up the main structure of these volcanoes, and he analyzes them for elemental abundances and isotopic compositions.
Jasper previously participated as a shore-based scientist in the 2015 Okeanos Explorer cruise around Johnston Atoll and has clocked many months at sea prior to that, sampling submarine volcanoes across the Pacific through dredging, including two cruises as chief scientist.
Jasper received a combined MSc and BSc from the Vrije Universiteit Amsterdam, and a PhD from Scripps Institution of Oceanography (UCSD) in Earth Science.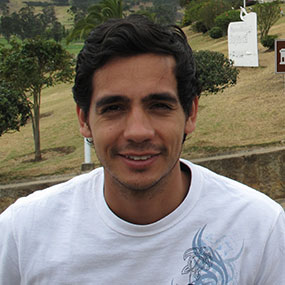 Fernando Aragon
Global Foundation for Ocean Exploration
Fernando graduated from the University of Hawaii at Manoa with a B.S. in Mechanical Engineering. During his studies, he had experience in several fields including conceptual design, aerospace research, mechanical design, robotics and software development. From these activities he was able to intern for NASA at the Jet Propulsion Laboratory, present research in a national conference, and even coauthor a technical paper in the Journal of the Astronautical Sciences. His most recent position was at the Field Robotics Laboratory (FRL) where he helped support operations, testing and software development for two unmanned surface vehicles. From his time in FRL, he discovered a true passion for development and design of robotic systems. Originally from Colombia, Fernando enjoys outdoor activities and currently resides in State College, Pennsylvania.
Roland Brian
Electronic Systems Engineer
Global Foundation for Ocean Exploration

Roland Brian brings 29 years of experience and a keen eye for precision HD video to the program as a video/satellite and telepresence engineer. Roland began his career in the U.S. Air Force where he worked as a Satellite Communications Engineering Technician with visions of working on the U.S. Space Station. He traded in that quest for one of deep-ocean exploration and sharing beautiful imagery with the world. He has worked with the NOAA Office of Ocean Exploration and Research (OER) and the Okeanos Explorer Program since 2009 and has been engaged in every telepresence-enabled remotely operated vehicle (ROV) expedition. He has also provided services for other projects using OER's mobile telepresence system, including the 2012 Ring of Fire Expedition. His duties aboard NOAA Ship Okeanos Explorer include operation and maintenance of the ship's Telepresence and video systems, including on ROV Deep Discoverer and the Seirios camera platform. Again, Roland's experience embodies the breadth and depth of knowledge the OER program encourages. When not fine-tuning the video and telepresence systems or training and mentoring new team members, he's actively involved in the editing process of our ever-expanding ocean exploration video library. While not at sea, Roland enjoys life with his wife and family in sunny Sarasota, Florida.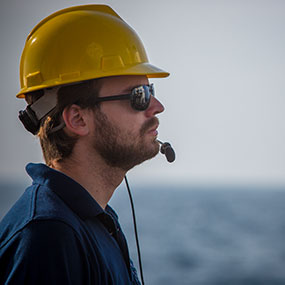 Joshua Carlson
Mechanical Engineer
Global Foundation for Ocean Exploration
Joshua Carlson attended the University of Massachusetts, Dartmouth, where he received a B.S. in Mechanical Engineering with minor in Business Administration. He went on to receive his M.S. in Marine Observation Technology from the University of Massachusetts, Dartmouth School for Marine Science and Technology. Josh has a diverse background, encompassing the use of autonomous underwater vehicles (AUVs) and other types of ocean observation platforms for the purpose of studying ocean turbulence. He has designed and built a deep-ocean camera platform for filming deep-water krill in the Antarctic Ocean and provided mechanical engineering and software capabilities on the Woods Hole Oceanographic AUV Sentry during a recent cruise aboard the NOAA ship Okeanos Explorer. In his current position with NOAA's Ocean Exploration program, Josh provides engineering, programming, and at-sea support, acting in the capacity of navigator, pilot, and co-pilot for NOAA's 6000-meter-rated remotely operated vehicle system, Deep Discoverer. His broad range of skills in both engineering and software control development makes him an invaluable member of our team. When not traveling, Josh resides in Fairhaven, Massachusetts.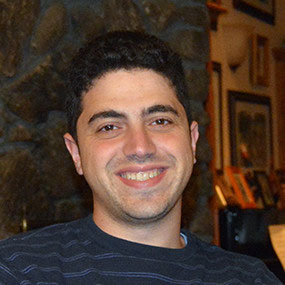 David Casagrande
Electrical Engineer
Global Foundation for Ocean Exploration
David Casagrande holds a B.S. and M.S. in Ocean Engineering from the University of Rhode Island, completing his masters in 2013 with a focus on robotic instrumentation and computer vision. As a student, he worked on an autonomous profiling and imaging platform used for fisheries habitat assessments and counts. Since graduating, he has worked on a range of autonomous profiling and surface vehicles, measuring chemical and physical properties of the water, sonar mapping, and sea floor imaging. He has sailed on a number of research cruises to support and operate these vehicles. David also worked on underwater stereo camera systems, both standalone and ROV-based. Improving the calibration of these camera systems, required for accurate 3D reconstruction and measurements, continues to be an interest.
When not at sea, he lives in South Kingstown, Rhode Island.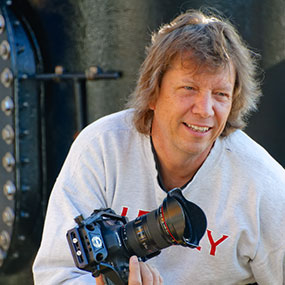 Art Howard
Photographer and Producer
Global Foundation for Ocean Exploration
For 34 years, Emmy-award winning photographer and producer Art Howard has helped viewers experience life through images from 50 countries and seven continents. A native North Carolinian, Art has followed researchers aboard multiple deep-sea missions, documenting the excitement and challenges of offshore reef exploration. Art will use the latest video technology to bring viewers as close as possible to life at sea from the surface to depths of 3,000 feet, capturing both the scientists and the life they seek to understand. Howard has spent the last 11 years independently producing media for the North Carolina Museum of Natural Sciences.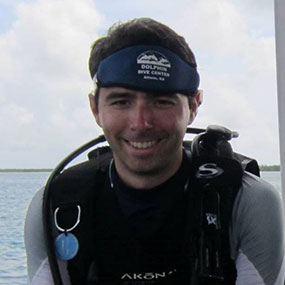 Brian Kennedy
Expedition Coordinator
NOAA Office of Ocean Exploration and Research
When Brian was five years old, he decided that he wanted to be a marine biologist and explore the unknown reaches of the planet, and now he has his dream job. Originally from land-locked Athens, Georgia, Brian grew up fascinated with marine mammals and the ocean. Brian attended the Honors College at the College of Charleston (CofC) in South Carolina where he majored in Marine Biology and minored in Marine Geology. While at CofC, he had the opportunity to sail on multiple research cruises aboard two different NOAA research vessels and meet multiple NOAA Commissioned Officer Corps members. Shortly after graduating with honors from CofC, Brian was awarded a commission in the NOAA Corps. His first sea assignment was as a Junior Officer aboard NOAA's Okeanos Explorer, America's Ship for Ocean Exploration. Upon completion, Brian was then assigned to NOAA's Ocean Exploration Program, where he worked as an Expedition Coordinator for the Okeanos Explorer. Now separated from the NOAA Corps, Brian works for the Office of Ocean Exploration and Research as the telepresence coordinator. Brian has participated in or led more than 25 expeditions of exploration taking him to two oceans (Atlantic and Pacific), three continents (North America, South America and Asia), and through the waters of more than five countries (Ecuador, Panama, Costa Rica, Honduras, Indonesia). Brian is serving as the ROV navigator on this expedition.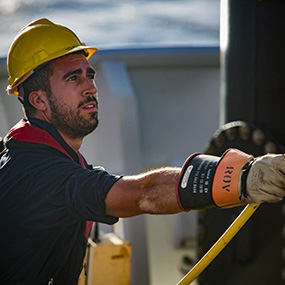 Sean Kennison
Electrical Engineer
Global Foundation for Ocean Exploration
Sean Kennison holds a B.S. in Mechanical Engineering with a minor in Engineering Mechanics from Pennsylvania State University. He first sailed on the Okeanos Explorer as an intern and member of the Engineering Group, where he performed tasks associated with the launch, operation, and recovery of the ROV system. He has also worked shoreside, designing mechanical parts for the ROVs and assisting with assembly and testing of previously and newly installed equipment. Sean also assisted with installing electronics, testing, data analysis, and troubleshooting on the vehicle. Most recently, he assisted in assembling and modifying a new bio storage box for the Deep Discoverer ROV. While at Penn State, Sean served as team leader on a number of engineering design projects.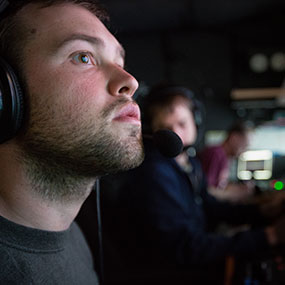 Jeff Laning
Electrical Engineer
Global Foundation for Ocean Exploration
Jeff Laning holds a B.S. in Electrical Engineering from the University of Vermont. He started his career as an intern with Greensea Systems, Inc., where he worked on design, development, and integration of components and software associated with remotely operated vehicles and autonomous underwater vehicle systems.
Jeff is one of our youngest members and came to our group with a desire to learn new and complex electrical systems. Electrical engineers interested in and capable of working on deep submergence systems are one of the hardest positions to fill. Jeff has done a great job as a key member of the team that built Deep Discoverer and has become a skilled pilot, co-pilot, and navigator. His contribution to ocean exploration is certainly something to be proud of and we hope that other young engineers will be inspired by what he has accomplished. Jeff currently resides in Vermont.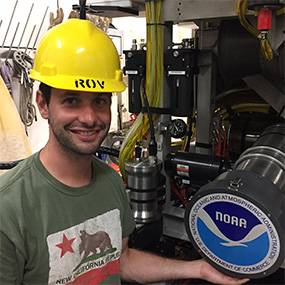 Andy Lister
Mechanical Engineer
Global Foundation for Ocean Exploration

Andy earned a Bachelor's in Ocean Engineering from Texas A&M. He then obtained a Master's in Mechanical Engineering focusing on Robotic Artificial Intelligence and Systems Engineering from Embry Riddle in Daytona Beach. After college, he lent his knowledge to the oilfield service industry for four years, living in various places including Wyoming, North Dakota, and Alaska while on assignment. Recently, he has come back to the mechanical and software side of engineering to contribute to the team at the Global Foundation for Ocean Exploration. He loves traveling, exploring, and being outdoors.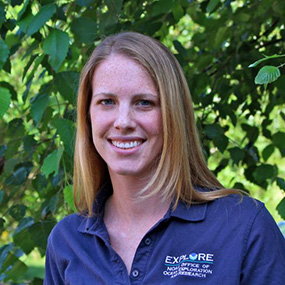 Lindsay McKenna
Physical Scientist/Hydrographer
NOAA Office of Ocean Exploration and Research
Lindsay earned her master's in Ocean Mapping from the University of New Hampshire in 2013 and her bachelor's degree in Geological Sciences from Brown University in 2007. Lindsay worked as a geologist in the environmental field for three years before returning to graduate school. In graduate school, Lindsay gained practical seafloor-mapping experience during research cruises to the Mediterranean Sea and Arctic Ocean. Lindsay joined the Ocean Exploration program in early 2014 as a Mapping Team Lead, where she is responsible for the ocean mapping systems onboard the NOAA Ship Okeanos Explorer. At sea, Lindsay produces maps that are used to direct the exploration process and plans the day-to-day mapping routes to ensure the ship is always exploring efficiently.
On shore, Lindsay works at the Integrated Ocean and Coastal Mapping Center at the University of New Hampshire where she contributes to expeditions through data processing and archiving, operational planning, and mapping product development. Lindsay resides in Rye, New Hampshire.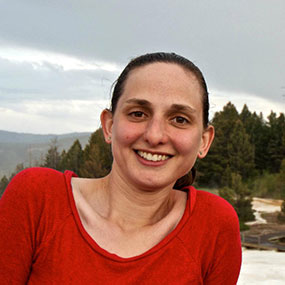 Emily Narrow
Video Producer
Global Foundation for Ocean Exploration
Emily Narrow is a video producer and editor whose work focuses on science and nature. She earned a Bachelor of Arts degree from Oberlin College where she double-majored in Biology and Cinema Studies. She also holds an MFA degree in Science and Natural History Filmmaking from Montana State University. She was a video producer for a production company in Washington, DC, for three years, where she made public service announcements, ad campaigns, and promotional videos for non-profit and environmental organizations. For the past six years, she has been a freelance video producer, creating videos for clients such as the National Park Service, NOAA, and Montana State University. Most recently, she produced and edited a series of educational videos about camping and hunting for Zero Point Zero Productions. This is her first expedition onboard the Okeanos Explorer with the Global Foundation for Ocean Exploration, and she can't wait to see what amazing discoveries the Okeanos Explorer will reveal. Emily currently resides in Bozeman, Montana.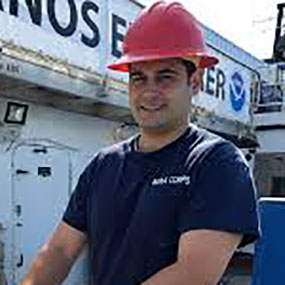 LTJG Nick Pawlenko
Expeditions Operations Leader
NOAA Office of Ocean Exploration and Research
LTJG Nick Pawlenko joins OER as Expedition Operations Leader. Nick is rotating to land after three field seasons aboard NOAA Ship Okeanos Explorer. During his time aboard the Okeanos Explorer, Nick was able to work with the ROV team, often sitting in as ROV navigator and co-pilot.
Nick graduated from the University of Pittsburgh with a Bachelor of Science in Mechanical Engineering and a Masters in Business. He also recently completed MIT's Professional Education program Rapid Robotics: Autonomous Systems with Open Source Software.
Prior to joining NOAA, Nick was very involved in the Pittsburgh community and served on the Board of Directors and as Treasurer for the Oakland Business Improvement District for many years. While in Pittsburgh, he also remodeled residential and commercial real estate and was involved in the bar and restaurant business.
Nick is very excited to continue his work with OER and be an asset to the team in his new land assignment.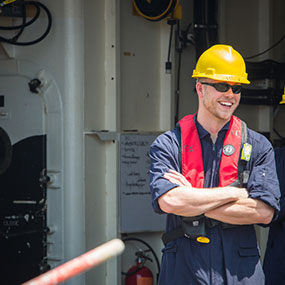 Chris Ritter
Ocean Engineer
Global Foundation for Ocean Exploration
Chris first joined our group on the Cayman Rise Expedition in 2011, just prior to being hired full time by NAVSEA. Since then, an informal NAVSEA-NOAA relationship has allowed Chris to continue to participate in our design, engineering, and offshore operations. Chris holds a B.S. in Ocean Engineering and a B.S. in Aerospace Engineering from Virginia Tech with a minor in mathematics. He is currently working on his M.S. in Ocean Engineering at Virginia Tech and expects to complete that program in 2015. Chris has been a major contributor to our design-build process and a tremendous asset to our offshore operations. He is a skilled navigator, pilot, and co-pilot of our vehicles and brings with him a level of enthusiasm that everyone around him appreciates and respects. The Office of Ocean Exploration and Research is very lucky to have his participation and we applaud NAVSEA for their insight, training, and willingness to share great talent. Chris resides in Arlington, Virginia.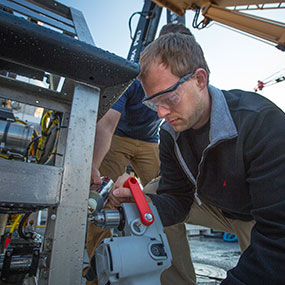 Dan Rogers
ROV Engineer and Telepresence Team Member
Global Foundation for Ocean Exploration
Daniel Rogers brings with him a diverse background in engineering, media production, and education. Daniel holds a B.S. in physics and received an M.S. in mechanical engineering from the University of Hawaii in 2013. His graduate work focused on the development and evaluation of an autonomous marine vessel designed for port and harbor security missions. Before starting his graduate program, Daniel worked as a science educator at the Bishop Museum in Honolulu where he continued as a digital media producer while in school. A lifelong interest in the sciences inspires him to learn all he can about the natural world and he is passionate about sharing the drama, allure, and wonder of scientific inquiry with others. Daniel currently works as a media producer and autonomous systems engineer in Honolulu, Hawaii.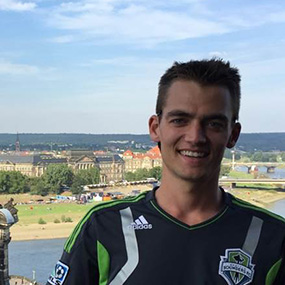 Levi Unema
ROV Engineer
Global Foundation for Ocean Exploration
Levi Unema is an Eagle Scout from Lynden, Washington. He holds a B.S. in Electrical Engineering along with a Certificate in Electric Power Engineering from Michigan Technological University. Levi has experience in a number of different industries, ranging from the railroad, to steel mills, to automotive supplier light manufacturing.
Currently living in west Michigan, he enjoys being outdoors and staying active.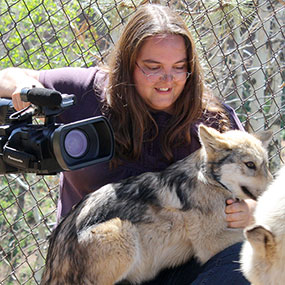 Annie White
Video Producer
Global Foundation for Ocean Exploration
Annie White is an award-winning documentary filmmaker, photographer, and biologist who specializes in conservation biology and animal behavior. She holds a B.A. in Environmental, Population and Organismic Biology from the University of Colorado and is currently finishing an MFA degree in Science and Natural History Filmmaking at Montana State University.
Her career has taken her from collecting limestone samples and fossils in Wyoming, to studying wild wolf behavior, to filming cougars and grizzly bears. The years she spent living and traveling with captive ambassador wolves kick-started her interest in science education and inspired her to reach out to larger audiences through film.
Her credits include projects for National Geographic WILD, Curiosity Stream, the Yellowstone Wolf Project, and various other non-profit groups. Now the writer and producer for VisionHawk Films, Annie spends her time developing broadcast TV series about wildlife.