Meet the On-ship Expedition Team
---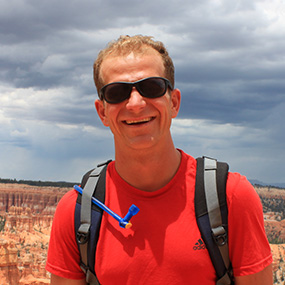 Dr. Daniel Wagner
Research Specialist, NOAA Papahānaumokuākea Marine National Monument
Daniel Wagner received his Ph.D. in biological oceanography from the University of Hawaiʻi in 2011. Prior to that, Daniel received a B.S. in biology from Hawaiʻi Pacific University in 2005, and an M.S. in biological oceanography from the University of Hawaiʻi in 2008.
Daniel has conducted research on Hawaii's deep-sea reefs for more than a decade and participated in over 20 research expeditions that have surveyed deep-water habitats using technical SCUBA diving, manned submersibles, and remotely operated vehicles. Daniel is interested in the taxonomy, life history and ecology of deep-sea corals, particularly of black corals.
He is serving as a co-science lead during the first ROV expedition to the Northwestern Hawaiian Islands, and will help coordinate the science objectives during the expedition.
Daniel is originally from Ecuador, but resides in Honolulu, Hawaiʻi.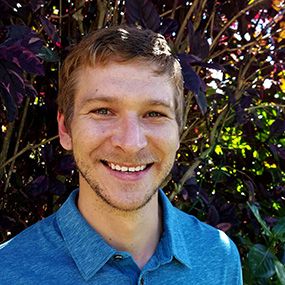 Jonathan Tree
Graduate Student, University of Hawaiʽi at Mānoa
Jonathan Tree is a graduate student at the University of Hawaiʽi at Mānoa finalizing his master's degree in geology and geophysics. His research is focused on understanding the geologic history of the Hawaiian hotspot. To better understand the evolution of the hotspot, he uses multiple methods including the geochemistry and geophysical data of the Hawaiian volcanoes that are 5 to 45 million years old. Jonathan is originally from Colorado where he completed undergraduate degrees in geology, biology, and mathematics and developed his interest in the geology of volcanoes while conducting research on an extinct volcanic field in southwestern Colorado. Jonathan has been involved in multiple at-sea expeditions in the region of the Papahānaumokuākea Marine National Monument and is excited be heading back out to sea to further explore these seamounts.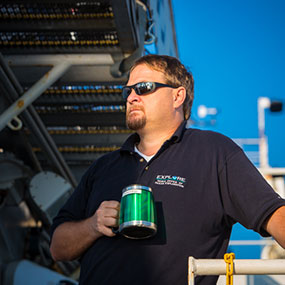 Roland Brian
Electronic Systems Engineer

Roland Brian brings 29 years of experience and a keen eye for precision HD video to the program as a video/satellite and telepresence engineer. Roland began his career in the U.S. Air Force where he worked as a Satellite Communications Engineering Technician with visions of working on the U.S. Space Station. He traded in that quest for one of deep-ocean exploration and sharing beautiful imagery with the world. He has worked with the NOAA Office of Ocean Exploration and Research (OER) and the Okeanos Explorer Program since 2009 and has been engaged in every telepresence-enabled remotely operated vehicle (ROV) expedition. He has also provided services for other projects using OER's mobile telepresence system, including the 2012 Ring of Fire Expedition. His duties aboard NOAA Ship Okeanos Explorer include operation and maintenance of the ship's Telepresence and video systems, including on ROV Deep Discoverer and the Seirios camera platform. Again, Roland's experience embodies the breadth and depth of knowledge the OER program encourages. When not fine-tuning the video and telepresence systems or training and mentoring new team members, he's actively involved in the editing process of our ever-expanding ocean exploration video library. While not at sea, Roland enjoys life with his wife and family in sunny Sarasota, Florida.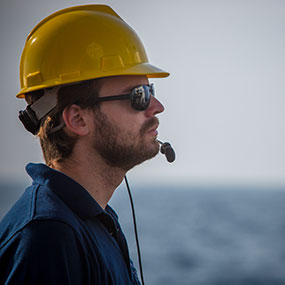 Joshua Carlson
Mechanical Engineer
Joshua Carlson attended the University of Massachusetts, Dartmouth, where he received a B.S. in Mechanical Engineering with minor in Business Administration. He went on to receive his M.S. in Marine Observation Technology from the University of Massachusetts, Dartmouth School for Marine Science and Technology. Josh has a diverse background, encompassing the use of autonomous underwater vehicles (AUVs) and other types of ocean observation platforms for the purpose of studying ocean turbulence. He has designed and built a deep-ocean camera platform for filming deep-water krill in the Antarctic Ocean and provided mechanical engineering and software capabilities on the Woods Hole Oceanographic AUV Sentry during a recent cruise aboard the NOAA ship Okeanos Explorer. In his current position with NOAA's Ocean Exploration program, Josh provides engineering, programming, and at-sea support, acting in the capacity of navigator, pilot, and co-pilot for NOAA's 6000-meter-rated remotely operated vehicle system, Deep Discoverer. His broad range of skills in both engineering and software control development makes him an invaluable member of our team. When not traveling, Josh resides in Fairhaven, Massachusetts.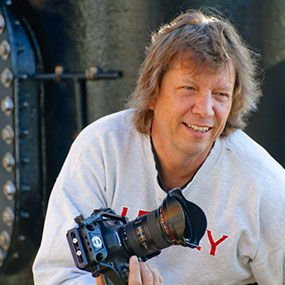 Art Howard
Photographer and Producer
For 34 years, Emmy-award winning photographer and producer Art Howard has helped viewers experience life through images from 50 countries and seven continents. A native North Carolinian, Art has followed researchers aboard multiple deep-sea missions, documenting the excitement and challenges of offshore reef exploration. Art will use the latest video technology to bring viewers as close as possible to life at sea from the surface to depths of 3,000 feet, capturing both the scientists and the life they seek to understand. Howard has spent the last 11 years independently producing media for the North Carolina Museum of Natural Sciences.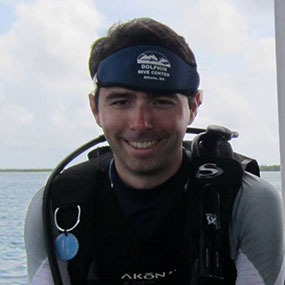 Brian Kennedy
Expedition Coordinator, NOAA Office of Ocean Exploration and Research
When Brian was five years old, he decided that he wanted to be a marine biologist and explore the unknown reaches of the planet, and now he has his dream job. Originally from land-locked Athens, Georgia, Brian grew up fascinated with marine mammals and the ocean. Brian attended the Honors College at the College of Charleston (CofC) in South Carolina where he majored in Marine Biology and minored in Marine Geology.  While at CofC, he had the opportunity to sail on multiple research cruises aboard two different NOAA research vessels and meet multiple NOAA Commissioned Officer Corps members. Shortly after graduating with honors from CofC, Brian was awarded a commission in the NOAA Corps. His first sea assignment was as a Junior Officer aboard NOAA's Okeanos Explorer, America's Ship for Ocean Exploration. Upon completion, Brian was then assigned to NOAA's Ocean Exploration Program, where he is now an Expedition Coordinator for the Okeanos Explorer. Brian has participated in or led more than 25 expeditions of exploration taking him to two oceans (Atlantic and Pacific), three continents (North America, South America and Asia), and through the waters of more than five countries (Ecuador, Panama, Costa Rica, Honduras, Indonesia). As Expedition Coordinator, Brian is responsible for overseeing all aspects of an expedition, including arranging logistics, planning science operations, obtaining international clearances, and coordinating public outreach.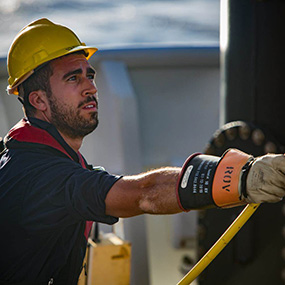 Sean Kennison
Electrical Engineer
Sean Kennison holds a B.S. in Mechanical Engineering with a minor in Engineering Mechanics from Pennsylvania State University. He first sailed on the Okeanos Explorer as an intern and member of the Engineering Group, where he performed tasks associated with the launch, operation, and recovery of the ROV system. He has also worked shoreside, designing mechanical parts for the ROVs and assisting with assembly and testing of previously and newly installed equipment. Sean also assisted with installing electronics, testing, data analysis, and troubleshooting on the vehicle. Most recently, he assisted in assembling and modifying a new bio storage box for the Deep Discoverer ROV. While at Penn State, Sean served as team leader on a number of engineering design projects.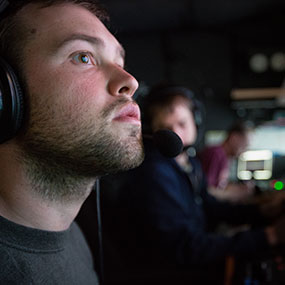 Jeff Laning
Electrical Engineer
Jeff Laning holds a B.S. in Electrical Engineering from the University of Vermont. He started his career as an intern with Greensea Systems, Inc., where he worked on design, development, and integration of components and software associated with remotely operated vehicles and autonomous underwater vehicle systems.
Jeff is one of our youngest members and came to our group with a desire to learn new and complex electrical systems. Electrical engineers interested in and capable of working on deep submergence systems are one of the hardest positions to fill. Jeff has done a great job as a key member of the team that built Deep Discoverer and has become a skilled pilot, co-pilot, and navigator. His contribution to ocean exploration is certainly something to be proud of and we hope that other young engineers will be inspired by what he has accomplished. Jeff currently resides in Vermont.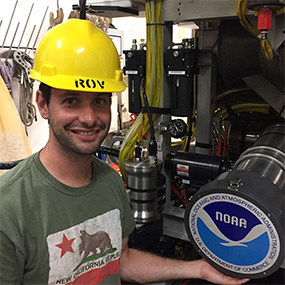 Andy Lister
Mechanical Engineer

Andy earned a Bachelor's in Ocean Engineering from Texas A&M. He then obtained a Master's in Mechanical Engineering focusing on Robotic Artificial Intelligence and Systems Engineering from Embry Riddle in Daytona Beach. After college, he lent his knowledge to the oilfield service industry for four years, living in various places including Wyoming, North Dakota, and Alaska while on assignment. Recently, he has come back to the mechanical and software side of engineering to contribute to the team at the Global Foundation for Ocean Exploration. He loves traveling, exploring, and being outdoors.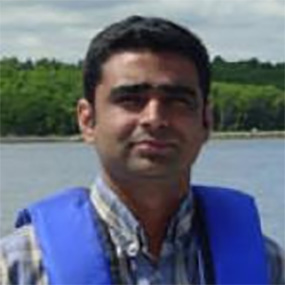 Mashkoor Malik
Physical Scientist/Hydrographer, NOAA Office of Ocean Exploration and Research
Mashkoor earned his master's in Ocean Mapping from the University of New Hampshire in 2005. He has been with NOAA since 2008 and served as the onboard mapping lead on the Okeanos Explorer from 2008-2013. From 2013-2015, he worked with the NOAA Office of Coast Survey. He rejoined OER in July 2015 as a Mapping Team Lead, where he is responsible for the ocean mapping systems onboard NOAA Ship Okeanos Explorer. On shore, Mashkoor works in Silver Spring, Maryland, where he contributes to expeditions through data processing and archiving, operational planning, and mapping product development.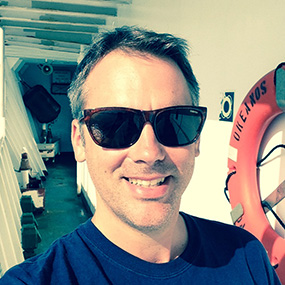 Jason Meyer
Mapping Technician

Jason Meyer first pursued his passion for seafloor exploration while earning a B.S. from the University of Hawaii Hilo in Geology studying volcanic processes along the Hawaiian Islands. He would later go on to receive his M.S. in Geology from the University of South Carolina focusing on regional mapping and classification of seafloor volcanoes along the East Pacific Rise and the Galapagos Spreading Center in the Pacific Ocean. 
Since graduating in 2006, Jason has worked as a hydrographer mapping the coast, rivers, reservoirs, and lakes along the west coast from Mexico to Alaska and Hawaii. He has endured long hours and challenging conditions at the helm collecting data that serves maritime navigation and construction, environmental studies, and academic exploration. Since dedicating his career to hydrography, Jason continues to be driven by curiosity and the challenge of the unknown depths.
This will be Jason's second season working on the Okeanos Explorer as a mapping technician. While not at sea, he enjoys climbing, surfing, and backpacking. Jason resides in Battle Ground, Washington.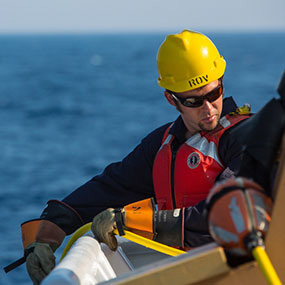 Karl McCletchie
Ocean/Mechanical Engineer
Karl McLetchie is a graduate of the Massachusetts Institute of Technology. He holds B.S. and M.S. degrees in Ocean and Mechanical Engineering. After graduating, he worked as an engineer on the development of autonomous underwater vehicles and as a naval architect on the design of high-speed aluminum vessels. After a brief, two-year stint of delivering sailboats around the Caribbean, he started his own contracting company, SeaKnowledge, in 2008. Through SeaKnowledge, Karl works on the mechanical design and operation of underwater vehicles. Karl has worked on Okeanos Explorer for six seasons, in all positions on the ROV Team from Winch Operator to Dive Supervisor. When not on assignment for Ocean Exploration, Karl resides in Pemaquid, Maine.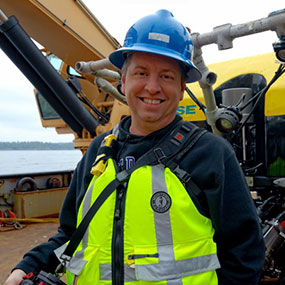 Ed McNichol
Video Producer, Editor, Post-Production Supervisor
Ed McNichol is a communications technology professional with 30+ years of global video expertise. He is an avid scuba diver and Divemaster based in Seattle, Washington. He combines both of these interests through his work supporting deep-sea research and exploration using remotely operated vehicles (ROVs). He has served as an onboard Expedition Video Systems Specialist and Mission Photographer on more than a dozen international missions, working with seven different vehicles. His specialties include designing, building, and operating sophisticated shipboard video systems in a mobile form factor. These systems perform a multitude of mission critical functions, including recording and archiving of high-definition video with embedded metadata, producing live satellite streaming with interactive webcasts, and video production services. He also has experience in best practices for digital asset management and protection, as well as event logging. He enjoys capturing dynamic still photos that feature shipboard mission operations while including rich metadata.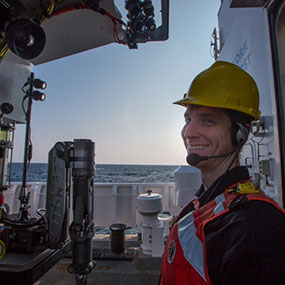 Bobby Mohr
Legs 2, 3, 4
Systems/Robotics Engineer
Bobby Mohr is a Systems/Robotics Engineer, specializing in autonomous and remotely operated underwater vehicles. He holds a B.S. in physics and graduated cum laude from Davidson College in 2009. Bobby started his career as an engineering technician with Greensea Systems where he was responsible for the design, development, and testing of autonomous underwater vehicle control systems. Like many of our engineers, Bobby realized that he would enjoy the design-build process more if he was able to also pursue the challenges of making vehicles work successfully at sea.
After serving on several projects at Greensea where he specialized in electrical and software systems support, Bobby joined the Ocean Exploration program as an electrical systems engineer. During his time at Greensea and now with NOAA, he has been one of the key electrical engineers on the development of our 6000-meter-rated remotely operated vehicle system, Deep Discoverer and Seirios. Like many of our engineers, he has multiple skills and is a tremendous asset to our program.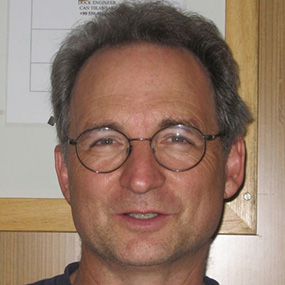 Jim Newman
Mechanical Engineer/Pilot
Jim Newman's career has centered on the development and deployment of remotely operated underwater vehicles (ROVs) for various scientific uses. Among other projects, Jim led the development and deployment of underwater vehicle systems under contract to the Institute For Exploration (now the Ocean Exploration Trust; OET), including the ROVs Hercules and Little Hercules.  Jim also managed the acquisition and conversion of OET's 64-meter exploration vessel, the E/V Nautilus. More recently, Jim has been working on development of ROVs and other underwater systems for the NOAA Office of Ocean Exploration and Research, Woods Hole Oceanographic Institution, Neptune Canada, and Hydroid. Jim is an adjunct Professor of Ocean Engineering at the University of Rhode Island, where he developed and taught a graduate-level course on ROV design. Jim was the Project Leader for the development of the Tiburon ROV system at Monterey Bay Aquarium Research Institute, and worked as a member of the engineering team that developed the JASON and JASON Junior ROVs at the Woods Hole Oceanographic Institution. Jim operates Woods Hole Marine Systems, Inc., and holds Bachelor's and Masters' degrees in Ocean Engineering from the Massachusetts Institute for Technology.
Andrew O'Brien
Software/Data and Satellite Engineer - ROV Pilot/Copilot

Andy started his professional career in the U.S. Navy where he ran a small electronic test system calibration laboratory and instructed NATO students in Satellite Ground Station repair. Following the Navy, he obtained a B.A. in History and a M.S. in Computer Science from the University of Vermont before hiring on as the Lead Software Engineer at Greensea Systems. During his tenure at Greensea, Andy designed, developed, and supported over 40 widely varying custom robot control systems and their operator interfaces for government and industry. Notably, Andy was the software lead on our very own Deep Discoverer and Seirios remotely operated vehicles.
Andy reports he so enjoyed working with the NOAA Office of Ocean Exploration and Research team, and their exploration mission, that he asked to join. Andy now splits his time between developing software; managing science and engineering data; maintaining the satellite communications system; and navigating, piloting, and co-piloting the deep-submergence vehicles. During his free time you can often find him in Monkton, Vermont.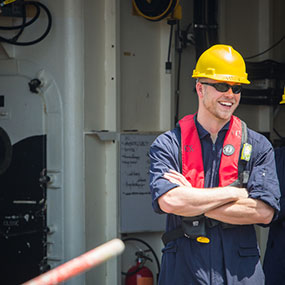 Chris Ritter
Ocean Engineer
Chris first joined our group on the Cayman Rise Expedition in 2011, just prior to being hired full time by NAVSEA. Since then, an informal NAVSEA-NOAA relationship has allowed Chris to continue to participate in our design, engineering, and offshore operations. Chris holds a B.S. in Ocean Engineering and a B.S. in Aerospace Engineering from Virginia Tech with a minor in mathematics. He is currently working on his M.S. in Ocean Engineering at Virginia Tech and expects to complete that program in 2015. Chris has been a major contributor to our design-build process and a tremendous asset to our offshore operations. He is a skilled navigator, pilot, and co-pilot of our vehicles and brings with him a level of enthusiasm that everyone around him appreciates and respects. The Office of Ocean Exploration and Research is very lucky to have his participation and we applaud NAVSEA for their insight, training, and willingness to share great talent. Chris resides in Arlington, Virginia.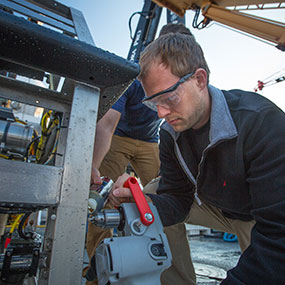 Dan Rogers
ROV Engineer and Telepresence Team Member
Daniel Rogers brings with him a diverse background in engineering, media production, and education. Daniel holds a B.S. in physics and received an M.S. in mechanical engineering from the University of Hawaii in 2013. His graduate work focused on the development and evaluation of an autonomous marine vessel designed for port and harbor security missions. Before starting his graduate program, Daniel worked as a science educator at the Bishop Museum in Honolulu where he continued as a digital media producer while in school. A lifelong interest in the sciences inspires him to learn all he can about the natural world and he is passionate about sharing the drama, allure, and wonder of scientific inquiry with others. Daniel currently works as a media producer and autonomous systems engineer in Honolulu, Hawaii.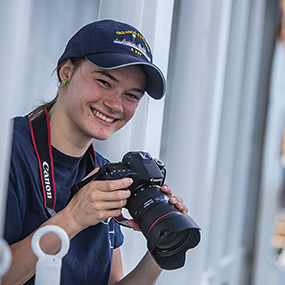 Tara Smithee
Videographer/Filmmaker
Tara Smithee is the Media and Visual Arts Coordinator for the Global Foundation for Ocean Exploration. Tara holds an M.S. in Earth Systems, Ocean Track, from Stanford University and is currently pursuing a MFA degree in Science and Natural History Filmmaking at Montana State University's Science and Natural History Film School.
To prepare for attending film school, she pursued a number of internships, spending three months learning to use editing software at NOAA's Ocean Media Center, one month filming wolves with Landis Wildlife films in Yellowstone National Park, and making several more trips working side by side with industry professionals on NOAA Ship Okeanos Explorer. In between her classes, Tara continues to participate in expeditions with the Okeanos and produces films for the NOAA Ocean Explorer website. She has worked on a variety of films as a producer, camera, sound, and editor. She hopes to use film to share her voice and as a platform for conservation. When not at sea, she resides in Portland, Oregon, where she rides horses, tango dances, and SCUBA dives.
Levi Unema
ROV Engineer
Levi Unema is an Eagle Scout from Lynden, Washington. He holds a B.S. in Electrical Engineering along with a Certificate in Electric Power Engineering from Michigan Technological University. Levi has experience in a number of different industries, ranging from the railroad, to steel mills, to automotive supplier light manufacturing.  Currently living in west Michigan, he enjoys being outdoors and staying active.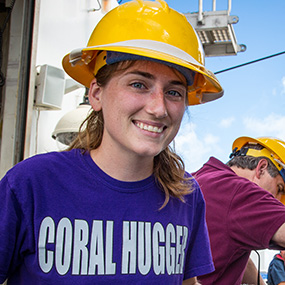 Katharine Woodard
Scientist/Data Manager, General Dynamics Information Technology
Katharine Woodard currently works as a scientist and data content manager for NOAA's National Centers for Environmental Information where she prepares geospatial data packages for long-term archiving and determines best practices for submission. Her past research experience includes looking at bio-physical interactions with emphasis on mesoscale eddies in the Gulf of Mexico using an integrated satellite sensor approach, and research at the ASIST wave-tank at the University of Miami with the Oceans and Human Health project. She received her M.S. in Physical Oceanography from the University of Southern Mississippi and a B.S. in Marine Science and Biology from the University of Miami. Katharine brings a diverse skill to the team, including data collection and management, sample handling and processing, data analysis, troubleshooting and writing scripts, knowledge of multiple programming languages and platforms, and geographic information systems. She is joining the team during this cruise leg to help with sample processing and data management.