September 19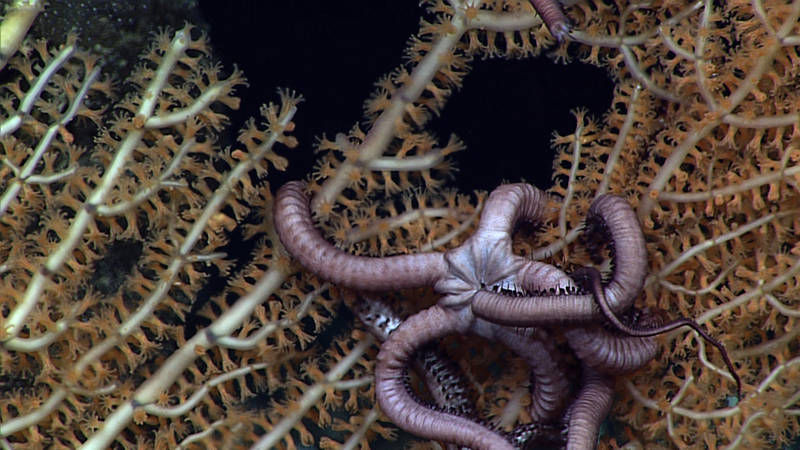 If you follow along with the video stream and listen to the scientists describe the features and animals that appear, you'll hear many unfamiliar, complicated, and foreign-sounding names. Welcome to the world of scientific nomenclature!
Why does it have to be so complicated? Why is it not sufficient to simply say "coral" or "eel" or "shrimp?" Scientists are not trying to speak in a secret code or sound overly [smugly?] intellectual. Rather, our goal is to be precise and to convey the most meaning with agreed-upon terminology, the so-called jargon of our fields. Much of what science students learn in their basic courses is the language of the specific field of interest.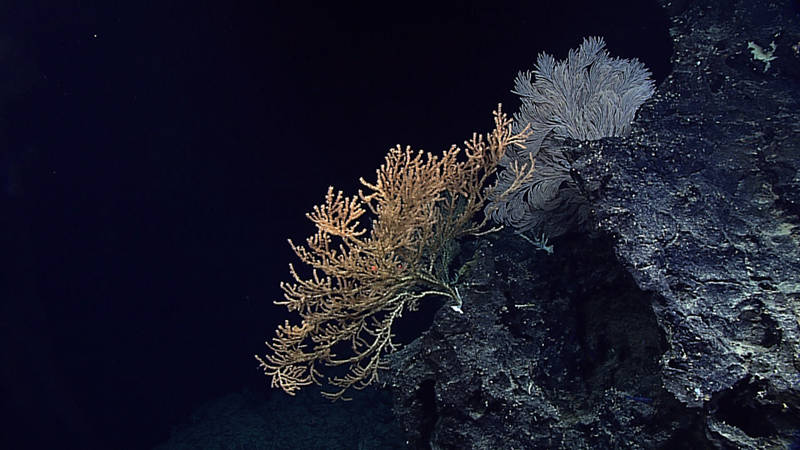 Why Is It Necessary To Be So Exact?
One of the goals of the current expedition, and those of the overall three-year CAPSTONE project in the Central Pacific, is to learn more about the biodiversity of the deep-sea hard bottom in this region. Biodiversity can mean many things, but we'll consider it in its most basic meaning: species richness, a measure of the number of different species.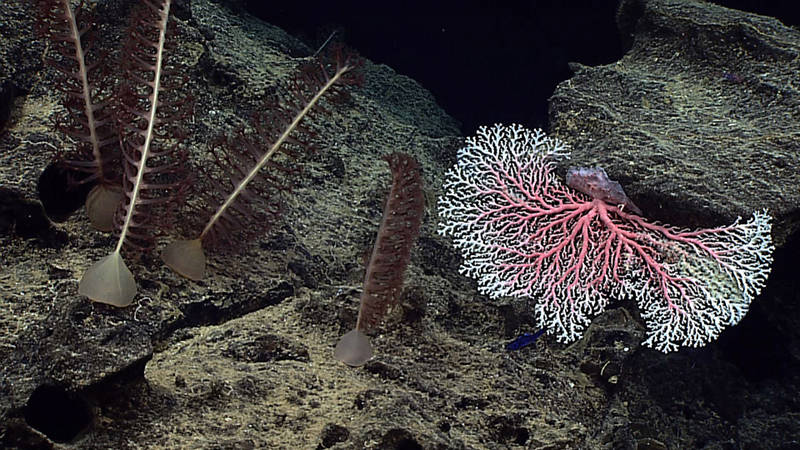 Higher (greater?) biodiversity means greater complexity in communities: more biological interactions, such as predator-prey or host-symbiont; more variation in physiology, adaptations, and responses to pathogens and the physical environment; more structural variation to the habitat – big animals, small animals, animals that provide habitat for other animals (such as coral colonies do with their branches); etc.
Using common names may obscure the actual biological diversity represented by the name. A good example is when you buy fish called "snapper" at the market – it may represent any one of 200 different species! Furthermore, common names vary from place to place and person to person. What is commonly referred to as onaga in Hawaii is called Long-Tail Red Snapper elsewhere in the United States. Common names also vary regionally with language - in fact, onaga is a Japanese name, the Hawaiian name is `Ula`ula koa`e - but scientific names, rooted in Latin and Greek, are the same across all languages. Finally, many of the deep-sea animals we encounter have no common names because they are so poorly known.
How Different Are They?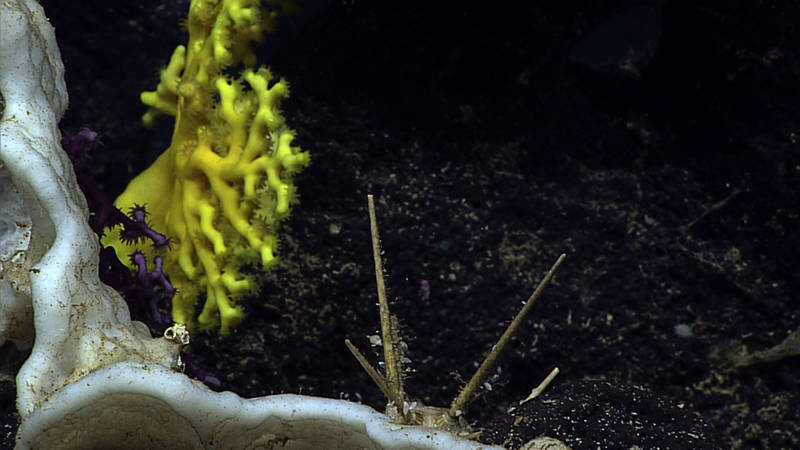 Another element of biodiversity is how evolutionarily different the species in a community are, and a shorthand for this sort of comparison is the taxonomic classification of the species. So during the dives, we may refer to a particular animal by its species name, or genus name, or family name, etc. And by understanding something about these classification levels, you can begin to appreciate just how evolutionarily distant some of these corals are from each other.
Using the bamboo coral Isidella trichotoma as an example, a comparison between this species and Calyptrophora alpha – another octocoral in the same taxonomic order (Calcaxonia, highlighted by shared blue color in the chart below) but in a different taxonomic family - is about the same level of comparison between a human and an Olive Baboon, which are both in the order Primates (highlighted by shared blue color in the chart below) but in different families. Looking across more widely-separated evolutionary branches, comparing a bamboo coral to a sea pen – both octocorals (highlighted by shared green color) but in different taxonomic orders - is like comparing a human to a dolphin or a human to a dog (or a dog to a dolphin)! Comparing bamboo corals to black corals crosses an even greater evolutionary jump, from one sub-class to another, on par with humans to platypus. These are very different animals1! Finally, in comparing a hydroid colony to an octocoral colony, we are looking between classes, and so in our analogy it would be at the level of humans (Class Mammalia) to fish (Class Actinopteri).
So, although it may sometimes sound like we are using pretentious language to refer to many variants of corals, the precision of scientific language allows us to intuit the biodiversity and evolutionary divergence the corals represent - as taxonomically great as the divergence between humans and fish2 - without having to discuss this aloud each time.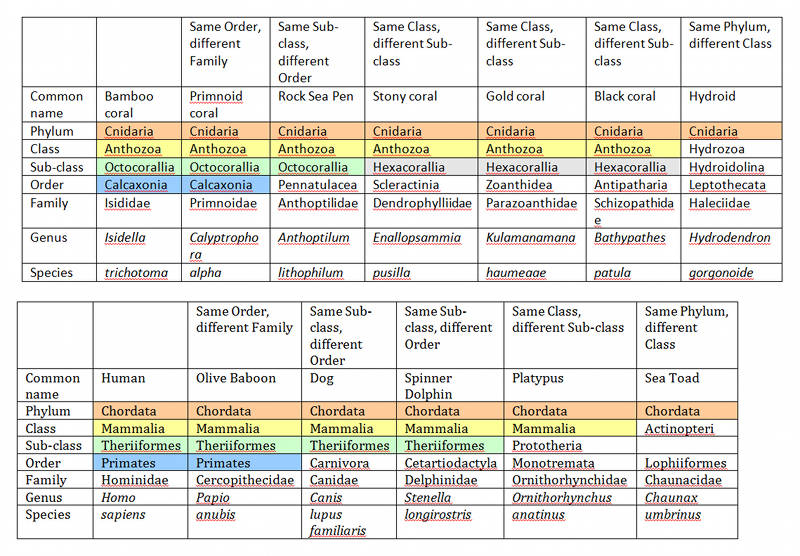 ---