Deep-Sea Mineral Deposits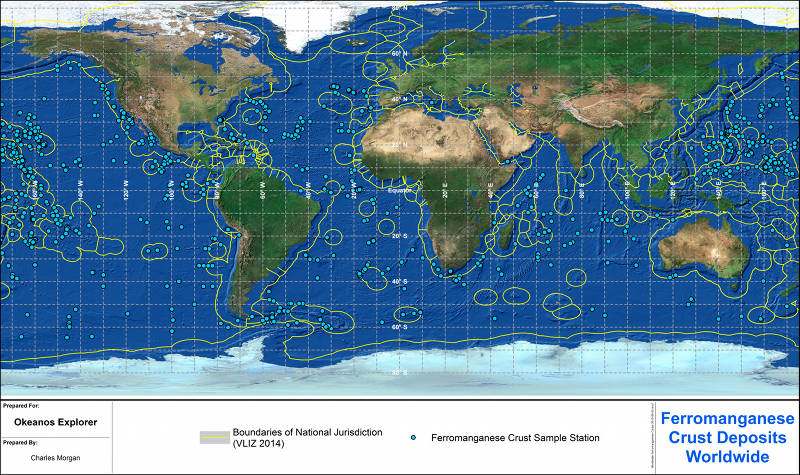 The Hawaiian and Johnston Island Exclusive Economic Zone seabed areas host significant deep-sea mineral deposits called ferromanganese crusts. These deposits are enriched in manganese, cobalt, and other metals of commercial interest, including rare earths. Rare earths make possible the high-tech world that we live in today, allowing for everything from miniaturization of electronics to green energy; even medical technologies and essential telecommunications. With increasing demand for high-tech devices, global commercial exploration of deep-sea minerals is accelerating.
Where and How the Deposits Form
In many deepwater areas around the world, these crust deposits form as iron (Fe) and manganese (Mn) minerals precipitate out of seawater to form a layer, or crust, on rocky surfaces (see Figure 1, above). They are commonly found on virtually any type of deep-sea rocky surfaces, where bare rocks are exposed to seawater for long periods of time. They only occur on sediment-free surfaces. Crusts may be found on the rock seabed anywhere deeper than a few hundred meters. They are most common on the flanks and summits of seamounts that rise hundreds of meters above the ocean floor.
While there are many unknowns about the viability of commercially mining these deposits, the key variable will probably be the thickness of the crust. Metal concentration is also important, but the technical difficulties related to removing thin deposits from irregular rocky surfaces suggests that the most viable deposits economically will be those with the greatest thickness on the smoothest surfaces.
Dr. James Hein of the U.S. Geological Survey has studied deep-sea crust deposits extensively for more than 35 years, collecting, examining, and testing samples recovered from many sites. Dr. Hein has concluded that the deposits with the most potential for economic recovery (i.e., deposits with relatively high content of cobalt and relatively thick crust layers) are found on seamount flanks and summits in water depths between 800 and 2,500 meters (Hein, Conrad, and Dunham, 2009).
This depth range usually corresponds to the level in the ocean known as the Oxygen Minimum Zone (OMZ), which lies below depths where significant sunlight can penetrate and permit photosynthesis to take place and below depths affected by wind-driven currents and turbulence that can mix oxygen-rich surface water with deeper water. In water with relatively low levels of oxygen, the metals that precipitate to form the crusts become more chemically active than at higher oxygen levels, and thus more available to form the deposits.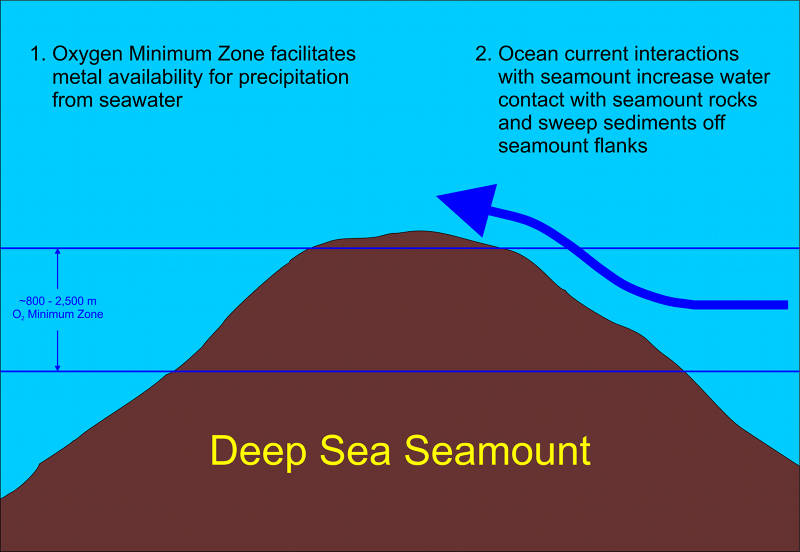 The apparent preference for growth on seamounts may also be related to the fact that seamounts are obstacles to deep-sea current circulation. Currents encountering a seamount are diverted around and above the edifice, leading to increased current levels at the seafloor-seawater interface. This increase will increase the flow rate of water at the seafloor surface and can also act to dislodge loose sediments that might otherwise cover the rocky surfaces.
Thus, as illustrated in Figure 2, the co-occurrence of more chemically available metal sources due to the presence of the OMZ, relatively higher flows of water over the rocks where the deposits form, and stronger currents that can remove sediments, may explain the occurrence of the thickest and most metal-rich crusts within this depth range and on seamounts.
CAPSTONE and Crust Deposits in the Hawaiian and Johnston Island Region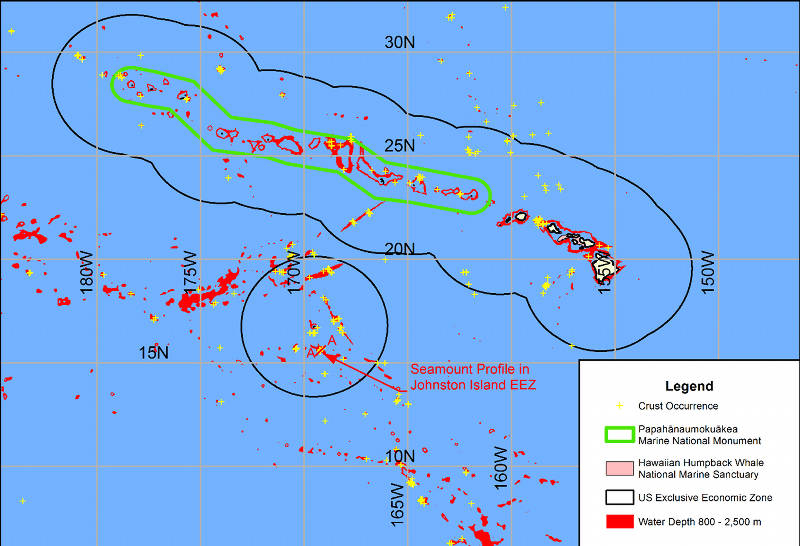 The 2015-2017 CAPSTONE effort will investigate various deep-water habitats in the Pacific that are of great ecological interest. The initial CAPSTONE expedition in 2015, called 'Hohonu Moana,' will focus on both the Hawaiian archipelago and the Johnston Atoll Exclusive Economic Zone (EEZ). The ferromanganese crust deposits that currently show the most promise for commercial recovery are on large, flat-topped seamounts (guyots) located to the west of this region.
However, crust deposits are common within the Hawaiian and Johnston Island region, and one of the main themes of the work will be to gain a better general understanding of the biological communities associated with ferromanganese crust deposits. Figure 3 shows the seabed region included in this study and the distribution of known occurrences of ferromanganese crust deposits within it.
As noted above, scientists believe that the depth range between 800 and 2,500 meters contains the best prospects for thick crust deposits. For example, Figure 4 shows a profile of one seamount in the Johnston Island EEZ that was dredged for crust deposits. Seventy-one crust samples were recovered from five dredge hauls collected very close to this profile. All the sample sites were from water depths between about 1,600 and 1,770 meters, the average cobalt concentration in these crust samples was greater than one percent, and the average crust thickness measured was 2 centimeters, with a maximum value of 3.5 centimeters. This example and others from this collection of 1,215 samples recovered in the region are mostly consistent with this trend, giving credence to these depth limits as important criteria for selection of prospecting sites for future mining.
Using these features and the estimates of crust thickness (obtained from the International Seabed Authority Central Data Repository, CDR), it is possible to set prospecting priorities for potential future exploration targets and also to help set priorities for biological survey efforts. A preliminary examination of the CDR data shows that the thickest crusts in the Hawaiian and Johnston Island region (average values of measured samples) collected to date are within the boundary of the Papahānaumokuākea Marine National Monument (Figure 5), with relatively high values also located within the Johnston Island EEZ and on the northern margins of the Hawaiian EEZ. These latter two regions may be the best targets for research for the CAPSTONE project related to ferromanganese crusts.
Reference
Hein, J.R., Conrad, T.A., and Dunham, R.E.  2009 . Seamount characteristics and mine-site model applied to exploration- and mining-lease-block selection for cobalt-rich ferromanganese crusts. Marine Georesources and Geotechnology, v. 27, p. 160-176.