Call for Input - North Atlantic Atlantic
Call for Input: Okeanos Explorer Fiscal Year 2020-2021 ASPIRE Campaign - North Atlantic Exploration
On behalf of NOAA, the Office of Ocean Exploration and Research (OER) invites members of the ocean science and management community to submit priority areas for mapping and remotely operated vehicle (ROV) operations for Fiscal Years (FY) 2020 and 2021 on NOAA Ship Okeanos Explorer in the North Atlantic basin.
This survey tool will allow you to submit dive targets and mapping requests which may be used to design the FY20 and FY21 NOAA Ship Okeanos Explorer field seasons in support of the Atlantic Seafloor Partnership for Integrated Research and Exploration (ASPIRE) campaign. OER held an ASPIRE Science Planning Workshop in the fall of 2018 and received input from over 50 deep-sea experts representing the United States, European Union, Canada, Iceland, and Russia. Participants identified regional exploration priorities throughout the North Atlantic, and we are pleased to announce that their recommendations are now available in the recently released ASPIRE Workshop Report.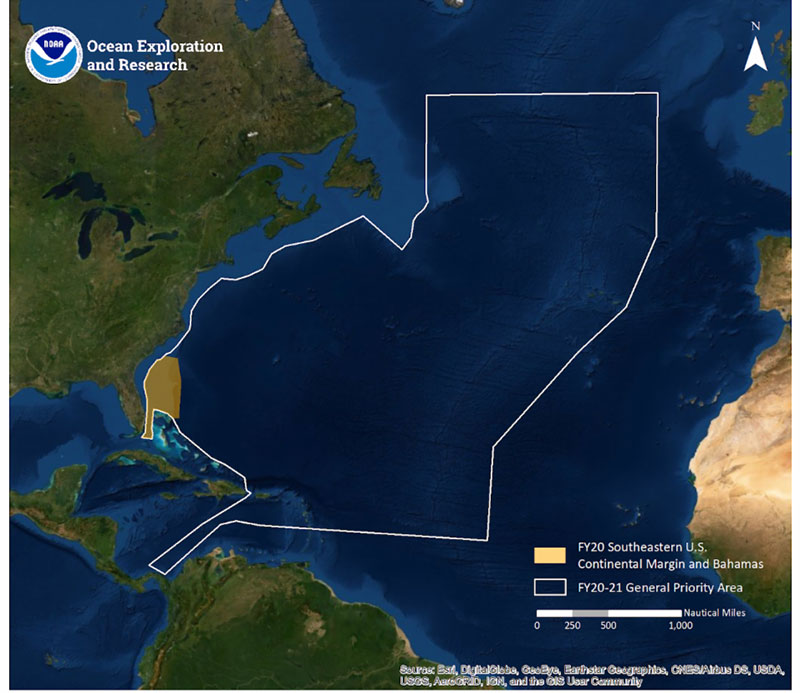 In FY20 and FY21, NOAA Ship Okeanos Explorer will be operating in the geographic areas identified during the ASPIRE Workshop. In FY20, the ship schedule will feature expeditions to the U.S. Southeastern Continental Margin and Bahamas, the U.S. Caribbean, the Mid-Atlantic Ridge, and the U.S.-Canada continental margin. The first of these expeditions, to the U.S. Southeastern Continental Margin, will occur in October-November 2019. The remainder of the FY20 field season will occur after a regular maintenance period and will begin again in April 2020. In FY21, the schedule has not yet been defined, and the priorities received through this survey will help to define operating areas as well as specific expedition targets. Target recommendations are due for all areas on September 30, 2019.
Recommendations can be provided through our SeaSketch portal (http://seasket.ch/OgT69AyWZ5 ) — a web-based GIS portal showing our general operating areas, previous surveys, managed areas, and maritime boundaries in the region. Be sure to review the operational capabilities listed in the survey. Instructions on using SeaSketch are available here.
Following consideration of all submissions, the FY20-21 field seasons will be designed to meet identified priorities in the North Atlantic. Detailed information about your submission will not be shared publicly, but generalized areas of interest will be shared. Please note that submission does not guarantee that NOAA Ship Okeanos Explorer will be able to execute on your request, and that submissions will be balanced with existing OER and community priorities. Submissions will be distributed across the expedition schedule and will be refined during collaborative planning conference calls. OER highly encourages those who submit recommendations to join expeditions of interest as a member of the shore-based science team. If you need assistance, please contact Caitlin Adams (caitlin.adams@noaa.gov). If you wish to further discuss science interests, please contact OER's science advisor, Dr. Scott France (france@louisiana.edu).
We value your input and look forward to your participation in our upcoming expeditions.