Mission Plan
Mission Plan
by Jeremy Potter, Expedition Coordinator, NOAA Office of Ocean Exploration and Research
Overview
INDEX-SATAL 2010 will be the first in a series of joint Indonesia-U.S. expeditions to explore the ocean and help advance our knowledge, use, and protection of the ocean and its resources. This year's joint expedition is staged from two ships: NOAA Ship Okeanos Explorer and the Indonesian research vessel, Baruna Jaya IV.
Exploration Approach
From June to August 2010, an international team of scientists and technicians both on ships and on shore will conduct exploratory investigations on the diversity and distribution of deep-sea habitats and marine life in Indonesian waters. They will focus on the water column and benthic environments in unknown ocean areas in SATAL – a contraction of Sangihe and Talaud – two island chains stretching northeast of North Sulawesi.
During the expedition U.S. and Indonesian scientists will work side-by-side on two ships, the Okeanos Explorer and the Indonesian research vessel Baruna Jaya IV, and at Exploration Command Centers (ECCs) ashore.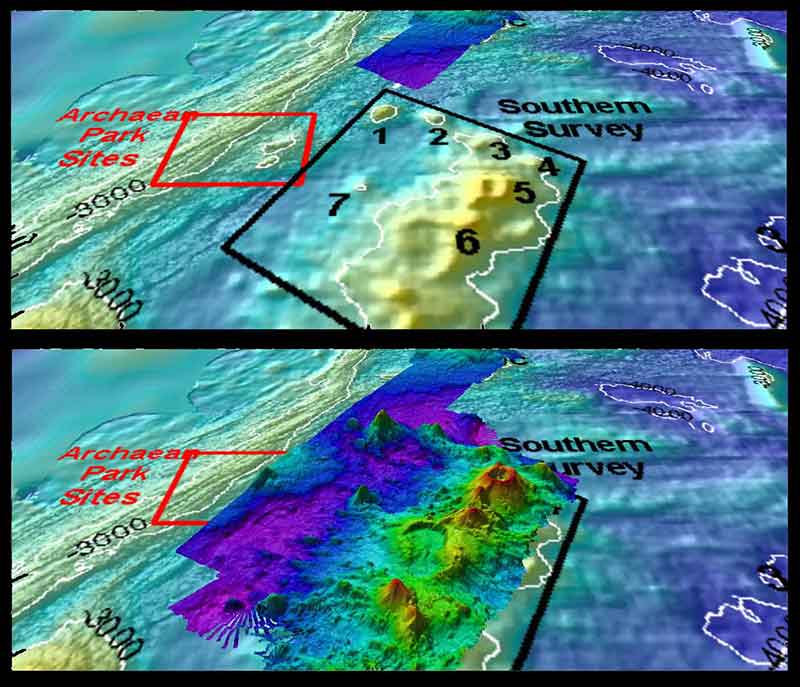 Starting on June 24, scientists and technicians on NOAA Ship Okeanos Explorer will create bathymetric maps of the seafloor using the ship's multibeam sonar, characterize the water column with the CTD/rosette, and explore seafloor habitats using the Little Hercules ("Little Herc") remotely operated vehicle (ROV).
The Indonesian research vessel Baruna Jaya IV will join the Okeanos Explorer starting on July 14. It will use complementary tools to map the seafloor and use traditional sampling techniques to collect biological and inorganic samples, a capability the Okeanos Explorer does not have.
Joint port events are scheduled in North Sulawesi Indonesia on July 20 and August 10.
Technology and Science Plan
NOAA Ship Okeanos Explorer is one of the newest additions to the NOAA fleet and was commissioned in 2008. It provides accommodations for up to 46 crew and technicians. Unique to this ship is that most of the scientists will remain ashore. Via telepresence, live images from the seafloor and other science data will flow over satellite and high-speed Internet pathways to scientists standing watches in ECCs in Jakarta, Indonesia, and Seattle, Washington. Those scientists, and others on call if a discovery is made at sea, will add their expertise in real time to operations at sea.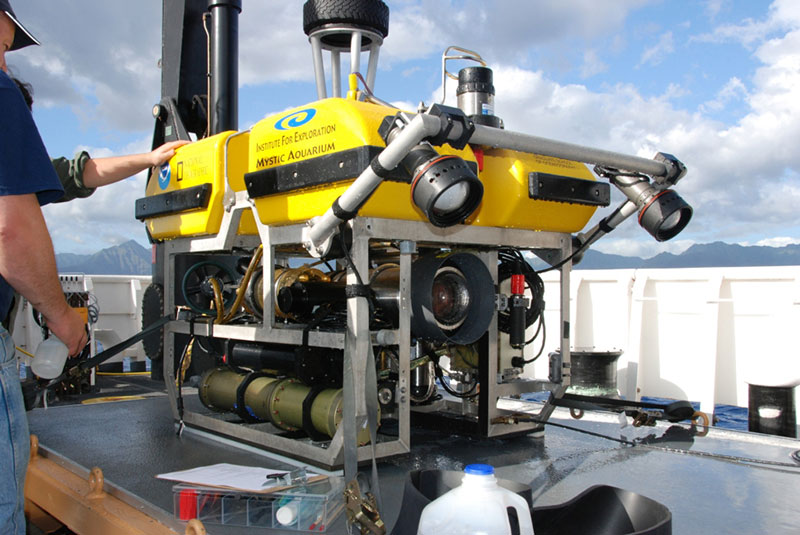 One of the hallmarks of this expedition will be the high-definition video provided from the Little Hercules ROV. When deployed from the Okeanos Explorer, "Little Herc" will provide scientists and the audiences onshore with the very first video footage from deepwater areas of the Sangihe Talaud Region. All expedition participants are anxious to see the spectacular habitats and marine life we'll discover.
The Indonesian research vessel Baruna Jaya IV is one of the newest vessels operated by the Indonesian Agency for the Assessment and Application of Technology (BPPT). It can accommodate up to 59 crew, technicians, and scientists. Though telepresence is not critical to its operations, Indonesian scientists recently outfitted the ship with the capability to also communicate with the Jakarta and Seattle ECCs.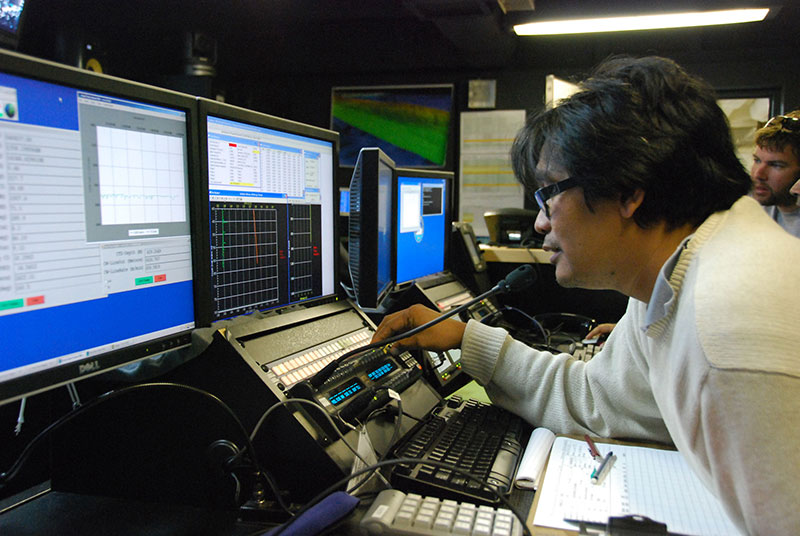 Ocean expeditions are complicated enough when they only involve one ship and with all scientists on board. With multiple ships and a shore-side science team separated from each other by 14 hours, coordinating communications and operations is bound to be challenging and exciting.
Beyond the anticipated extraordinary science results, this maiden expedition of NOAA Ship Okeanos Explorer will also be critical to refining our operations paradigm for the future.
Education and Outreach
It takes knowledgeable people to make sound choices. Young people, especially, need the chance to become engaged and opportunities to become sound stewards. This joint expedition gives Indonesian and U.S. students just that opportunity, bringing materials linked to this shared adventure into their classrooms and right to their fingertips.
Educational products related to the expedition include this website with essays, daily mission logs, and imagery; near real-time ship tracking; and educational modules and lesson plans on biodiversity and natural hazards.
Partners
NOAA's partners in this expedition include the Indonesian Ministry of Marine Affairs and Fisheries, Indonesian Agency for the Assessment and Application of Technology, U.S. Embassy – Jakarta, University of Massachusetts, Woods Hole Oceanographic Institution, University of Victoria, University of Hawaii, the Exploratorium in San Francisco, and Sea World Indonesia.