Biodiversity
The Coral Triangle and Marine Biodiversity
by Molly Timmers, Marine Ecosystem Specialist, Joint Institute for Marine and Atmospheric Research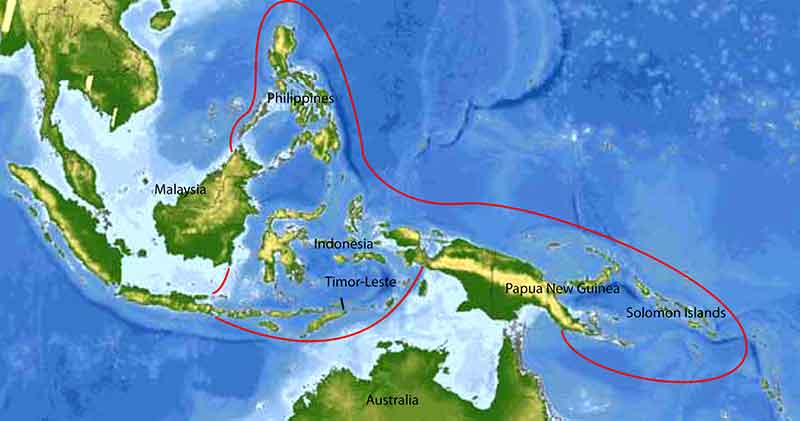 Tropical coral reefs have been dubbed the rainforests of the sea because of their extraordinary biodiversity. Biodiversity is essentially a measurement of species richness (the number of species in a community) and the relative abundance of species (the evenness with which the individuals are spread out among the species in a community).
Coral reefs are considered to be the most biologically diverse of all marine ecosystems, supporting an estimated 25 percent of all marine life and 32 of the current 34 existing animal phyla. Yet they cover a mere 0.2 percent of the ocean floor. Although coral reefs exist throughout the tropics, there is one area that is the epicenter for marine diversity.
The Coral Triangle is the most diverse and biologically complex marine ecosystem on the planet. It spans across parts of Indonesia, Malaysia, the Philippines, Papua New Guinea, the Solomon Islands, and Timor Leste. Covering 5.7 million square kilometers, this extraordinary expanse of ocean is almost equivalent in area to the lower 48 states. It matches the richness and diversity of the Amazon rainforest. It is home to over 600 reef-building coral species (75 percent of all species known to science); 3,000 species of reef fish (40 percent of the world's coral reef species); 6 of the world's 7 marine turtle species; and three-quarters of known molluscs.
Why this region is the global epicenter for marine diversity is still in debate. Some scientists believe that it is where coral reef species originated before dispersing to other locations in the Indo-Pacific region. Others believe that the Coral Triangle is so diverse because of an overlap or accumulation of fauna from the Indian and Pacific Oceans.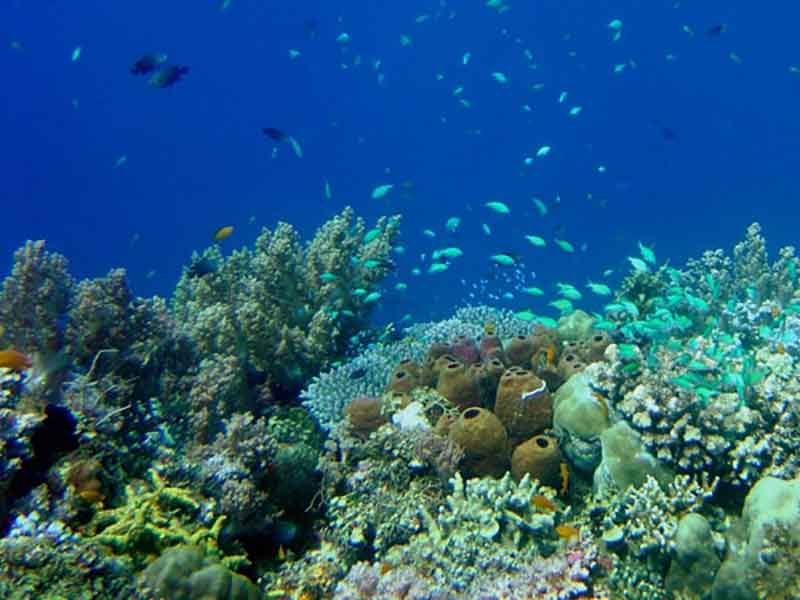 Geological processes have also played an important role. During the Ice Age, the sea level in this part of the world was 200 meters lower, exposing more land and decreasing suitable habitat for marine species. The present-day free flowing seaway was essentially a series of isolated marine lakes and shallow seas 10,000 years ago. In isolation, organisms that were once the same species adapted to their isolated habitats, genetically and morphologically diverging from those in neighboring shallow water seas. When the waters rose, it linked the shallow seas and lakes into an open system, enabling marine life to move around freely. However, species had been sequestered for so long that they had evolved into different species. Thus the diversity within the Coral Triangle increased.
Although much of the diversity within the Coral Triangle is known, most still remains unknown and undocumented. Without increasing our knowledge of what actually exists within the Coral Triangle, understanding ecosystem dynamics and changes over time will be challenging. With coral reefs being threatened by anthropogenic and environmental stressors such as climate change, over-harvesting, marine debris, introduction of invasive species, and coastal development, knowing the biodiversity is a key component in managing and conserving this rich resource.