Expedition Summary
From April 7 - May 1, as part of the Luʻuaeaahikiikekumu - Ancient Seamounts of Liliʻuokalani Ridge expedition on Ocean Exploration Trust (OET)'s Exploration Vessel (E/V) Nautilus, a team of researchers explored seamounts of Papahānaumokuākea Marine National Monument (PMNM), collecting baseline information about the geological origins and mineral resources of the seamounts and the animals and microbes that live on them in order to inform management and conservation of the area.
Remotely Operated Vehicle Dives
A total of 11 dives, 8 of which were within PMNM, were completed during the expedition using the two-body remotely operated vehicle (ROV) system of Hercules and Atalanta, exploring at depths ranging from 718 to 3,536 meters (2,356 to 11,601 feet). Highly diverse communities of deep-sea life were observed throughout the expedition, including many mobile fauna. Additional highlights from the dives included observation of a "yellow brick road" of volcaniclastic sediment near the summit of Nootka Seamount, observations of new sea star feeding behaviors, and very high densities of corals and sponges on an unnamed seamount outside of the PMNM northern boundary.
A total of 178 biological and geological samples were collected during the dives, including over 270 kilograms (600 pounds) of rocks that will help to unravel the origins and histories of the many seamounts in the area. Within those rock samples, scientists were surprised to find pieces of pumice throughout the region, indicating transport from far away eruptions.
Seafloor Mapping
During the expedition, the team mapped a total of 28,559 square kilometers (11,027 square miles) of seafloor using the multibeam system on Nautilus, including 23,456 square kilometers (9,056 square miles) within the U.S. Exclusive Economic Zone. Using the collected mapping data, scientists were able to resolve the structure of a series of ridge features near the junction of the Liliʻuokalani Ridge, providing a closer look into the origin of this seamount chain and connection to Hess Rise.
Outreach and Education
To engage the public and next generation of ocean explorers, a wide array of outreach and education activities took place during the Luʻuaeaahikiikekumu - Ancient Seamounts of Liliʻuokalani Ridge expedition. OET hosted several science communication fellows, science and engineering interns, a community cultural liaison that led the incorporation of Hawaiian protocol throughout the expedition, and a guest educator from PMNM. This team helped to host a record number of 114 ship-to-shore live interactions; conducted in 'Ōlelo Hawaiʻi (Hawaiian), American Sign Language, and English, these live interactions reached about 3,450 learners from across the world.
During the expedition, lead scientist Beth Orcutt connected with the Deep-Sea Expedition Leadership "Master Class" organized by the National Science Foundation-funded Crustal Ocean Biosphere Research Accelerator (COBRA) international research coordination network. Directed by Dr. Orcutt, the COBRA Master Class includes early career participants from around the world who are learning skills to be chief scientists of deep-sea expeditions, in an effort to demystify expedition leadership and broaden the community of deep-sea exploration leaders.
An art exhibition inspired by the deep ocean and created by artist Michel Droge in collaboration with Dr. Orcutt was on display at Cove St. Arts in Portland, Maine, and included access to expedition content. Additionally, cross sections of geologic samples collected during the expedition will be displayed at PMNM's Mokupāpapa Discovery Center in Hilo, Hawaiʻi, and the center will use Hawaiian language materials developed to increase deep-sea science formal education efforts.
Finally, more than 70 media stories ran about the expedition online, in radio, and on broadcast television by international media. Live video from the expedition received 582,000 views while produced video highlights garnered over 2.9 million views. Check out the Luʻuaeaahikiikekumu - Ancient Seamounts of Liliʻuokalani Ridge expedition page for more stories, images, videos, and educational resources.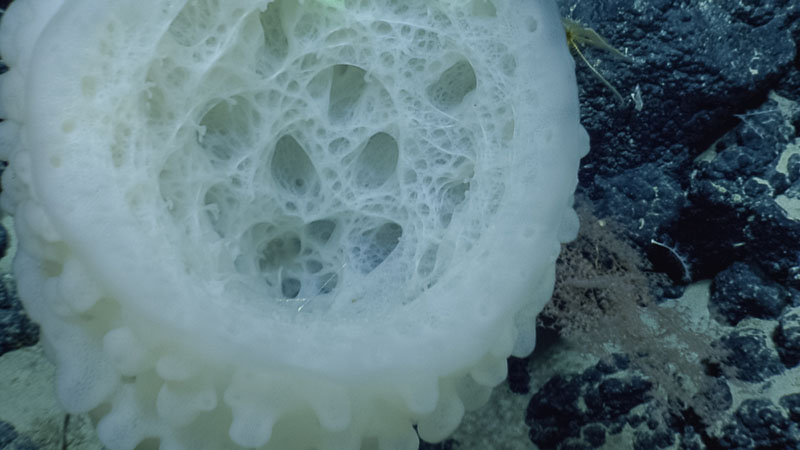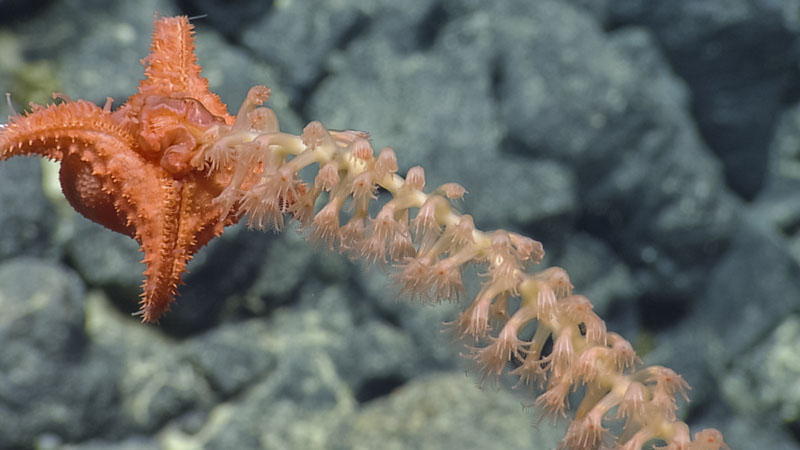 Education Themes
Education theme pages provide the best of what the NOAA Ocean Exploration website has to offer to support your classroom during this expedition. On each theme page, you will find links to expedition features, lessons, multimedia, career information, and associated past expeditions.
Education Resources
Bring the excitement of deep-sea exploration LIVE to your classroom, science center, museum, aquarium, or community event. Live ship-to-shore interactions with E/V Nautilus and the team of Luʻuaeaahikiikekumu allow students to engage in a unique two-way, live Q&A with the educators, scientists, and engineers of the Corps of Exploration. Live interactions are available free to classroom and community events audiences. All live interactions are pre-scheduled to match your schedule.
Ship-to-shore interactions are conducted using Zoom or Google Meet and last 20 - 30 minutes with time for an expedition update and audience-led Q&A about careers, discoveries, or the exploration process.
This expedition on the Ocean Exploration Trust's Exploration Vessel Nautilus is a collaborative project funded by NOAA Ocean Exploration through the NOAA Ocean Exploration Cooperative Institute, with additional support from NOAA's Office of Marine Sanctuaries, NOAA Ocean Exploration's Ocean Exploration Fiscal Year 2021 Funding Opportunity, and the COBRA Master Class partnership with the National Science Foundation.