Expedition Overview
Between May 26 - June 14, 2022, a team of scientists will explore Escanaba Trough, about 200 miles off the coast of northern California, in order to characterize the hydrothermal sulfide system within the trough. They are also seeking to learn more about the hydrothermal minerals, fluids, and organisms that live near active and inactive hydrothermal settings and explore interactions between marine life, the metal sulfide minerals, and the hydrothermal and oceanic environments enveloping both.
Escanaba Trough is the only oceanic spreading center within the U.S. Exclusive Economic Zone (EEZ). Hundreds of meters of continental sediment have accumulated in the trough, and the combination of sediments and hydrothermal fluids has resulted in a unique hydrothermal system and potentially extensive sulfide mineral precipitation. While the sulfide deposits within the trough are known to contain critical minerals, only very small areas of the Escanaba Trough have been explored and fewer still have been sampled. During this expedition, scientists on Research Vessel Thomas G. Thompson will use the Woods Hole Oceanographic Institution (WHOI)'s remotely operated vehicle Jason combined with WHOI's autonomous underwater vehicle (AUV) Sentry to perform an interdisciplinary exploration of the extent and activity of the Escanaba sulfide deposits, marine life, and surrounding environmental system.
In addition to expanding our understanding of the only oceanic spreading center located within the EEZ of the continental United States, this expedition will result in expanded baseline data regarding the location, size, and composition of sulfide mineral deposition within Escanaba Trough; an understanding of the surrounding water column including oxygen, particles, and chemistry; knowledge of the organisms inhabiting hydrothermally active and inactive regions of the hydrothermal system, including deep-sea corals; and expanded data and technique development regarding the extent to which magnetic and AUV-based surveys can be used to locate sulfide deposits buried under sediments.
Operations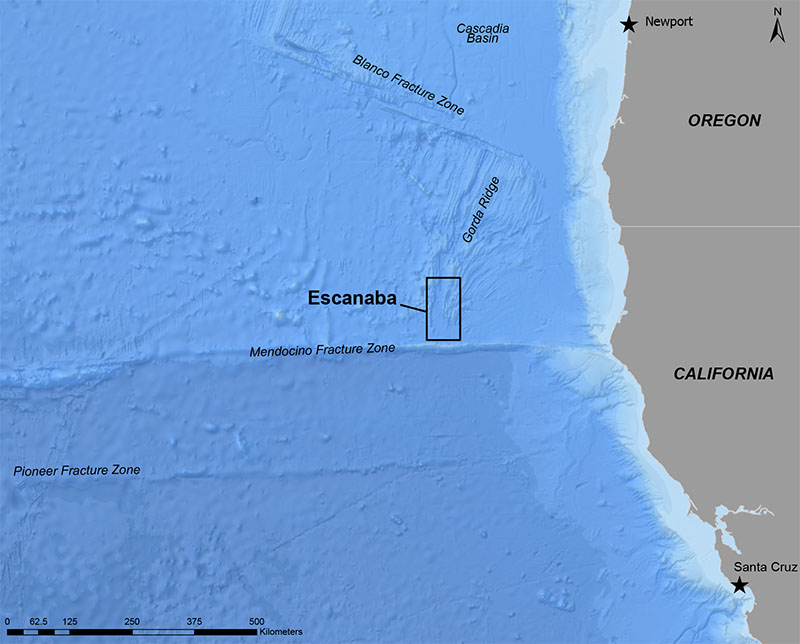 Funding for this expedition was provided by NOAA Ocean Exploration via its Ocean Exploration Fiscal Year 2019 Funding Opportunity and through the National Oceanographic Partnership Program (NOPP). NOPP was established by Congress to advance economic development, protect quality of life, strengthen science education and communication, and assure national security by improving knowledge of the ocean through partnerships among federal agencies, academia, industry, and non-governmental organizations.
This expedition is being conducted as part of EXPRESS: Expanding Pacific Research and Exploration of Submerged Systems, a multi-year, multi-institution cooperative research campaign in deep sea areas of California, Oregon, and Washington, including the continental shelf and slope.