Background
Mission Introduction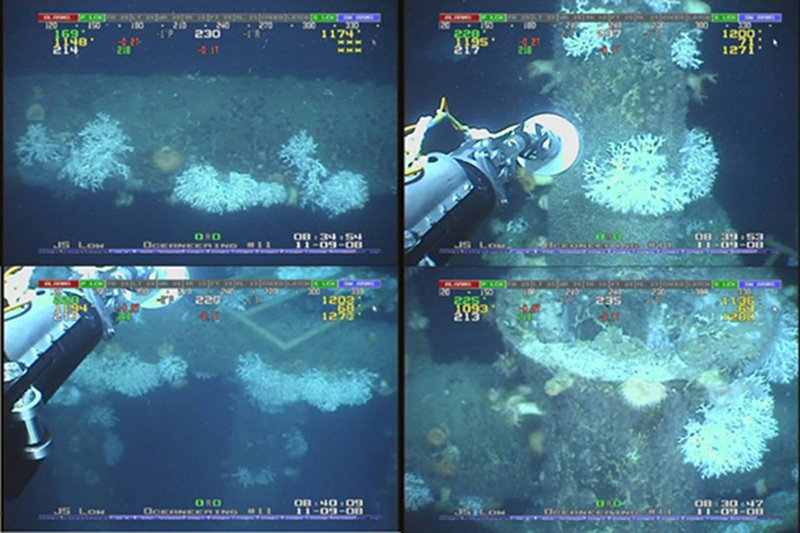 The Lophelia II 2012: Deepwater Platform Corals expedition is the final cruise in a four-year research mission to explore and study deepwater or "cold-water" coral communities in the Gulf of Mexico. This cruise is the first dedicated scientific study of deep-sea corals on actively producing oil and gas platforms.
By visiting deepwater production platforms, scientists hope to gain an understanding of how these structures provide habitat for coral communities. The research will also provide the scientific basis to further refine measures to protect sensitive habitats and contribute to future decisions on how deepwater structures are managed on the Outer Continental Shelf.
Sponsored by the National Oceanographic Partnership Program, the Lophelia II project has brought together scientists to explore and study poorly understood coral communities and shipwrecks in the deep waters of the Gulf of Mexico. The partnership between the Bureau of Ocean Energy Management (BOEM) and NOAA's Office of Ocean Exploration and Research has also included the U.S. Geological Survey and university scientists.
The development of oil and gas resources has been identified as a potential threat to deep-sea coral habitats. As part of its charge to manage the responsible development of America's offshore energy, BOEM has funded deepwater coral research in the Gulf for over ten years. Applying scientific results gained through this research to regulatory policy has led to successful adaptive management of these sensitive habitats. For example, as a direct application of the science, BOEM raised the minimum water depth requiring review for all energy development activity and increased the avoidance buffer distances required for separation from drilling discharges.
While one goal of Lophelia II is to increase our understanding of deepwater corals in the Gulf and the communities they support, the project will also have tangible impacts on management of deepwater natural resources.
---