Background
Background Information
By J.M. Adovasio, Expedition Principal Investigator - Mercyhurst College
and C. Andrew Hemmings, Expedition Principal Investigator - Mercyhurst College
August 8 – 18, 2011
In the coming weeks our team of underwater archaeologists from across the Unites States, led by James Adovasio and Andy Hemmings of Mercyhurst College, will dive at four sites we first visited in 2009. We have already electronically documented intact river channel features of the Pleistocene Suwannee River at these locations, which are now filled with multiple layers of sediment. These sites are covered by 40 to 130 feet of ocean water and are located 50 to 125 miles offshore of the modern Gulf Coast of Florida, northwest of Tampa or southeast of Tallahassee.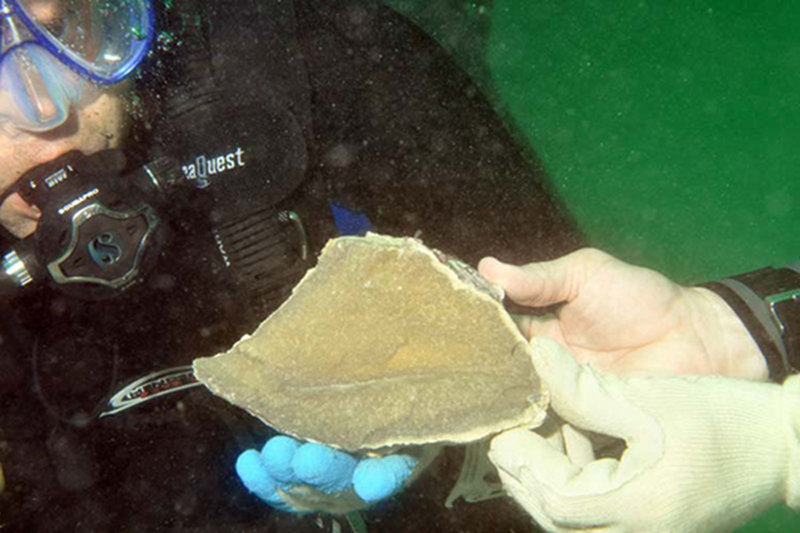 The three shallower sites have bedrock exposed on the seafloor that forms one side of the buried channel. The bedrock at each of these sites is low grade knappable (breakable or cut-able) toolstone that could have been used for tool making. The deepest site, Thor's Elbow, is the intersection of the ancient Suwannee and another river, where we expect to find more knappable bedrock buried under the modern surface.
The Exploring the Submerged New World 2011 Expedition is funded in part by Mercyhurst Archaeological Institute.
At each of these sites we hope to locate prehistoric human-made artifacts; bones of Pleistocene animals, such as the mastodon; and perhaps datable organic material, such as pieces of wood. Any such finds would indicate that the now inundated Pleistocene landscape of Florida in the Gulf of Mexico is still preserved, accessible to archaeologists, and contains prehistoric evidence of the use of this landscape by people and animals alive at the end of the last Ice Age.
---
The essays below will help you to understand the goals and objectives of the mission and provide additional context and information about the places being explored and the science, tools, and technologies being used.
By J. M. Adovasio and C. Andrew Hemmings

The focus of the Submerged New World 2011 mission is to explore for evidence on a submerged late Pleistocene landscape.

Read more

By Steven Allen, MA

Meet Steven Allen, whose two lifelong passions are understanding our planet (while enjoying and protecting it) and understanding our past. He enjoys sharing these passions with his students. He holds a master's degree in history from Florida Atlantic University, as well as an Interdisciplinary Certificate in Environmental Studies and a Heritage Awareness Diving Certificate.

Read more