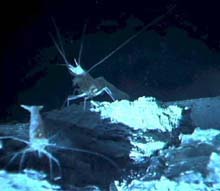 ---
Revealing Ocean Secrets
September 29, 2001
Paula Keener-Chavis, Director
South Carolina Statewide Systemic Initiative's Charleston Math and Science Hub
Deep East Education Project Coordinator
All we do is touched with ocean, yet we remain on the shore of what we know. -- Richard Wilbur
The sea is frowning on us today, and seems none too friendly as it tosses us about in a myriad of directions. Unfortunately, the final dive of the Deep East 2001 Voyage of Discovery has been cancelled due to high winds and waves. We continue to multibeam the area to enhance our understanding of the bathymetry at Blake Ridge. At the science meeting, we were briefed on yesterday's dive. The mussel pots that posed sampling problems the day before performed "pretty well" yesterday. Scientists reported "lush mussel beds that extended as far as the eye could see." The colors of other organisms were incredible, and an octopus glided by the submersible as it took samples in the target area.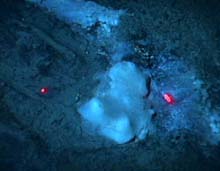 ---
Live clams seemed to cluster around the periphery of the mussel beds. The scientists wonder if the repeating "windrows" of dead clams are an indicator of how the methane seep feature has migrated over the years in the area, or of something else? This site on the Blake Ridge raises more questions than it provides answers.
The mussels at one site had a white film around the edges of their valves (shells) that actually contains bacteria. We do not know if the symbionts living on the gills of the mussels get their energy from methane or sulfide. More large, one-celled animals (Xenophyophores) were collected from the periphery of the mussel beds, as were bacterial mats, and the habitat "trap" was left at the site for retrieval at a later date. The scientists also discussed the paper they'll be writing to summarize their deep-sea findings.
Graduate students are busy securing the priceless samples that have been collected and are packing up the science gear. Stewards in the galley prepare for our Saturday night barbecue, which will also feature guitar music played by some of the ship's crew. The loudspeaker blares, "Attention all hands. Attention all hands. We are going to conduct a course change to steer towards Charleston. Stand by for potential large rolls." We prepare for what is sure to be a rough ride home, as we head due west with a northeast wind blowing at 30 kts.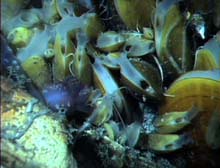 ---
As we conclude Leg 3 of the Deep East Expedition, I reflect on the past month and contemplate the wealth of new knowledge that has been uncovered in just three small areas of the deep sea off the U.S. East Coast. During this final leg at Blake Ridge, our dives were confined to an area smaller than 1 sq mim, though they took months to plan and execute. Our water planet is comprised of an estimated 141 million sq mi of ocean. We have explored infinitesimally small areas, and in such a short amount of time; nevertheless, what we knew about our water world prior to the expedition has been richly enhanced by the discoveries made here during the past 3 wks. We are pleased to have met, without question, one objective of NOAA's Ocean Exploration Program, which is to "explore a new frontier with new technology so as to enable the discovery of ocean secrets previously unknown to mankind."
(top)

---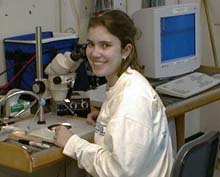 ---
Interview with Christie Robinson
Undergraduate Student
University of South Carolina Honors College, working with Dr. Joan Bernhard
Ocean Explorer Team: What is your role in the Deep East Expedition?

Christie Robinson: I am helping process the push core samples to look for bacterial mats, and look for forams and other organisms in the samples. I'm here to learn, observe, and experience an oceanographic cruise firsthand.
Ocean Explorer Team: As an undergraduate, what is your perspective on the expedition?
Christie Robinson:It's both an honor and a privilege for me to participate in this expedition, and as a learning experience, it's absolutely incredible. As an undergraduate, it gives me something to look forward to in the future -- being the chief scientist of my own expedition!
Ocean Explorer Team: Who or what influenced you to study ocean sciences?
Christie Robinson: The first question people ask me is "What is a kid from Montana doing studying the deep sea?" My answer is that I spent my early childhood in Washington and Oregon and went to the beach a lot. I always liked playing in the tidal pools. I decided in the third grade that I wanted to be a marine scientist. I decided that I wanted to study the deep sea after writing a report on hydrothermal vents during my junior year. I think the fact that we know a lot more about outer space than we do our own ocean is amazing. To study the deep sea and explore a lot of "firsts" is what I want to do.
Ocean Explorer Team: What do you hope to do when you finish school?
Christie Robinson: Go to graduate school, obtain my PhD, and study deep-sea ecology.

---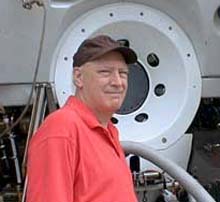 ---
Interview with Tom Cole
Videographer
Ocean Explorer Team: What is your role in the Deep East Expedition?
Tom Cole: My role is to shoot video for documentaries that are being prepared to air on cable and PBS sometime next year. We are planning a new one-hr documentary for the Ecology Channel that will begin operating in 2002.
Ocean Explorer Team: As a professional videographer, what is your perspective of the expedition?
Tom Cole: One thing that strikes me is the amazing process of science taking place on site. Just to watch the scientists actually gathering data, coping with conditions, and working together was a real eye opener. I have always had a fascination with science, so to be able to observe a group of scientists working under real conditions was an amazing experience. Working aboard ship presents its own special challenges. Weather conditions are probably the most unpredictable, and are sometimes downright uncomfortable. But the science went on -- good conditions or not, the ship never stopped working.
Ocean Explorer Team: Who or what influenced you to pursue a career in video production?
Tom Cole: I was one of those kids who built sets and made pretend movies. After trying out several different careers, I just picked up where I left off as a child, and have been enjoying it ever since. It's good to know what your dream is, and to follow it.

---
Sign up for the Ocean Explorer E-mail Update List.