USS G-1
History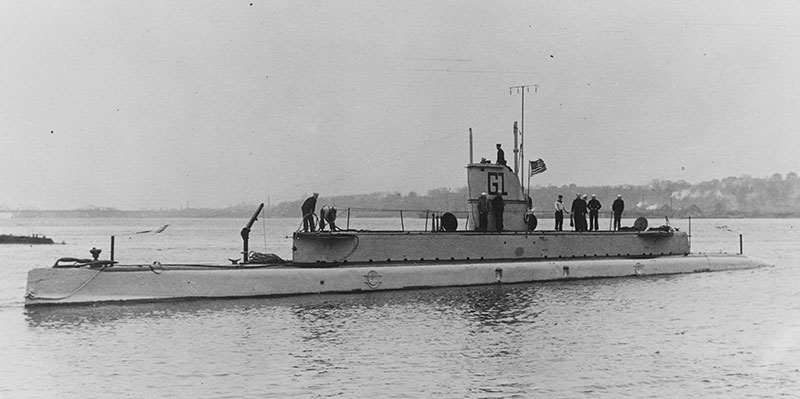 The submarine USS G-1 (USS Seal) was built in Newport News, Virginia, and launched on February 9, 1911. She was one of the four G-class submarines built at the dawn of large-scale submarine manufacturing by Simon Lake of the Lake Torpedo Boat Company, a company that eventually lost out to the Electric Boat Company as the principle private submarine builder for the U.S. Navy. The G-class submarines were important in the early history of American undersea warfare and were the last U.S. submarines to be built with gasoline engines.
Each of the G-class submarines was slightly different from the others, making the G-1 a unique vessel. The submarine was 161 feet long; 13 feet, 1 inch in the beam; and drew 12 feet, 2 inches draft. She was armed with six 18-inch torpedo tubes.
Upon entering service, the G-1 was attached to the Atlantic Submarine Flotilla and in January 1913, was stationed at the Naval Torpedo Station in Rhode Island. In October 1913, the G-1 made a test dive in Long Island Sound to 256 feet, the deepest dive for a U.S. Navy submarine at the time. In 1915, the Navy assigned both the G-1 and G-2 to operations off Hampton Roads, Virginia, and Charleston South Carolina.
The submarines underperformed in heavy seas and later that year, retired Rear-Admiral Yates Stirling Jr. recommended that the G-class boats be removed from service. According to Stirling, these submarines were only useful for scientific or experimental purposes. In 1917, the G-1 served as both a school ship at the New London Submarine Base in Groton, Connecticut, and as a platform for the Navy Experimental Board. In the former role, she was used to train officers and men of the newly expanded submarine force. For the Experimental Board, she helped with the development of sound detection devices.
The G-1 was decommissioned in January 1920 and towed to Narragansett Bay. In June 1921, the minesweeper USS Grebe used the G-1 as an experimental target, launching eight depth charge attacks on the submarine as she lay off Taylor Point, Rhode Island. The submarine sank in 90 feet of water. Several attempts to raise her failed. The submarine was officially abandoned and removed from the Navy List in August 1921. Historical records suggest that a private salvor removed large sections of the G-1 for scrap in the 1962.
Synthetic Aperture Sonar Mapping Results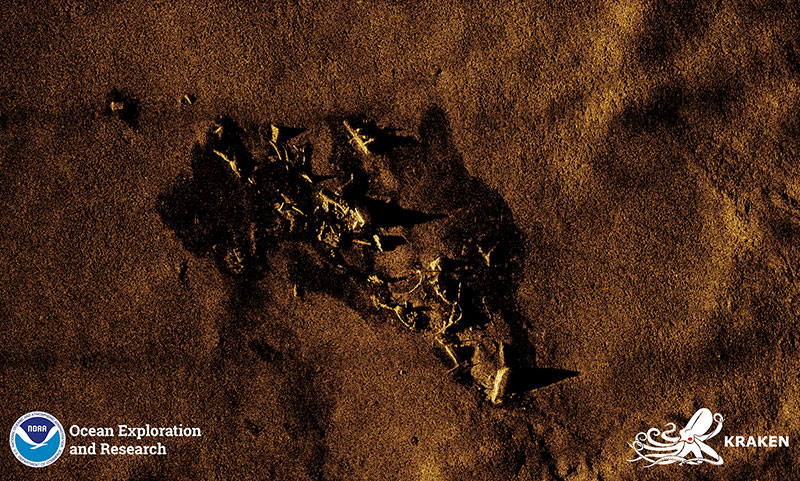 High-resolution mapping of the G-1 site using Kraken Robotics' KATFISH™ Synthetic Aperture Sonar (SAS) demonstrates that an extensive debris field remains, possibly the result of damage inflicted by salvage activity or other human causes. Certainly, the site does not resemble an intact submarine anymore, but sections of the hull and elements of its mechanical systems remain on the ocean floor, suggesting that the site retains some archaeological integrity.