Dive 02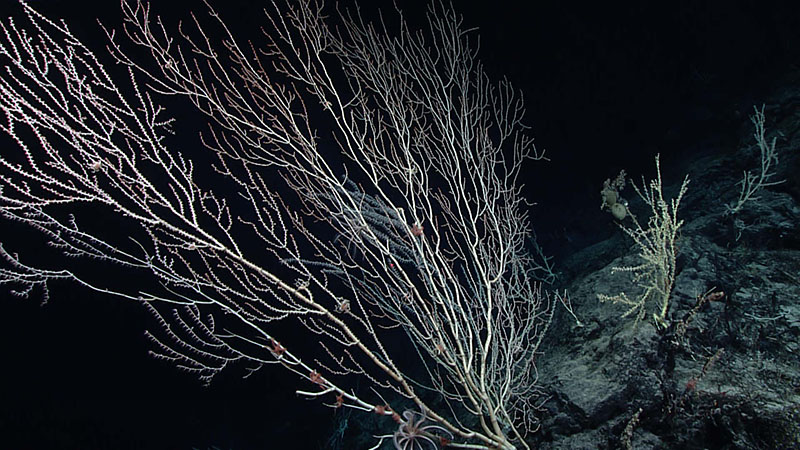 During the second dive of the 2021 North Atlantic Stepping Stones expedition, we explored along the east side of the south peak of Congress Seamount, about 530 miles east of Bermuda. As virtually no prior exploration had taken place on this seamount, the primary objectives of the dive were to explore and characterize ecological conditions and geological features of the seamount, to help scientists establish the relationship between this seamount and the nearby New England and Corner Rise seamount chains.
While the density of coral on the dive was often high, particularly as we moved closer to the seamount summit, the diversity was low. Coral and sponge communities were found in patches, alongside large aggregations of broken coral branches and dead stalks covered in ferromanganese crusts. Other animals observed included a few fish, molluscs, brittle stars, brisingid sea stars, and one sea spider (pycnogonid).
During the first half of the dive, we traversed a mix of rock debris and in situ slopes, with thin sediment accumulations, indicating a geologically dynamic environment. As we moved towards the summit of the seamount, the seafloor changed markedly to sediment-free, sheet-flow formations and steeper, rugged outcrops that at times appeared to display pillow lava-like textures. Some thick sediment accumulations were seen near the summit.
---