November 7
Dive 07: Habitat Response 01
Date: November 7, 2019
Location: Lat: 31.016°, Long: -78.388333°
Dive Depth Range: 801 - 807meters (2,628 - 2,648 feet)
Access Dive Summary and ROV Data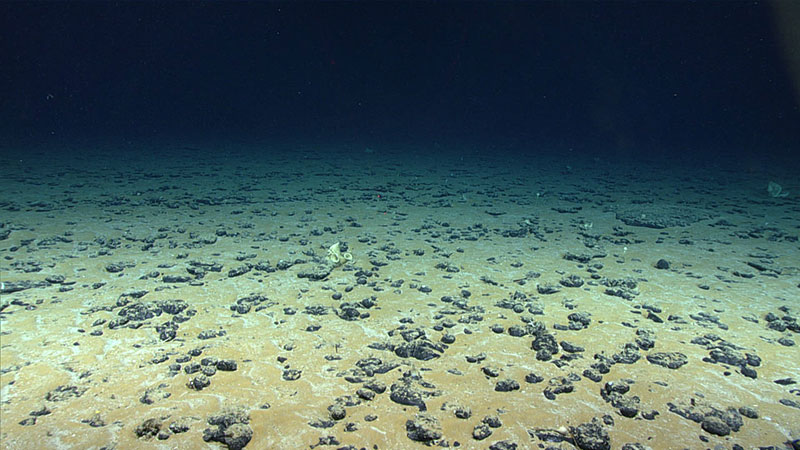 Today's dive site was identified in collaboration with two of our federal partners in ocean exploration, the U.S. Geological Survey and the Bureau of Ocean Energy Management, and based on mapping data collected during the Windows to the Deep 2019 expedition. The purpose of the dive was to search for signs of disturbance near an area historically subject to the use of experimental deep-sea mining technologies and to gather data about the site's geology and biology.
Throughout the dive, the flat sandy seafloor was covered in coarse carbonate sand, which consists mostly of the skeletal remains of marine organisms (e.g., pteropods, gastropods, mollusks, and forams), as we have seen in previous dives. However, unlike on previous dives, the seafloor was also strewn with black cobbles. These ferromanganese encrusted nodules ranged in size from ~4-8 centimeters (2-3 inches). In some areas, it appeared that some nodules had been buried by sediment drifts.


Today we observed at least 15 different sponges (glass sponges and demosponges), brittle stars, crinoids (both sea lilies and feather stars), pancake sea urchins, corallimorphs, jellyfish, bird squids, and a variety of sea stars, corals, and fish, including batfish, sawbellies, tonguefish, cutthroat eels, and a torpedo ray (an electric ray). We also saw some swimming crabs, small shrimp, squat lobsters, isopods, and a decorator crab with a glass sponge on its back.
During today's dive we collected samples of the sediment and nodules as well as a demosponge (Haplosclerida), which may represent a new species.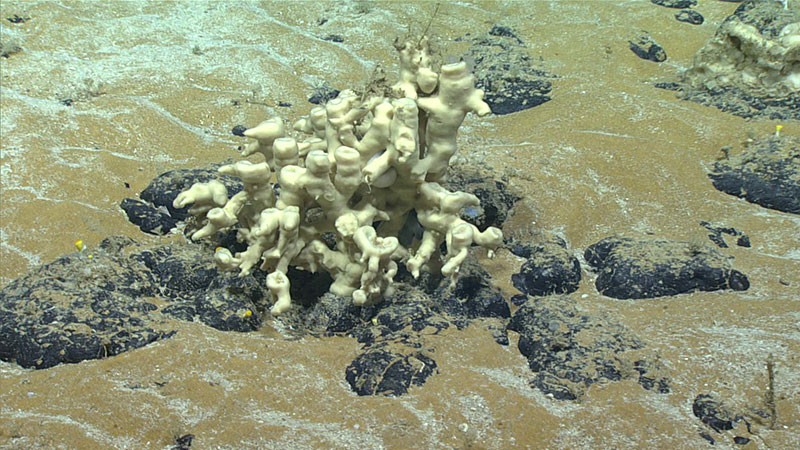 ---