November 6
Dive 06: Isolated Mound, Central Blake Plateau
Date: November 6, 2019
Location: Lat: 30.7599°, Long: -78.74255°
Dive Depth Range: 766 - 842 meters (2,513 - 2,762 feet)
Access Dive Summary and ROV Data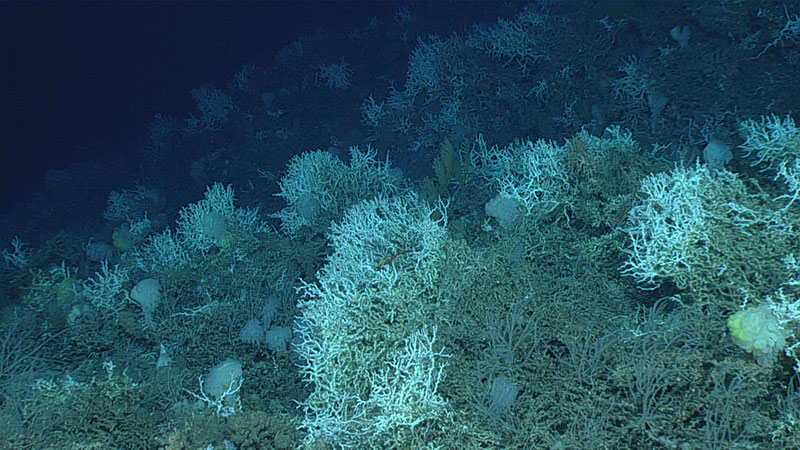 To quote our expedition coordinator, today's dive was "phenomenal." Mapping data collected during the first part of this expedition showed some interesting seafloor features that we couldn't wait to explore (since mound features are known hotspots of biodiversity on the Blake Plateau). On this historic dive, we encountered two live Lophelia reefs that no one knew were here, until now.
The plan for the day was to target two large mounds about 160 miles off the coast and outside the Stetson-Miami Terrace Habitat Area of Particular Concern, unlike the previous dives. By diving both inside and outside the protected area, we are hoping to learn about the connectivity of the deepwater communities at these sites.
After landing at the base of the southern mound, we headed north. The seafloor on this first mound consisted of coarse skeletal sands and coral rubble with a dark crust (either phosphoritic or ferromanganese). Wildlife was sparse as we began the dive, but it increased, along with standing dead coral frameworks, as we ascended the mound. Early observations included glass fan sponges, brittle stars, hydroids, small white sparsely branched octocorals, five-armed feather stars, and pancake sea urchins.
Before we reached the top of the mound, we also saw an increasingly diverse sponge garden with an octopus, octocorals, a variety of sea stars, solitary cup corals, a bird squid and jellyfish in the water column, and, remarkably, a sea spider with babies.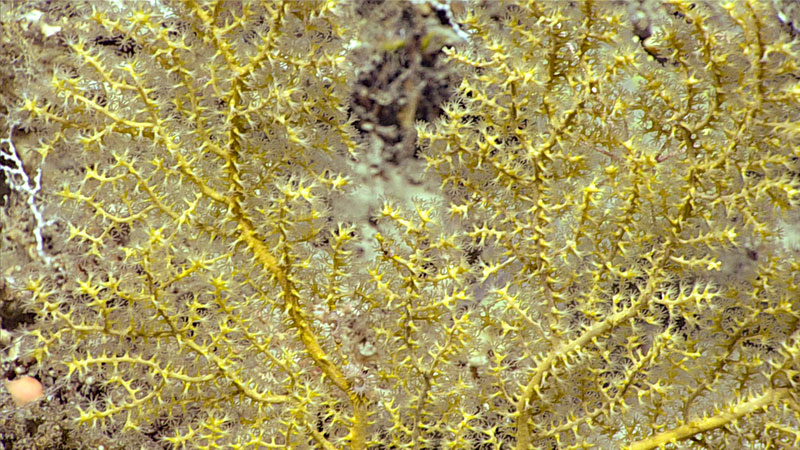 On the top of the first mound, we found a healthy living Lophelia reef with abundant 3-4 meter-wide coral heads. Coverage was about 50 percent live coral and 50 percent standing dead coral. Among the corals, we encountered quite a lot of diversity: glass sponges, cupcorals, squat lobsters, a few black corals, and more. While there was less living coral on the northern side of the mound, there was still a lot of sporadic Lophelia thickets.
As we began to travel up the second mound, the seafloor was mostly coral rubble with some standing dead coral. We saw sponges, corals, sea lilies with hydroids on their stalks, brittle stars, a blackbelly rosefish, a 12-armed pink sea star, and a yellow mesh fan, which we collected and may represent a new species of bryzoan.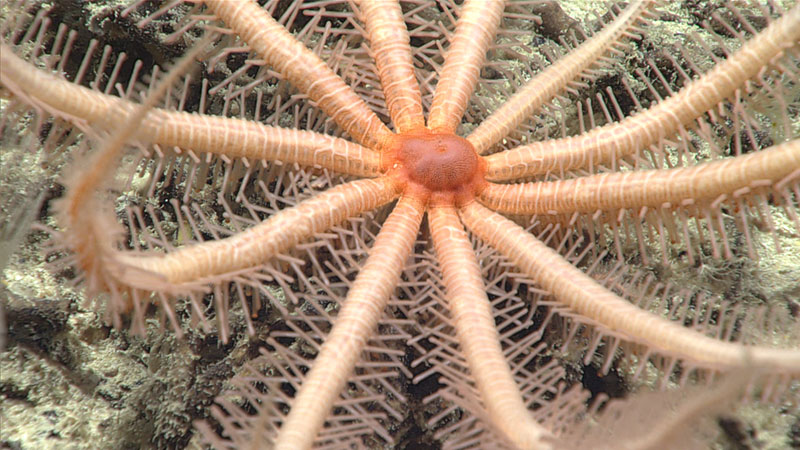 Farther along, we encountered thickets of stony coral and an increase in density of standing dead coral frameworks. On the southwest side, the amount of living Lophelia increased along with other types of marine life. Here we sighted a knotted sea urchin and chimney sponges.
As we neared the northern side of the mound, the coral abundance and overall diversity decreased. While we considered returning to a more productive area, we chose to continue on and were rewarded at the mound's second summit with an increase in living Lophelia with 3-5 meter-wide coral thickets as well as glass sponge abundance.
In addition to the yellow mesh fan, we also sampled some sediment and collected a glass sponge (Aphrocallistes beatrix) and a piece of living Lophelia pertusa, both for the Atlantic Seafloor Partnership for Integrated Research and Exploration (ASPIRE).
---