November 4
Dive 04: Stetson Mound Field 01
Date: November 4, 2019
Location: Lat: 30.402633°, Long: -79.27855°
Dive Depth Range: 817 - 835 meters (2,680 - 2,740 feet)
Access Dive Summary and ROV Data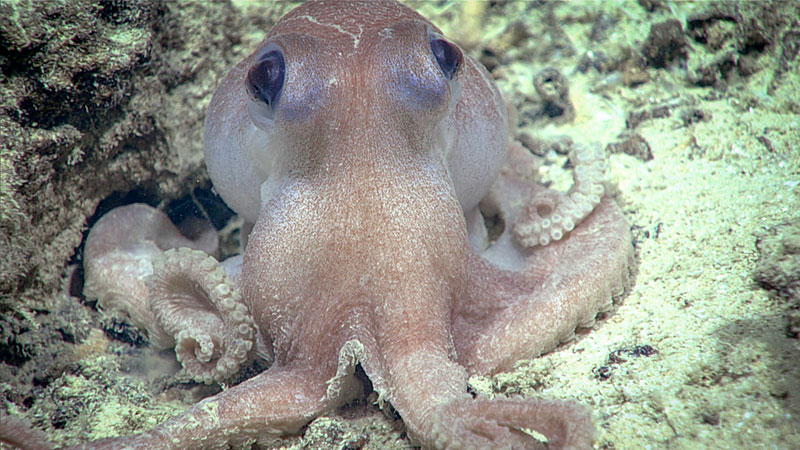 Our fourth dive of the 2019 Southeastern U.S. Deep-sea Exploration took place off the coast of Florida in the Stetson-Miami Terrace Deepwater Coral Habitat of Particular Concern (HAPC) in the Blake Plateau region. This site was targeted based on mapping data collected during the first part of this expedition, which suggested the potential for suitable habitat for deep-sea corals and sponges. As part of the HAPC, this site is a priority for resource managers.
During today's dive, we visited three mounds. Most of the seafloor was covered in coral rubble, which was more degraded at the base of the mounds than at the summits, where some of the dead coral framework structure was more intact. Between the mounds, we also saw some large patches of sand in the form of ripples, which provide information about the currents in those locations.


While we saw a few fish and jellyfish around these sand patches, most of the marine life we observed during the dive was in the rubble fields and on the exposed hardbottom (carbonate slabs).
Some of the animals we encountered included corals (both large and small, including some standing dead corals), an octopus, two arrowhead dogfish, a ray, feather stars, chimaeras, a cusk-eel, a comb jelly, sea stars, pancake urchins, and lots of different kinds of sponges.
We collected six samples during today's dive, including: a Venus' flower basket or "wedding" glass sponge that may be a new species or represent a range expansion for a known Asian species; a coral that may not have been collected before (Eunicella cf. modesta); a bushy, yellow coral that is either a new species or a new color of a known species (Enallopsammia cf. profunda); and a demosponge that we called a "Swiss cheese" sponge due to its appearance.


---