November 17
Dive 10: Pourtalès Terrace
Date: November 17, 2019
Location: Lat: 24.36625°, Long: -80.710167°
Dive Depth Range: 347 - 404 meters (1,138 - 1,325 feet)
Access Dive Summary and ROV Data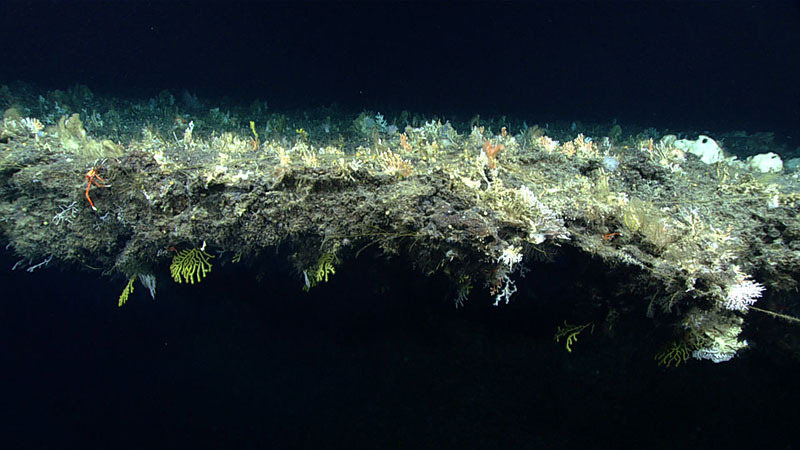 Today's dive was on the Pourtalès Terrace, about 51 kilometers (32 miles) south of the Florida Keys. We explored both inside and outside the Pourtalès Terrace Deepwater Coral Habitat Area of Particular Concern (HAPC). Due to the likelihood of finding suitable habitat for deep-sea corals and sponges and the importance of the site to regional managers, we planned in advance to extend the dive by two hours, and it was worth it!
At the base of the slope, we observed dense coral rubble with little to no sediments and some areas of exposed hardbottom. As we moved up the slope, we encountered large limestone slabs and boulders that appeared to be cascading down from the rim of the feature. The majority of these slabs were encrusted with phosphorite or ferromanganese. During this portion of the dive we saw squid, blackbelly rosefish, sharks, codlings, swallowtail bass, crinoids, sea urchins, brittle stars, sea stars, black coral, lace coral, and some sponges.


While this may sound like a lot, it was nothing compared to what awaited us at the top. These terrace-like plateaus were dominated by the same encrusted eroding limestone. Overhangs created by erosion contained life on top surfaces as well as underneath. Among the diverse and abundant marine life we observed here were bubblegum coral, pom-pom anemones, corallimorphs, black corals, cup corals, a variety of glass sponges and demosponges, brisingid sea stars, spider crabs, hermit crabs, a swimming crab enjoying a meal, a sand tiger shark, swallowtail bass, dragonets, and a few large commercial wreckfish.
Most dives have highlights. This one had many. Two of these highlights were the abundance of basket stars (we saw 10) and an ocean sunfish, both of which were seen for the first time during this expedition on this dive.


While we began the dive in the HAPC, and most of it took place there, we ended it outside of the protected area. The only notable difference was an increase in fishing-related debris outside the HAPC, although fishing line was prevalent throughout the dive, often wrapped around gorgonians, lace corals, and other immobile (sessile) animals.
It was another great day for sponge collecting. Today we sampled three glass sponges, another Aphrocallistes beatrix for the Atlantic Seafloor Partnership for Integrated Research and Exploration (ASPIRE) and two others that may be new species.
---