July 6
Exploring the Twilight Zone
by Herbert Leavitt, NOAA Hollings Undergraduate Scholar, Eckerd College
July 6, 2019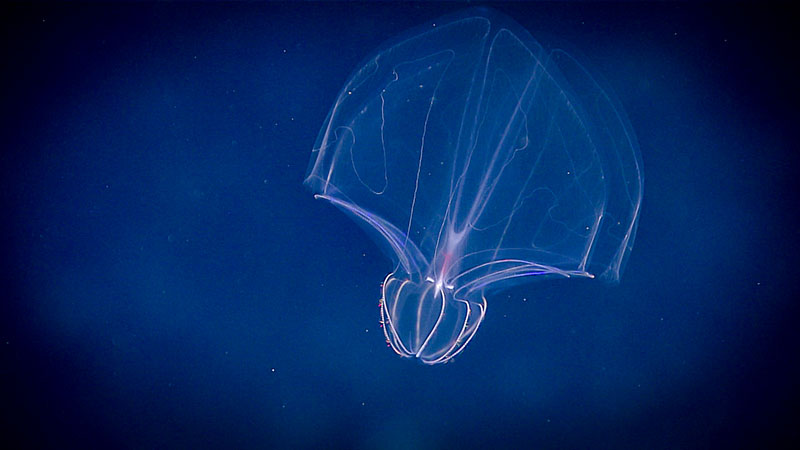 When the old television show The Twilight Zone described its namesake as a "dimension of imagination" consisting "of both substance and shadow," it could easily have been referring to an area of the ocean by the same name. The mesopelagic zone, also known as the twilight zone, lies at 200-1000 meters (about 660-3300 feet), where the last bits of sunlight from the surface give way to total darkness. This little-studied area of the ocean is one of the largest habitats on the planet and is home to an abundance of species that boggle the imagination with their alien appearances and extreme adaptations to life in the deep sea.
As a NOAA Hollings Undergraduate Scholar with the NOAA Office of Ocean Exploration and Research (OER), I've had a great opportunity to get involved in the exciting work of deep-sea exploration on multiple levels. Through this scholarship, my internship this summer is research oriented, while still exposing me to the many facets of the organization's mission, including communication and outreach.
I've wanted to be a marine biologist for as long as I can remember. Driven by a life-long passion, I enrolled in Eckerd College in 2016 to pursue a double major in Marine Science and Environmental Studies. My goal was to gain the skills to both do research and to be involved in its application through policy and communication. At Eckerd, I learned about the Hollings Scholarship, a two-year program offered by NOAA that includes an internship the summer after a student's junior year. This scholarship provides an excellent opportunity for students who are interested in the NOAA mission and eager to get hands-on experience.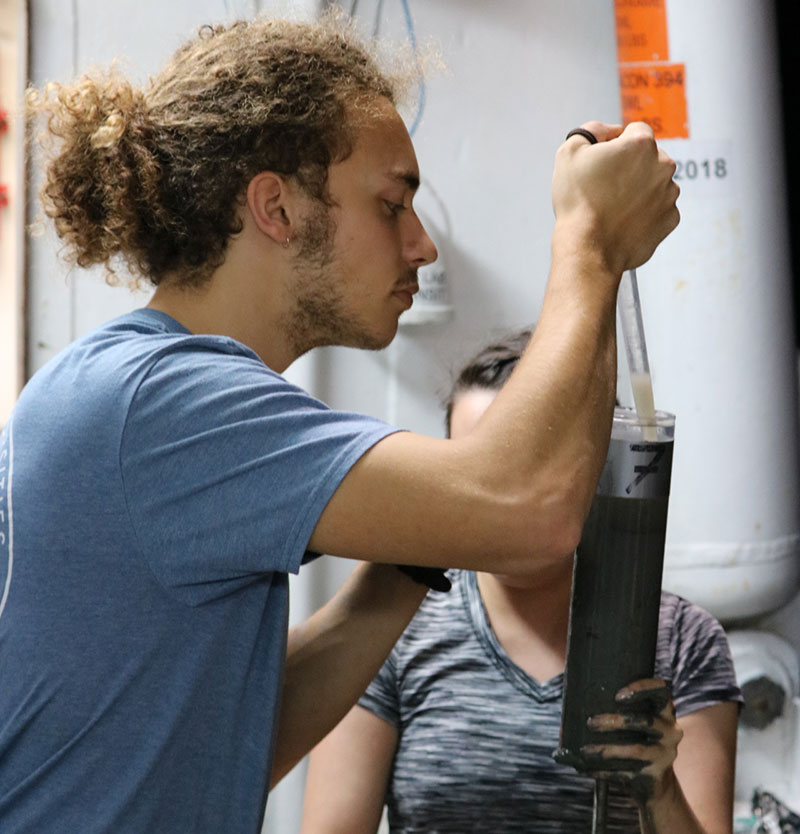 The Hollings Scholarship recipients search for internships during the fall of their junior years and can choose from a wide array of offices and programs spanning from marine sanctuaries to weather and satellites. I had already developed an interest in deep-sea biology well before I applied for the Hollings Scholarship and had naturally already spent a great deal of time glued to the NOAA Ship Okeanos Explorer's live broadcast of their deep-sea expeditions. So when the opportunity arose to work for OER and use the data collected from these expeditions in my research, it seemed that I'd found my avenue to delve into deep-sea science.
My main project this summer is to analyze the active acoustic data (Simrad EK60/EK80 fisheries sonars) collected during a series of exploratory transects in the twilight zone. Active acoustics involves sending sound waves down through the water column and analyzing the echoes that bounce back (e.g., from hard-bodied or gas-filled organisms, bubbles, or the seafloor) to a receiver on the ship (very similar to how echolocation works in bats and dolphins). With this technology, we can 'see' what's in the water below the ship, including schools of fish or even our remotely operated vehicles (ROVs).
When using active acoustics in the open ocean, there is a phenomenon known as the "deep scattering layer," which occurs between about 400-600 meters (1,312-1969 feet) depth in our geographic region of study. Typically this layer is seen when the sound waves come into contact with a high density of mesopelagic fish and/or other organisms that live at depth during the day and migrate towards the surface at night to feed.
During some Okeanos Explorer dives, ROV Deep Discoverer does transects at specific depths to get a sense of how the midwater community changes with depth in different areas and times. My project will compare the community composition relative to the position of the deep scattering layer, searching for patterns in the abundances of certain organisms above, below, and within the deep scattering layer. Using ROV Deep Discoverer, we are able to document many of the fragile inhabitants of the mesopelagic in their natural state. This is particularly critical in order to study the many gelatinous organisms that live there, which are often too damaged to identify when captured by trawl nets.

It is my hope that this study will help illuminate the structure of the mesopelagic zone. Even as OER celebrates its 100th expedition this summer, we still know so little about the deep ocean. This is the primary reason I decided to study the deep sea in the first place. Every expedition brings the possibility of discovering new species, generating new hypotheses, and increasing understanding one of the ocean's largest habitats.
One of the great things about working at OER has been the multitude of opportunities to get involved in activities outside of my primary project. During the first few days of the Windows to the Deep 2019 expedition, I assisted with web coordination for NOAA Ship Okeanos Explorer deep-sea dives. This involved compiling information about each dive, writing daily updates, and responding to questions from viewers on social media. I've had the opportunity to meet with a wide range of people from all around NOAA and discuss their work, which has given me a broader insight into the range of careers possible after my graduation next year. In addition, the location of NOAA headquarters near Washington, DC, has given me the chance to speak with scientists interested in deep-sea fauna at the Smithsonian National Museum of Natural History and even to set up an event there to discuss my research with the public.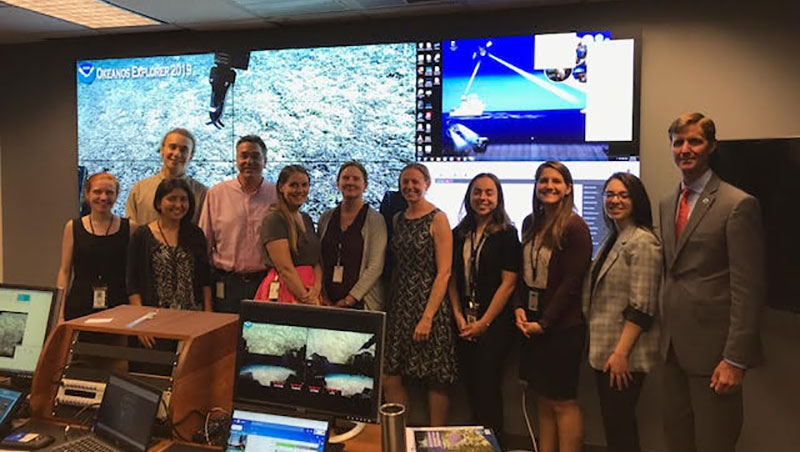 My advice to anyone looking to go into marine science would be to follow your instincts and be open to as many opportunities as you possibly can. New experiences lead to new perspectives and insights, even if they don't seem up your alley at the time. Especially early in your career, don't be afraid to put effort into searching for opportunities and finding things outside of your comfort zone to get involved in. My summer at NOAA has put me in contact with a lot of ideas I don't think I would have otherwise considered and has undoubtedly informed my trajectory as I prepare for life after graduation. I would recommend a similar experience to anyone.
For more information about the mesopelagic zone and the midwater research happening at NOAA, visit: https://oceantoday.noaa.gov/fullmoon-mysteriesofthemesopelagic/welcome.html
For more information about the Hollings Scholarship, visit: https://www.noaa.gov/office-education/hollings-scholarship.