July 10
Dive 18: Baltimore Canyon
Date: July 10, 2019
Location: Lat: 38.12628°, Lon: -73.84788°
Dive Depth Range: 494 - 760 meters (1,621 - 2,493 feet)
Access Dive Summary and ROV Data
Today we explored a new area along the north-facing wall of Baltimore Canyon off the Virginia coast in the Frank R. Lautenberg Deep-Sea Coral Protection Area. Our dive today took advantage of knowledge gained during previous dives in this region in terms of knowing where in the canyon corals tended to live. We could barely contain our excitement when we found just what we were hoping for – plentiful coral and sponge abundance.
The dive started at approximately 760 meters (2,493 feet), and we worked our way up to 494 meters (1,621 feet) by the end of the dive. There was a relatively dense nepheloid layer (a sediment layer in the water column) throughout the majority of the dive; however, it did not impede our operations.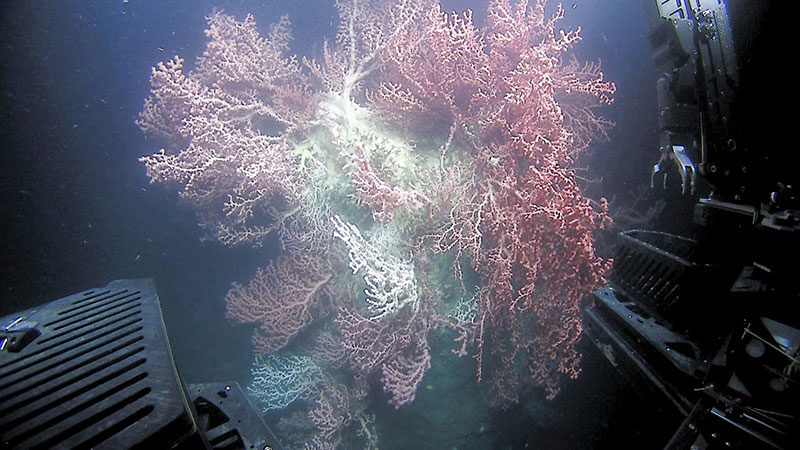 At the base of the canyon wall and up to about 531 meters (1,742 feet) water depth, the seafloor was relatively sedimented with scattered rock debris and many burrow holes in the face of the wall. In this area, we observed numerous Chaceon red crabs of various sizes, some in mating pairs, and many skates (greater than 10) on the seafloor. As we continued up the slope, we observed larger rock outcrops and overhangs that were home to a high density of octocoral colonies (Paragorgia sp.), some of which were over two meters (seven feet) in size. We saw so many colonies that we nicknamed this dive "Paragorgia Fest 2019" due to the exciting conclusion with a wall of large corals, many of them being Paragorgia sp.
Alongside the Paragorgia sp. colonies, we also observed other species of deep-sea corals including Anthethela sp. and Primnoa resedaeformis colonies, as well as a few different species of sea stars (Poraniomorpha hispdia and Porania pulvillus).The densely packed coral colonies were also covered with shrimp (pandalids, possibly Heterocarpus sp.), and we also observed skate or shark eggs attached to the Paragorgia. We suction sampled two of the shrimps, collected a piece of Paragorgia (with two shrimp associates still attached), and two bonus shrimp swam into the biobox of their own volition (so a total of six shrimp samples!). A very exciting end to the dive as we prepare for our final dive tomorrow.
---