October 31
You Gotta Keep 'Em Calibrated
by Lars Murphy, Global Foundation for Ocean Exploration
October 31, 2018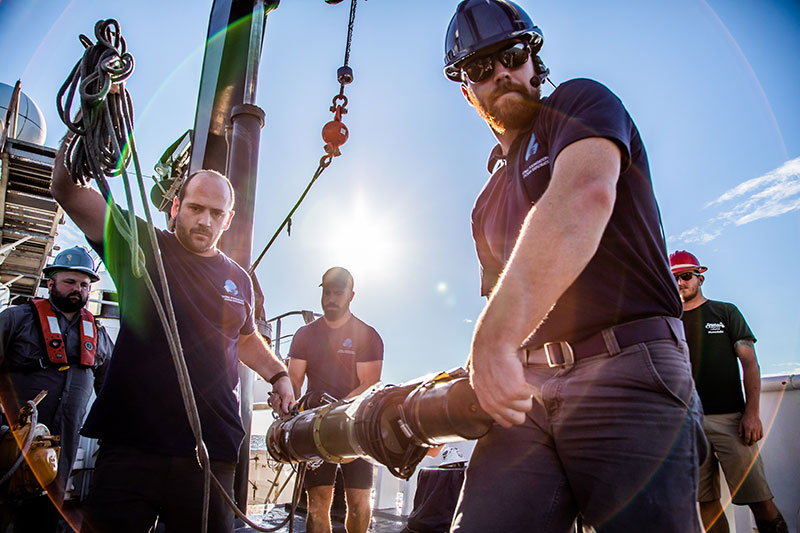 USBL is an acronym for ultra-short baseline. The USBL system is used to determine the position of the remotely operated vehicle (ROV) Deep Discoverer (D2) and Seirios while the vehicles are in the water. The system uses a transceiver mounted on the hull of NOAA Ship Okeanos Explorer and a transponder located on each of the ROVs. The transceiver will emit acoustic pulses (also known as chirps) at a set rate. Once the transponders on both vehicles receive the acoustic pulse from the ship, they will reply by emitting a pulse of their own (in different frequencies). These return pulses are detected by the transceiver that is mounted on the hull of the ship. The USBL system records the time delay between when the initial chirp was emitted and when the reply signal is received by the ship. This data is then used to calculate a distance (range) and direction (bearing) of the vehicles. Using these values, the USBL system can determine the depth and location of the ROVs on the seafloor.
The accuracy of the system can vary greatly depending on many factors. A calibration is designed to maximize the accuracy of the system by identifying errors associated with the specific location of the transceiver on the ship's hull. This is particularly important for the current mission, since the transceiver on the hull of NOAA Ship Okeanos Explorer was replaced recently, which could have affected the accuracy of the system. Due to this recent change, we decided to re-calibrate the USBL system before the first dive of the expedition.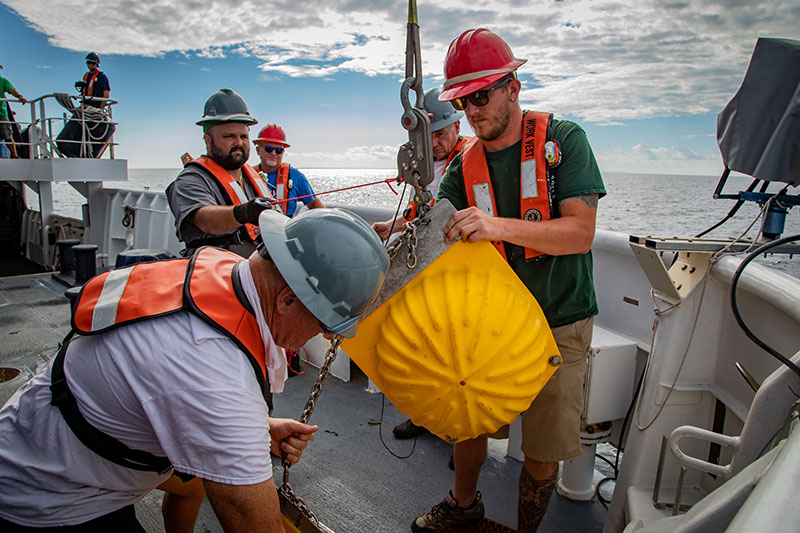 To calibrate our USBL system, we began with designing a negatively buoyant transceiver stack. This stack consisted of:
A transponder identical to the ones we use on D2 and Seirios
Two large glass floats
An acoustically triggered release
100 pounds of biodegradable weights
Chain, rope, cables, and shackles
The process began by deploying the stack from the fantail of the Okeanos Explorer. Once in the water, the stack sank to the seafloor, and we were able to track the stack's descent to the bottom using the software designed for our ROVs. Once on the bottom, the Okeanos Explorer moved over the stack in a figure-eight pattern. During this time, the transceiver on the ship continuously communicated with the transponder on the seafloor. Thanks to data produced from that communication, we were able to determine the difference between the actual location of the stack and the location where the Okeanos Explorer transceiver believed it to be. Using this error, we were able to calculate angular offsets to correct our program.
After the calibration was completed, we activated the acoustically triggered release (which separated the weights from the stack) and the transponder was lifted to the surface by the large glass floats. With our USBL system now calibrated, we are prepared to continue with the Océano Profundo 2018 expedition confident that our ROV position data is as accurate as possible.