November 9
The Deck Crew's Souvenirs of Ink - A Brief History of a Seafarer's Tattoos
by Debi Blaney, NOAA Office of Ocean Exploration and Research
November 9, 2018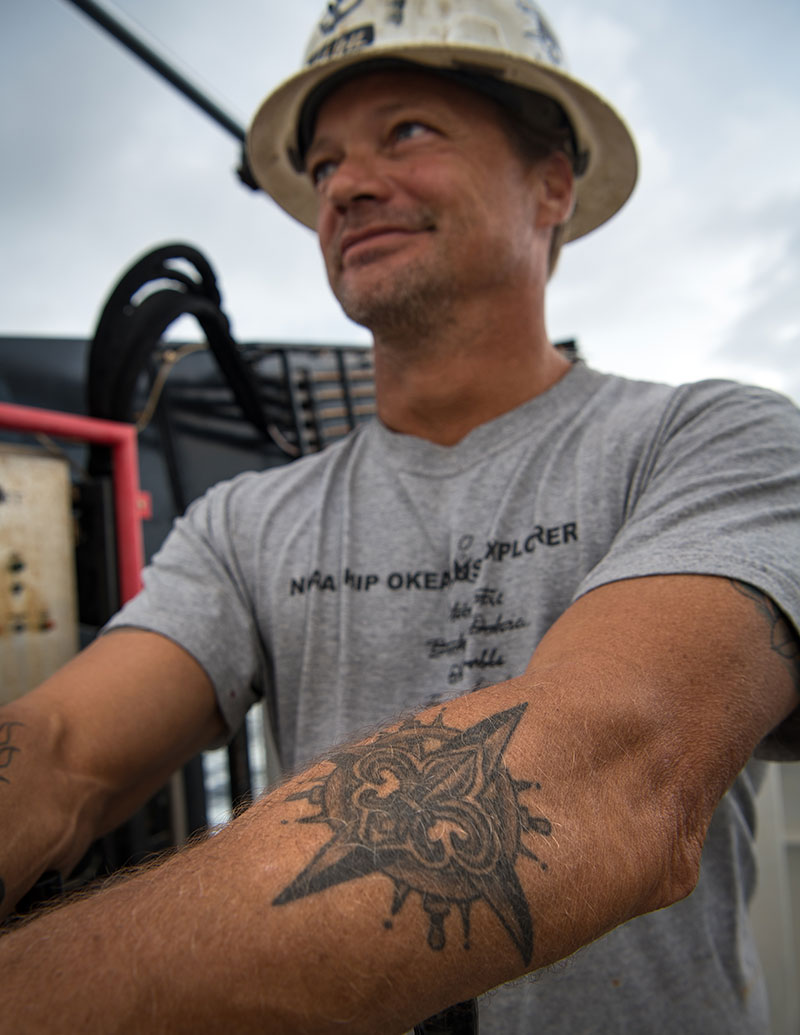 Sailing on NOAA Ship Okeanos Explorer, there are two things one might notice about the deck crew: first, that they are extremely dedicated to and good at their jobs and second, that they sport a lot of tattoos. Mariners have a rich culture of body art dating as far back as the 16th century, but the history of tattoos in general dates back much farther than that. Over the course of thousands of years, tattoos have been used as therapeutic measures, protective symbols, talismans, status symbols, statements of love, signs of religious or social identification, adornments, and simply a means of self expression. What tattoos through the ages have in common is that they are very personal and meaningful to the individual.
The earliest evidence we have of tattoos on humans dates back more than 5,000 years. The famous frozen mummy nicknamed "Ötzi," who was discovered in an icefield in the Alps in 1991, had dozens of tattoos. Given the placing of his tattoos, it has been hypothesized that they served medicinal and therapeutic purposes. Tattoos found on ancient Egyptian mummies as old as 2,000 BC appear to be an exclusively female practice, possibly associated with childbirth. Evidence of other ancient cultures using tattoos is plentiful, from China, Japan, Polynesia, Africa, and North and South America, and ranging from simple dot and line patterns to more complex shapes such as mythical creatures. In some cases, different tattoo cultures influenced each other, such as evidence of cross-cultural influences between the Ancient Egyptians and the Nubians to the south of Egypt. In other cases, tattoos developed cultural significance independently.
Polynesian cultures developed elaborate geometric tattoo patterns and customs over the course of millennia, which often covered the whole body and even the face. In 1769, James Cook's expedition to Tahiti inspired the sailors to get tattoos in the Pacific as souvenirs, and thus bringing the custom to Europe, where it gained momentum. The Western word "tattoo" is said to have originated from the Tahitian term tatatau, which means to hit or strike—referring to the traditional Polynesian method of using a stick to tap another object with sharpened bone, shell, or a shark's tooth to create a design.
It did not take long for the custom to grow popular in sailing cultures as a way to signal membership in the fraternity of seamen, as well as to offer protection from the high seas. Tattoos are also used by mariners as a way to record important naval experiences and achievements in their lives, such as having sailed 5,000 miles, and these tattoos have to be earned over time with hard work. By the 19th century, almost 90 percent of United States sailors had tattoos, and as the crew of the Okeanos Explorer shows, mariners continue that rich tradition today.
James Scott, Able Seaman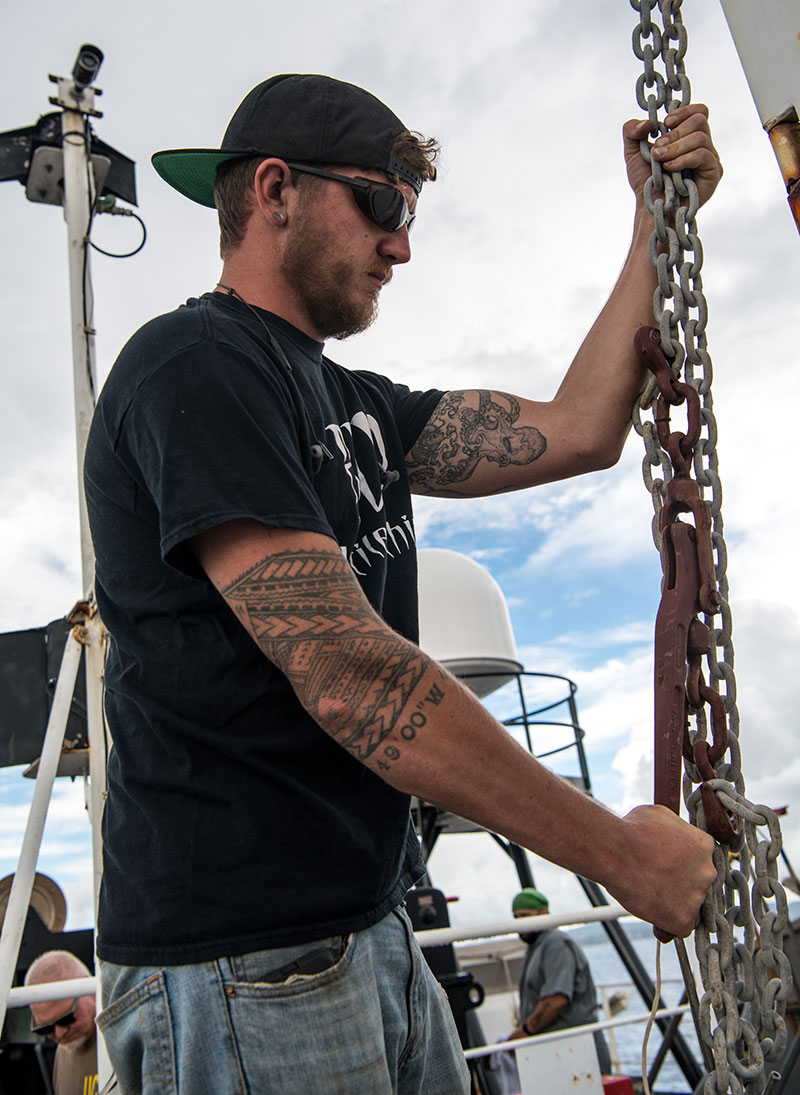 When James sailed to American Samoa, he decided to get a traditional Samoan tattoo with two of his ship mates. James got to choose the location of the tattoo (above and below his elbow), but the design evolved as the artist was at work. The artist applied the ink with a hand-carved boar's tooth attached to a wooden stick, which he hit with a larger stick. During the process, the artist asked James questions about his life and chose the designs he tattooed accordingly. With every answer, the artist would take a new turn and adjust the pattern, rendering a very personal representation of James' life as a seaman. The process lasted 3-4 hours, and James confessed that "yes, it did hurt!".
A tradition of sailors and fishermen is to have a tattoo of their home port coordinates. This way, if they get lost at sea, they can be returned home. James comes from a fishing family in Westerly, Rhode Island, the coordinates of which are tattooed on his right arm.
The mythological creature of the kraken attacking a ship is tattooed on James' left arm, representing the universal dangers of life at sea.
---
Peter Brill, Able Seaman
Pete has a good number of tattoos, all of which he earned during his work at sea. He got his first nautical tattoo in 2012 when he started sailing, and he plans to get more as he earns them.
---
Mike Collins, Bosun Group Leader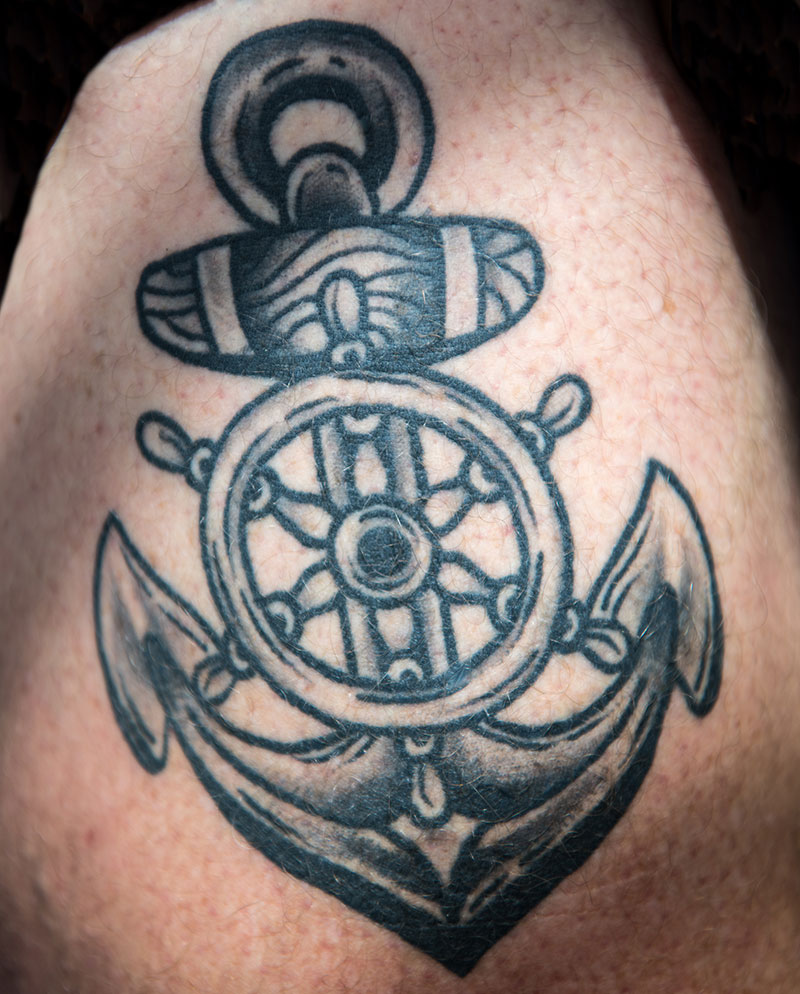 An anchor tattoo historically indicated sailing across the Atlantic, but these days refers to a sailor who has achieved the rank of a chief or leader. Mike got his anchor tattooed a year ago in Tennessee, and to him it signifies the long time he has spent at sea in the Navy, commercially, and now for NOAA.