November 7
The swimming sea cucumber, Enypniastes eximia, sometimes referred to as the "headless chicken monster," is a widespread species present in the abyss. It is encountered widely around the world with records from the Gulf of Mexico, Tropical Atlantic, East Atlantic, New Zealand, and the Southern Ocean (Antarctica). The scientific name Enypniastes was assigned to this animal in 1882 and means "dreamer;" it was taken from Genesis 37:19 of the Septuagint: "... Behold, that dreamer comes."
These sea cucumbers are different from their more worm-like, shallow-water relatives in that they have a wing-like flange as well as a much more gelatinous body which allows them to take off and swim for short periods of time.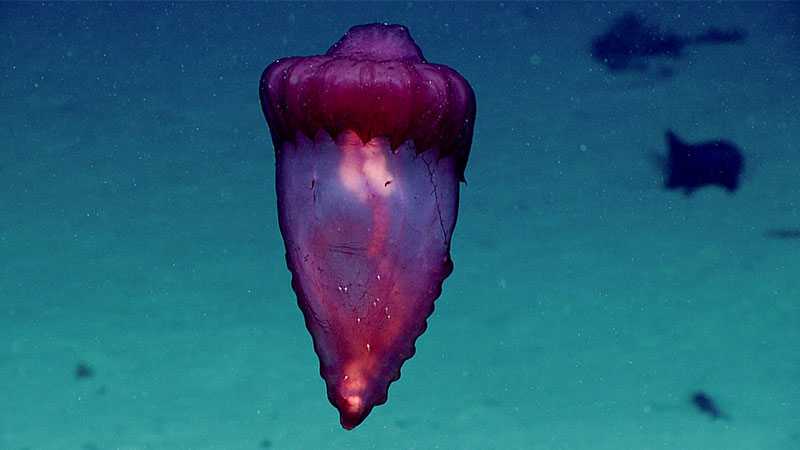 If you observe this species when they have landed, you will notice their oral tentacles voraciously shoveling sediment into their mouths. Enypniastes will digest all of the recently fallen marine snow, organic material which has fallen from the upper water column. Once the animal has become satisfied, or the food source is exhausted, it then proceeds to take off.
But before they do take off, they will "vent" the processed sediment behind them, leaving a cleaned sediment casting similar to what you might see from an earthworm. This is an important ecological process, as it clears and aerates the sediment, thereby making it available for other animals to work through. The transparent bodies of these sea cucumbers clearly reveal their sediment-filled intestines before and after they swim into the deep.