November 6
Urchin Poop in the Deep-Sea: Connecting to the Surface
by Chris Mah, Smithsonian Institution, National Museum of Natural History
November 6, 2018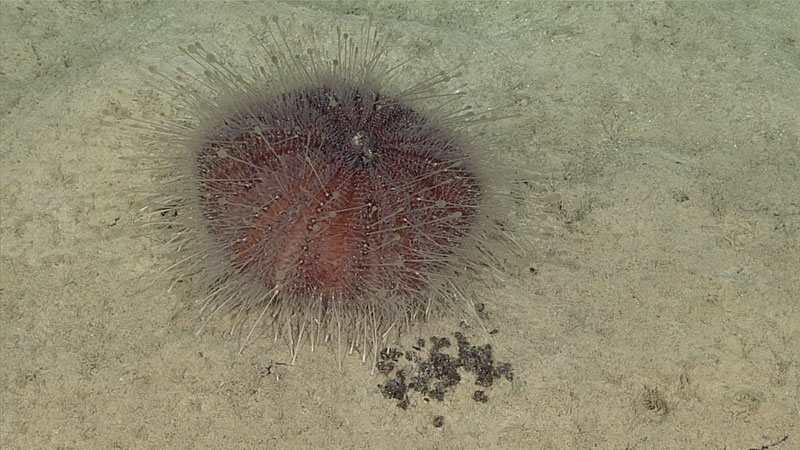 Today we saw a deep-sea sea urchin poop!
Yes, it's true! Sea urchins, like many animals, will expel poop from their digestive systems following the digestion of food. What do these deep-sea urchins eat? Many shallow-water urchins are herbivorous, whereas others, such as sand dollars, are sediment feeders. Urchins in the deep sea, where food is harder to come by, show a diversity of feeding modes from a variety of food sources. Sea urchins in the deep sea have a few unusual twists though. Many echinothuriids feed on sediment, but will take advantage of whatever food source they can find.
Araeosoma is an exclusively deep-sea urchin in the Echinothuriidae family and is related to tropical fire urchins such as Asthenosoma. The genus name Araeosoma is derived from the Greek word for "porous" or "thin" in connection with "soma" for body. The name refers to the paper-like texture and composition of the urchin's skeleton. It is thought that many of these urchins feed on deep-sea sediment, but at least one other species, Hygrosoma petersi, feeds almost exclusively on plant matter drifting down from the surface.
Today we saw a deep-sea pancake urchin, Araeosoma, feeding on what seemed to be Sargassum, a type of seaweed from the ocean surface that sank to a depth of 645 meters (2,116 feet). This was followed by a healthy payload of feces after its meal. Urchin mouths are on the bottom of their body; during digestion, food travels up the intestine to the anus, which sits on the top of the body.
The sea urchin poop we saw today represents the amazing connectivity between photosynthetic food from the ocean's surface and the deep sea. Seaweed gets its energy from the sun via photosynthesis. Pieces of seaweed can tumble down to the deep sea where the sun's rays don't reach, but yet, they still have an impact on the animals there. That's 645 meters! For reference, a standard passenger airplane is about 50 meters (164 feet), making this depth about 13 passenger airplanes deep.
The deep sea is notoriously nutrient poor. With no sunlight, there are few ways that organisms find means to live. The poop from this urchin will continue to benefit other organisms even at this depth, as everything from worms to small crustaceans to single-celled organisms will continue to digest the processed food released by the urchin.