Mission Summary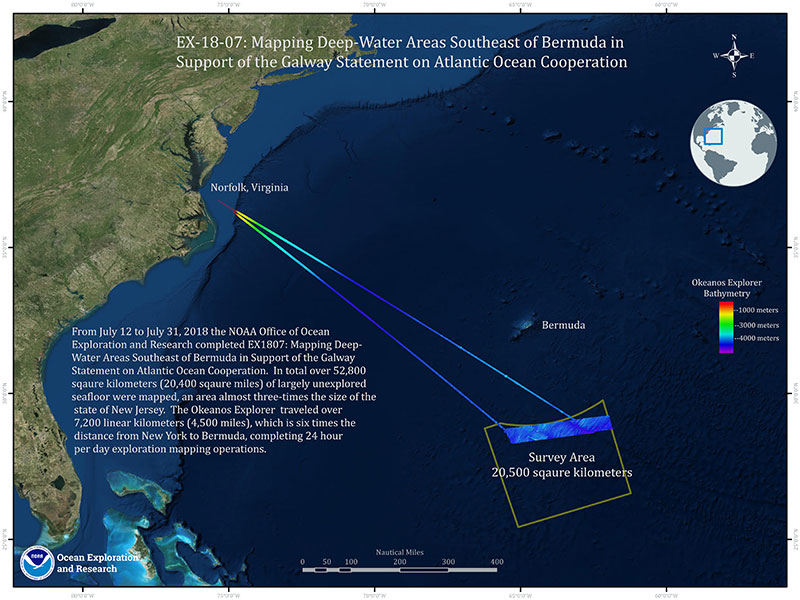 Mapping Deepwater Areas Southeast of Bermuda in Support of the Galway Statement on Atlantic Ocean Cooperation was a 20-day telepresence-enabled expedition on NOAA Ship Okeanos Explorer to collect critical information and acquire data on priority exploration areas identified by the ocean management and scientific communities.
The expedition was the first government-supported, focused mapping survey in support of the Atlantic Ocean Research Alliance (AORA) Atlantic Seabed Mapping International Working Group (ASMIWG) and the Galway Statement on Atlantic Ocean Cooperation. It was the second expedition in support of the Atlantic Seafloor Partnership for Integrated Research and Exploration (ASPIRE) campaign, a major multi-year, multi-national collaborative field program focused on raising collective knowledge and understanding of the North Atlantic Ocean.
Highlights from the expedition are summarized below. For more information, download the summary fact sheet (pdf, 2.7 MB.
Mapping the U.S. Exclusive Economic Zone and International Waters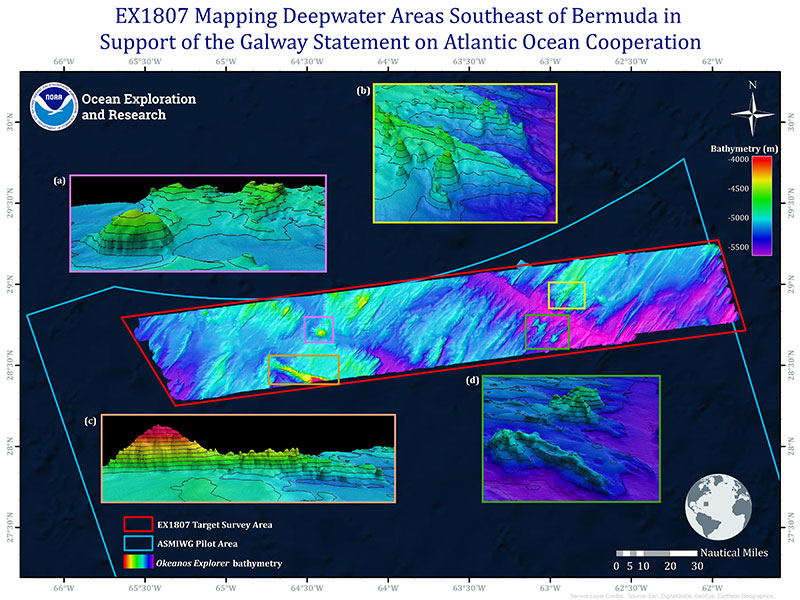 During the expedition, the Okeanos team mapped a total of over 52,000 square kilometers (20,400 square miles), including targeted mapping of 20,500 square kilometers identified as a priority area using the ASMIWG suitability models. The ship traveled over 7,200 linear kilometers (4,500 miles), collecting mapping data at all times. All together, over 150 GB of mapping data was collected, including multibeam bathymetry, backscatter, and water column data; sub-bottom data; and split-beam sonar data.
These mapping efforts support the ASPIRE goal to extend seafloor mapping coverage in the U.S. Exclusive Economic Zone and international waters in support of Seabead 2030 and collected mapping data will directly contribute to the Galway Statement on Atlantic Ocean Cooperation and the Atlantic Ocean Research Alliance's deep-sea mapping and exploration efforts.
Water Column Habitat Characterization
Expedition highlights to support efforts to characterize water column habitats throughout the Atlantic basin using acoustics, visual observations, and emerging technologies included mapping a previously unknown seamount, collecting split-beam and multibeam data of water column habitats, and using a combination of backscatter and bathymetry to identify potential areas of younger lava flows relative to surrounding older oceanic crust. The team also completed 85 expendable thermograph (XBT) profiles to measure water column temperatures and adjust the ship's multibeam sonar mapping system to ensure accurate data collection.
International Participation and Collaboration
Throughout the expedition, U.S., Canadian, and European Union students and scientists participated both on the ship and remotely. The ship hosted two international visiting scientists from Memorial University of Newfoundland in Canada and the University of Kiel in Germany; these scientists are already making use of data and experiences from this expedition.
Education and Outreach
Continuing with its mission of training the next generation of ocean explorers, the NOAA Office of Ocean Exploration and Research (OER) hosted three Explorers-in-Training and one student from the NOAA Educational Partnership Program on the ship. A NOAA Teacher at Sea from the Peddie School in Highstown, New Jersey, also joined the expedition at sea, blogging and sharing her experiences throughout.
The Okeanos team also hosted five live interactions with over 85 individuals from the NOAA Seattle Science MiniROV Camp, the Engineeristas Technology Camp, and other groups visiting the University of New Hampshire.