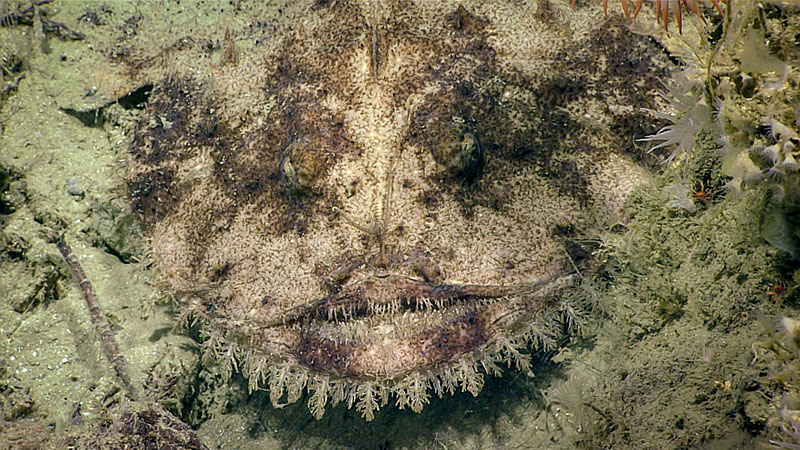 On June 24, 2018, NOAA Ship Okeanos Explorer mapped the seafloor offshore North Carolina near the Monitor National Marine Sanctuary, locating a sonar anomaly that had the potential to be a shipwreck. On June 27, the team returned to the area to determine what the "Big Dipper" anomaly actually is by conducting a visual survey using remotely operated vehicles (ROV) Deep Discoverer and Seirios.
As the ROVs approached the target, the ship and shore-based science team anticipated the opportunity to find an important part of maritime cultural history; however, instead of a shipwreck, the team found an area of broken rock slabs that was home to a diversity of organisms. Nearly every nook and cranny of habitat surveyed was home to fish and the surfaces of rocks were often covered in anemones or coral.
Download music-free video (mp4, 171.7 MB, 02:07)
Watch produced highlight video
Read a summary of Dive 13 on the "Big Dipper" Anomaly
Read a mission log about the dive
Date: June 27, 2018
Approximate Depth: 325 - 376 meters (1,066 - 1,234 feet)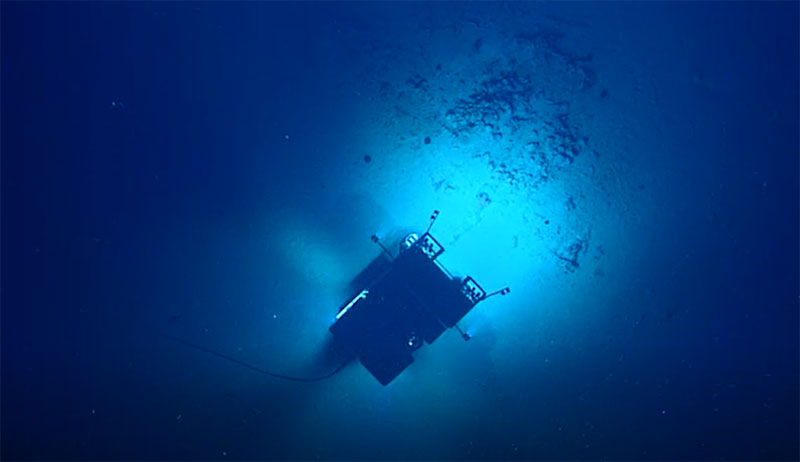 A chance discovery in the submersible Alvin in 2015 by deep-diving colleagues from Duke University and Woods Hole Oceanographic Institution revealed the faint "ghost" of a wooden shipwreck more than a hundred miles off the coast of North Carolina in several thousand feet of water. Resting on Blake Ridge, the wreck was briefly inspected, with the team in Alvin discovering scattered bottles, a ship's navigational octant, ceramics, and a pile of bricks.
We returned to the Blake Ridge Wreck with NOAA Ship Okeanos Explorer to better understand the site and to create a detailed, three-dimensional "map" of the wreck with our colleagues from the Bureau of Ocean Energy Management, other agencies, universities, the private sector, and the interested public. The magic of telepresence is the ability to share and connect, and for our team of archaeologists to interact with the scientists from other disciplines both on board the ship and ashore, as we were.
Download music-free video (mp4, 128.9 MB, 02:07)
Watch produced highlight video
Read a summary of Dive 13 on the "Big Dipper" Anomaly
Read a mission log about the dive
Date: June 23, 2018
Approximate Depth: 2,156 - 2,163 meters (7,073 - 7,096 feet)