September 18
Did you know that NOAA has one of the seven Uniformed Services for the United States? The NOAA Commissioned Officer Corps (NOAA Corps) is made up of scientifically and technically trained officers – each holds at least a four-year degree and many have completed post-graduate degrees as well. These officers have expertise in marine biology, hydrography, engineering, Earth sciences, oceanography, meteorology, fisheries science, and more. NOAA Corps officers operate NOAA's ships, fly aircraft, manage research projects, conduct diving operations, and bring operational expertise to staff positions throughout NOAA. When commissioned service is combined with scientific and operational expertise, the result is accomplished people who provide a unique and important service to the nation.
NOAA Ship Okeanos Explorer has been fortunate to have many skilled and knowledgeable NOAA Corps officers on board. The first time the ship had three female officers on board was during the Laulima O Ka Moana: Exploring Deep Monument Waters Around Johnston Atoll expedition. They are together again on our current Deep-Sea Symphony: Exploring the Musicians Seamounts expedition. These highly-trained and dedicated people include Lieutenant Commander (LCDR) Fionna Matheson, Ensign (ENS) Anna Hallingstad, and ENS Brianna Pacheco. They have come from all over the country – Washington, New Jersey, and Florida – and each has an enduring love of the ocean and a desire to serve her country.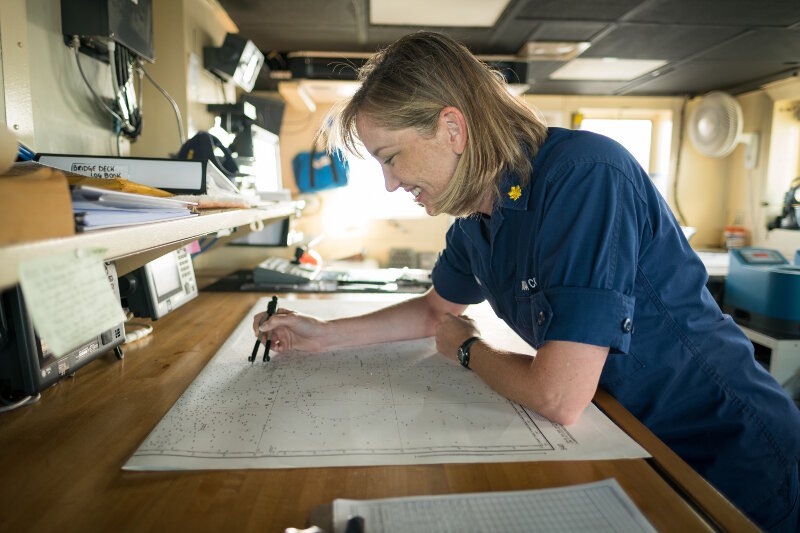 LCDR Matheson spent her childhood playing in marshes and bays, continually fascinated with animals. At age 11, she became a volunteer docent at the Museum of Science and Industry in Chicago, where she thoroughly enjoyed the excitement of sharing knowledge and adding nuance to people's understanding of our world. She studied biology in college and had an internship that allowed her to care for and study octopus, cuttlefish, nautilus, and squids. She was thrilled to find the NOAA Corps 13 years ago, where she gets to continue her love for science and the outdoors. Her career has taken her all over the country, to the eastern and south Pacific, the Arctic Circle, the North Atlantic, the Caribbean, and the Gulf of Mexico.
As NOAA Ship Okeanos Explorer's Executive Officer, LCDR Matheson is second-in-command on the ship. She manages people, time, and money. While this does require a lot of consultations, administrative work, and meetings, she makes time every day to connect with her shipmates. She says, "I enjoy those little rituals - visiting mission control to chat with the mapping team, learning a few photography tips from the videographers or a bit of interesting stuff from our science experts, and stopping by the machine shop for a quick espresso with the engineers. In these moments I get to learn a little bit from my shipmates each day. They're experts in their departments. I get to be a generalist, learning a bit about everything. All of the officers take turns driving the ship during ROV [remotely operated vehicle] deployment and recovery. That's fun, because it requires the integration of so many factors – it's like a dance."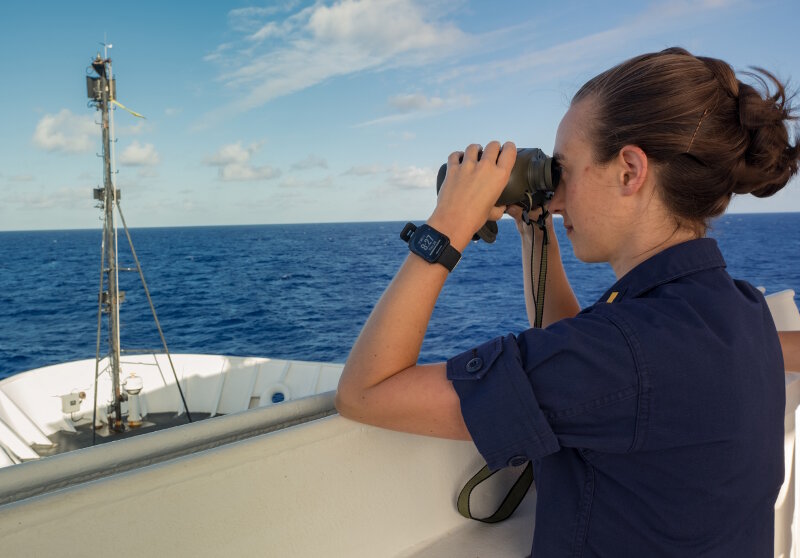 ENS Hallingstad is new to NOAA Corps and has always loved the marine environment. Growing up near the ocean, she decided very early that she wanted to work close to the sea. She studied Earth Systems with a concentration in Oceans for her undergraduate degree and completed her master's in ocean science while studying human interactions with the marine realm. Her record of service started with the AmeriCorps and has continued at NOAA. As a longtime fan of NOAA's publicly available science, joining NOAA Corps allowed her to contribute to NOAA's mission, serve her country and planet, and learn skills that will give her endless possibilities to work on or near the water for her entire career.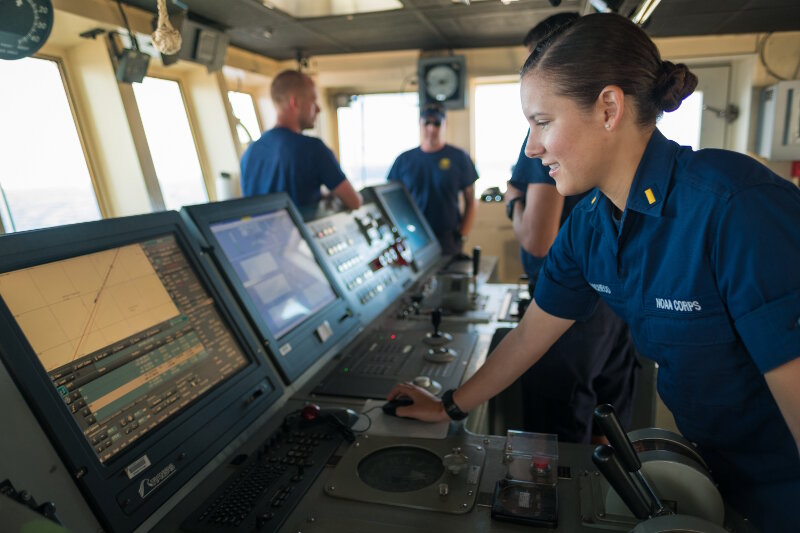 ENS Pacheco, who studied chemistry, decided pretty quickly that an adventurous life at sea would be the right fit for her career. Before joining the NOAA Corps, she served with the U.S. Coast Guard. She has been stationed on NOAA Ship Okeanos Explorer since December 2016. It is her dream job, as it combines her love for the sea, science, and service to her country. She treasures time spent outside. Surprisingly, due to the nature of her job, it is sometimes difficult to get outside, relax, feel the sunlight, and enjoy the fresh air while underway. She has a full schedule every day. In addition to her watchstanding duties, she also works to keep up the morale of the crew by hosting fun ship events like Sunday Sundaes, running the ship's store, and hosting movie nights. ENS Pacheco also serves as the Environmental Compliance Officer (ECO), conducting visual inspections of the ship, leading oil spill and hazardous material drills, and making sure all crew members are up to date with ECO-related training.
ENS Hallingstad and ENS Pacheco have incredibly busy days. They stand watch on deck, control the ship's movements, maintain the logs, plot fixes on the paper charts, and keep an eye out for traffic or other hazards. When it's time to prepare for a remotely operated vehicle (ROV) dive, they bring the ship on station (the target point where the dive will begin), put it in dynamic positioning mode, and help the crew with deployment and recovery of the ROVs, Seirios and Deep Discoverer. ENS Pacheco has obtained her Officer of the Deck (OOD) qualification, and ENS Hallingstad is currently working to obtain the qualification; this is a considerable responsibility.
All of these officers had advice for people who may be interested in this exciting career path.
LCDR Matheson recommended, "It's healthy to examine your career choice every few year, and make sure it's still the right one. I know plenty of people who are very happy with their careers in NOAA Corps and just as many who have left to build great careers outside the Corps. Don't feel guilty if you question your professional choices. It's important to think about the impact you're having, where you can do the most good, what you can live with – and without."
ENS Hallingstad advised, "Don't be afraid to work hard, get out of your comfort zone, and tackle the less glamorous tasks. You will learn self-discipline, humility, and work ethic. All are critical to being a successful NOAA Corps officer. These attributes will lead you to remarkable places and accomplishments no matter what career path you wind up on."
ENS Pacheco added, "Take every opportunity you have to go out to sea. Even only a few days here and there will help prepare you for shipboard life."
While life at sea can present many challenges, it can also be highly rewarding. Each of these NOAA Corps officers maintains a positive outlook and can-do attitude, which helps to maintain the high morale of the crew. Each officer shared their lighter side by telling us which deep-sea creature they would like to be and why.
LCDR Matheson: They're not really deep-sea animals, but I'd like to be a manta ray. They're graceful, they have large brains, and they can regenerate tissue after they're attacked. Healing themselves is their superpower.
ENS Hallingstad: A sperm whale! It would be fascinating to understand how an intelligent being experiences the world from such a radically different perspective than we little, land-adapted humans do. (This is my answer as long as we're talking 21st Century, not, say, 19th Century...)
ENS Pacheco: I would be a Blue-ringed octopus, one of the deadliest animals in the sea. Typically, the victim is unaware of the danger and either picks up the innocuous-looking octopus or inadvertently contacts it. Often the victim doesn't even know that he has been bitten. Some bites are even fatal. OR rather than choosing a "deep-sea creature," I think I would be a flying fish! They get the best of both worlds! I could leap out of the water and glide over the surface, while still having the capability to swim and explore below.