Purpose
Why Are We Exploring the Musician Seamounts?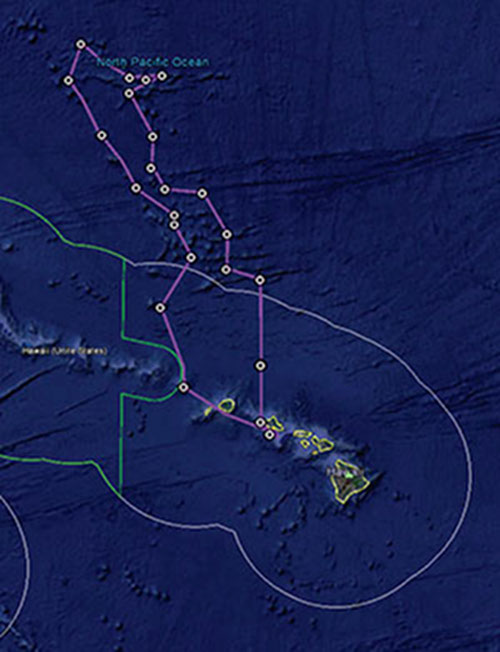 In July 2015, a team of NOAA and partners initiated the 'Campaign to Address Pacific monument Science, Technology, and Ocean NEeds (CAPSTONE)'. CAPSTONE is a major multi-year science initiative to collect deepwater baseline information to support science and management decisions in and around U.S. marine protected areas in the central and western Pacific. These areas contain some of the last relatively pristine marine ecosystems on the planet and harbor numerous protected species, undiscovered shipwrecks, and cultural landscapes. Their designation is unprecedented in terms of geographic scope, ecological value, and national symbolism for ocean conservation.
For the past three years, NOAA Ship Okeanos Explorer has been conducting expeditions in this region. The Deep-Sea Symphony: Exploring the Musicians Seamounts expedition is the last mission of this campaign.
A largely unexplored 650 nautical mile seamount chain makes up the Musicians Seamounts, located northwest of the main Hawaiian Islands. As one of the closest seamount groups to the Hawaiian Islands, the Musicians Seamounts may serve as refuge for transient fish populations that Hawaii relies upon (food security), provide additional habitat, and serve as a pool of genetic diversity for deep-sea coral populations known to live in the deep waters around Hawaii. Characterizing these habitats will help us better understand potential connectivity with the surrounding waters and guide future management decisions.
The Musicians Seamounts also offer a unique opportunity to expand our geological knowledge of fracture zones, hotspot volcanism, and how these features interact in areas where they coexist. By learning more about these features in the Musicians Seamounts, we can better understand geologically active areas in other ocean regions.
In addition to exploring the seafloor, this expedition will also explore the water column. The water column makes up 95 to 99 percent of the total livable volume of the planet, and the organisms that live in the water column are an essential link in the marine ecosystem. Many zooplankton and small fishes feed near the ocean surface at night and travel to much deeper depths during the day, where they become an important food resource. Throughout the global ocean, there is an abundance of animals living at depths of 200-1000 meters within the water column, and this expedition provides a rare opportunity to explore this unique region of the ocean.
Exploration Technologies
During this expedition, the exploration strategy of NOAA Ship Okeanos Explorer will be employed: bathymetric mapping using multibeam sonar; water column exploration using a Conductivity, Temperature and Depth Profiler (CTD) and other sensors; and remote imaging and filming with remotely operated vehicle (ROV) Deep Discoverer.
Scientists from around the world will participate in the explorations in real time through telepresence technology. Students and the general public can watch ROV dives live and listen to scientists discuss the footage on the NOAA Ocean Explorer website.
Information on past CAPSTONE expeditions can be found here.