May 6
To quote one of our shore-based scientists, "this is the most fantastic thing I have ever seen!" Yesterday's dive was phenomenal. During Dive 05, we investigated a ridge off the southeast side of Jarvis Island. As we transited upslope, the ridge had high biodiversity, with several small- to medium-sized high-density communities of different organisms. As we entered each new depth range, we found a new high-density community. Seeing one high-density community is usually something to get excited about, but seeing six? That is exceptionally rare and truly amazing.
High-density communities observed included a couple anchored by different types of deep-sea corals; multiple instances of stands of crinoids, urchins, holothurians, and ophiuroids; an expansive landscape of polychaete thickets; and a stretch of hundreds, if not thousands, of primnoid colonies.
Not all of our interesting observations were of high-density communities; we also documented several unusual animals, as well as common animals behaving in rarely seen ways.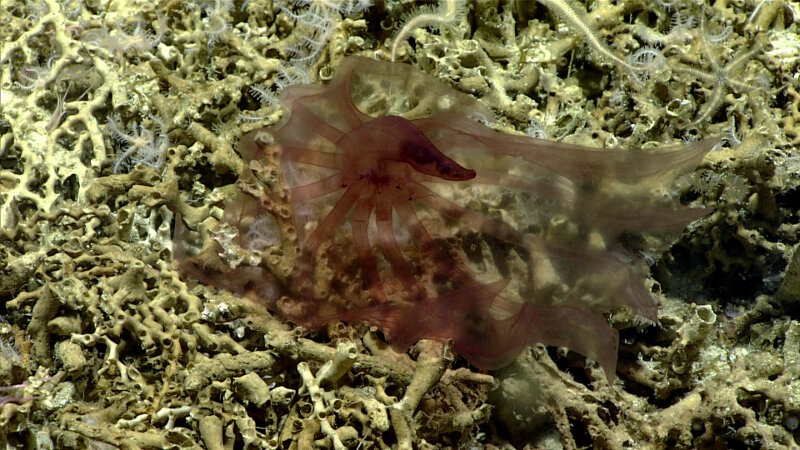 The excitement wasn't just limited to the benthic life either. We saw several different fish species, a shark, and then ended the dive with a school of Randall's snappers, lurking just outside of Deep Discoverer's light pool.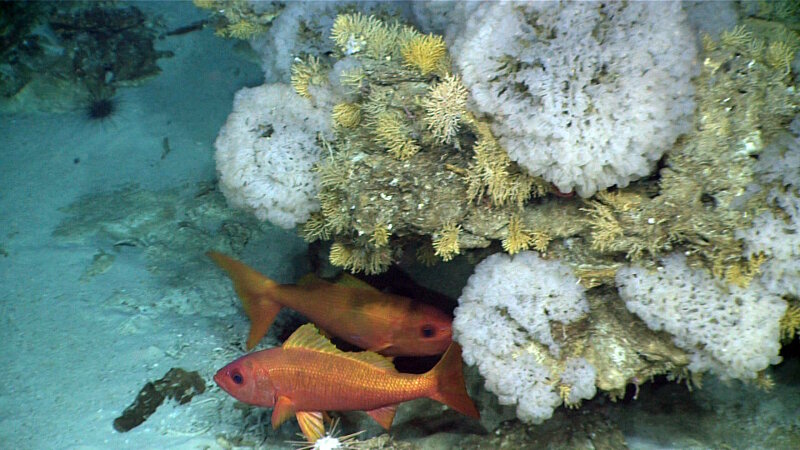 Our observations of the deep sea are relatively few, and there are still many places in our ocean that have never been seen by humans. Since we typically only get to see a snapshot of a community, it is particularly exciting when we are able to observe in situ behaviors or life history events – like predation or breeding. This helps us better understand how an organism lives its life versus just knowing that they exist in a given location.