June 30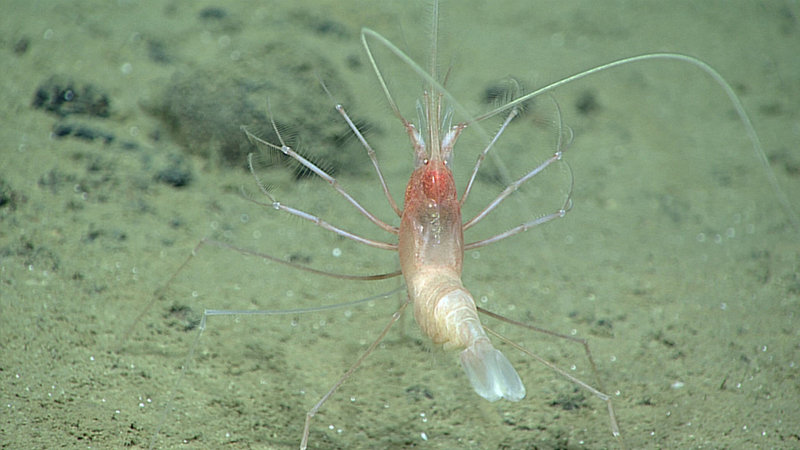 All too often, deep-sea animals are known only from a single broken specimen or a few, collected many years ago. So it was very unusual to see this deep-sea shrimp alive during a Deep Discoverer remotely operated vehicle dive, as scientists explored the deep sea around the Mariana Trench.
This shrimp belongs to the family Stylodactylidae (style-oh-dack-TILL-uh-dee), which means "stylet finger." Stylodactylidae occur in great depths well below scuba diving limits; this one was seen at close to 5,000 meters and may be the deepest record for any shrimp of the entire infraorder Caridea. They are recognizable by those peculiar hairy anterior legs and the spiny rostrum (the area between the eyes).
Those of us who work on deep-sea animals were stunned to get the very first photograph of a living one using those hairy legs as a filter to capture tiny food particles. Few shrimps filter feed in the deep sea or elsewhere.
Based on the size, spiny grooved carapace, and long rostrum, we (Sammy DeGrave and Mary Wicksten) think that this might be Bathystylodactylus bathyalis, known previously from a single specimen from the Coral Sea and missing its posterior legs.
This photo may also be the deepest record of one of these shrimps and indeed is among the deepest records for any true shrimp (order Decapoda).