June 28
Most traditional ocean science cruises are planned and conducted with a singular purpose: to test the hypothesis of a Principal Investigator(s) or to collect baseline data to address a specific need (e.g., an environmental assessment prior to oil and gas activities). During these types of projects, all or nearly all of the science team is physically located onboard the ship and have been developing specific goals and objectives for the cruise plan for months or years.
Once at sea, operations are usually conducted around-the-clock and surveys are designed to collect data to test hypotheses or search for specific types of resources. All or most of the expertise is physically onboard, and oftentimes there is limited email, phone connectivity, and bandwidth to share information with shore.
The team onboard will work long hours to gather as much data as they can during the cruise – often their only or one of very few cruises that year – and spend several months or a few years analyzing, writing, and publishing the results. The final product is usually one or more articles in a peer-reviewed publication and (more recently) may also include providing the raw data to the National Data Centers.
Commissioned in August 2008, NOAA Ship Okeanos Explorer was brought online as the nation's first and only federal vessel with a mandate to explore the unknown ocean, and to do it in a unique and innovative way: by conducting community-driven, telepresence-enabled systematic ocean exploration.
In systematic exploration – the first step is reconnaissance – and the Okeanos uses a suite of deepwater sonars to create baseline maps of the seafloor and collect information about the water column. Anomalies may be further investigated using a CTD rosette system. The final step is site characterization – using a two-body remotely operated vehicle (ROV), anomalies and sites of interest identified in mapping data are imaged and characterized.
Community-driven Planning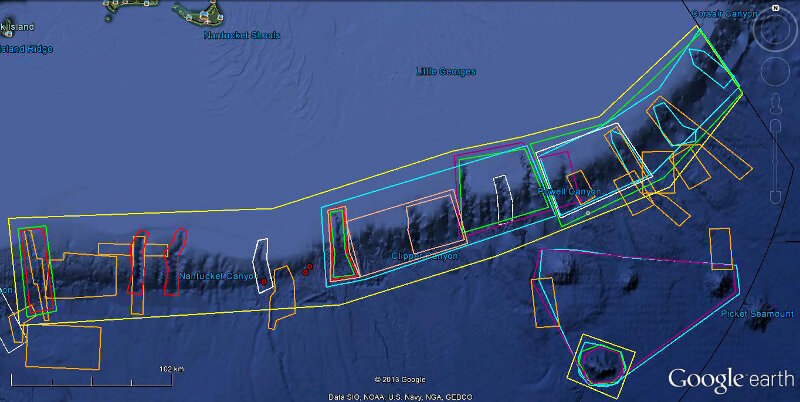 The primary goal of Okeanos Explorer cruises is to collect baseline information in unknown and poorly understood areas identified as priority by the ocean science community and to make those data and information available to generate follow-on exploration, research, and management activities. So Okeanos is a hypothesis-generating, not hypothesis-testing, ship.
The priority areas are identified through community workshops, where the science community is invited to submit white papers suggesting priority areas for exploration in a particular region. Scientists and managers are then convened to discuss these submissions and ideas and identify priority boxes or themes for exploration. These priority areas are further refined by NOAA's Office of Ocean Exploration and Research (OER) through reaching out to ocean resource managers with relevant interests. Once priority areas and themes are identified, relevant scientists are invited to submit specific exploration targets that align with these priorities for consideration in the cruise plan. These submissions are reviewed by Science Team Leads and OER advisors, and a cruise or expedition plan is developed to address the community-identified priorities in the region.
Staffing and Data Sharing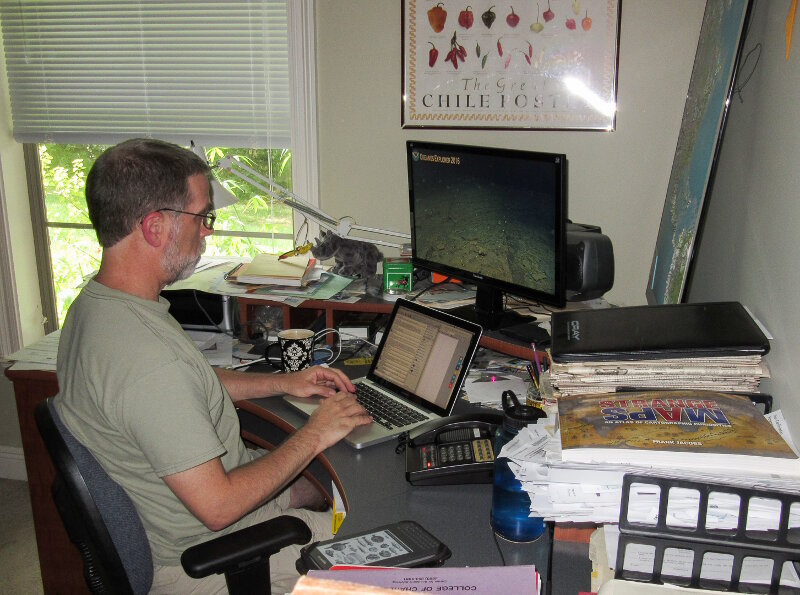 Okeanos cruises are not led by a traditional Principal Investigator or Chief Scientist. They are instead led by "Science Team Leads" who are responsible for leading the cruise and providing their expertise on behalf of the science community.
During telepresence-enabled ROV cruises, only two scientists are onboard the ship and the majority of the science team participates from shore via telepresence. The ship is primarily staffed with mechanical and electrical engineers to operate and maintain the ROVs; survey technicians and physical scientists to acquire and process mapping and oceanographic data; telepresence and video engineers to collect and process video data, as well as stream data and products to shore in real time; an expedition coordinator to coordinate and oversee execution of all mission activities; and the ship's crew. Most of these team members sail on multiple Okeanos cruises each year, and the crew staffs the ship year-round.
Telepresence-enabled Exploration
A primary job of many onboard personnel is to collect and process data, develop data products, and to make those data and products accessible to the team on shore in real time during and as soon as possible after the cruise. The ship has a high-bandwidth satellite connection, as high as 20 mbps, that allows us to send high-definition video and data to shore in real time, conduct regular communications with shore using Voice-over IP technology, and have reliable Internet and email access – all critical capabilities for operations that engage a shore-based team around-the-clock.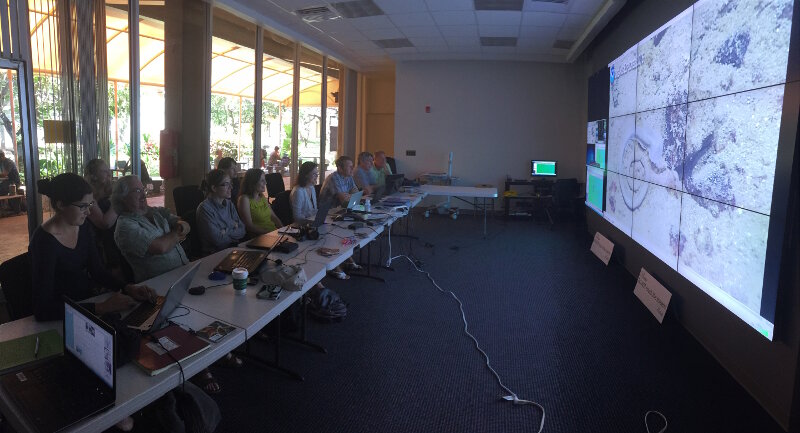 Though the Science Team Leads are responsible for identifying and ensuring a core team of scientists will participate and provide their input into a core data and product suite on a daily basis for all or a significant portion of the cruise, participation in the cruise is open to any scientist, supervised student, or manager with an appropriate expertise.
The onboard mission team regularly interacts and communicates with the team on shore via email, phone, teleconference, and instant messaging. At the beginning of every dive, a morning pre-dive briefing is held to review and, if necessary, tweak the dive plan; ensure everyone is on the same page regarding dive and sampling objectives; and share the latest data or operational updates, if needed. After the ROV dive, a second meeting is held to collaboratively discuss and adjust the science plans for the next two days. At the end of the day, the Science Team Leads send an email to the shore-based team to share the science plan for the next two days along with any operational updates.
During the dive, the two onboard Science Team Leads are joined by anywhere from eight to 40 scientists on shore who collectively identify animals and features observed, share and discuss observations, and together accomplish the goal of site characterization for the area being explored. Participating scientists request close-ups of animals or features of interest, provide input into sampling operations, and take part in deciding where to go next with the ROV.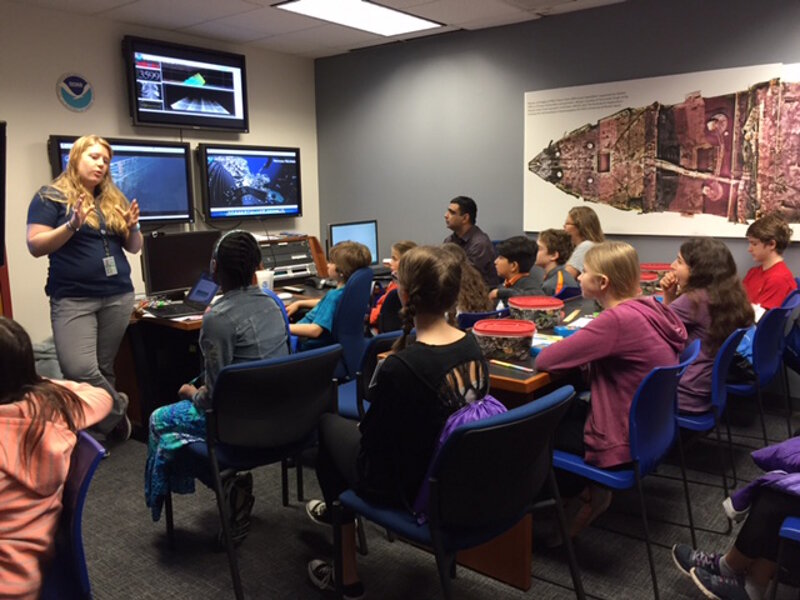 Public Engagement
At the same time that the scientists are collaborating and characterizing an area, they are also narrating the dive to provide context and educate the general public tuning in to the live video on shore. Outreach and public engagement is a priority and the entire OER team works to share the cruise with the public in real time or near real time during the cruise.
An expedition website chronicles the expedition with background essays, daily updates, topical mission logs like this one, and highlight video and images from the cruise. Social media, including Facebook and Twitter , further promotes the content and live interactions are sometimes conducted with schools, aquariums, conferences, or other venues on shore.
The End Result
The end result of Okeanos cruises is publicly available baseline data of priority areas that meet a diverse suite of stakeholder and management needs. Scientists may conduct further analysis and publish their findings in peer-reviewed publications or present them at conferences. Others might conduct follow-on research based on the observations.