April 10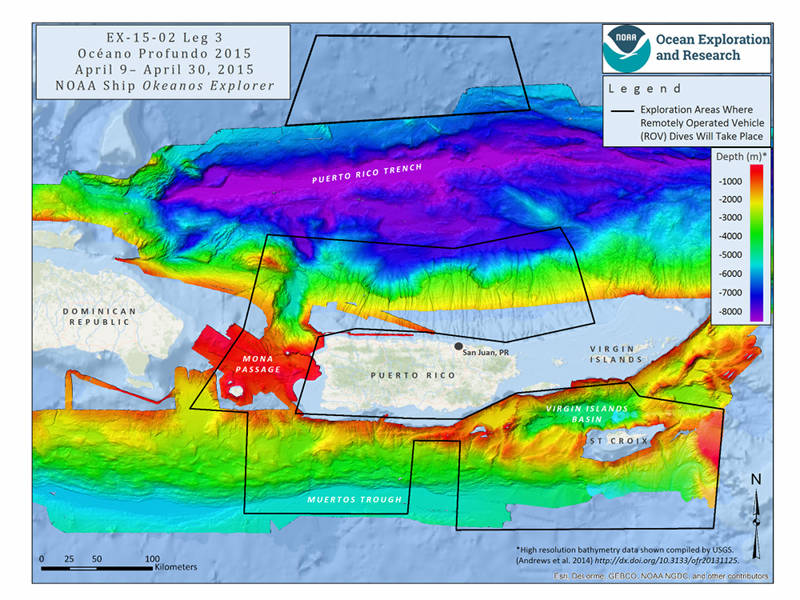 The first ideas for the Océano Profundo 2015 expedition trace their roots back to 2011, when the NOAA Office of Ocean Exploration and Research (OER), in partnership with the Institute for Exploration, hosted a workshop on Systematic Telepresence-Enabled Exploration in the Atlantic Basin.
Researchers from all over the world were invited to submit ideas on which parts of the Atlantic were most in need of exploration. A subset of those who submitted suggestions were then invited to a workshop at the University of Rhode Island to discuss their ideas with collogues from numerous marine science disciplines.
During that discussion, the Puerto Rico Trench was noted as an area that needed more exploration. The area around Puerto Rico was highlighted again in 2013 when OER and the Ocean Exploration Trust held another community workshop to discuss potential exploration targets in the in Caribbean and Gulf of Mexico. This second workshop ranked the Puerto Rico Trench, as well as the surrounding areas that have become the working grounds for Océano Profundo, as high-priority targets for explorations.
In 2015, the stars aligned with budgets and ship time to allow NOAA Ship Okeanos Explorer to conduct a three-cruise expedition to Puerto Rico. Once we knew we were going to be able to make it to Puerto Rico, detailed cruise planning started in 2014.
The Expedition Planning Begins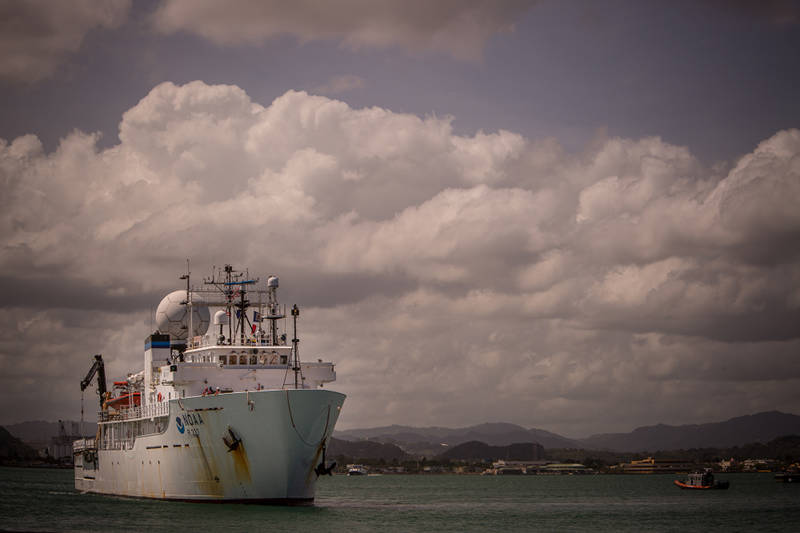 The first step in planning an expedition is to start communicating with researchers and managers who know the area best, to ensure we know which areas are least explored and would benefit the most from our operations. It falls to the Expedition Coordinators of the different cruises to start collecting data about the area by talking to different researchers and managers.
During the planning for this expedition, we contacted numerous parts of NOAA and the Bureau of Ocean Energy Management (BOEM), and we received extensive assistance from the U.S. Geological Survey (USGS). In addition to partner federal agencies, we gathered input from numerous local management agencies such as the Puerto Rican Departamento de Recursos Naturales y Ambientales (DRNA), U.S. Virgin Islands Department of Planning and Natural Resources, and the Caribbean Fisheries Management Council. Once we compiled all this input from these different organizations, we narrowed our operations area down to the boxes in Figure 1.
Once our operating area had been identified, there are a number of other logistics an Expedition Coordinator needs to consider. Are there any permits needed to conduct the expedition in this area? Can we maximize our time in any one area by minimizing transit time? Are there any logistical constraints on the expedition?
For this cruise, we didn't need any permits and we have a mapping team lead who plans our nighttime operations to efficiently collect bathymetry data and get us to our next dive site on time. However, we did have a few logistical constraints to work around – namely water-making restrictions.
Water-making Restrictions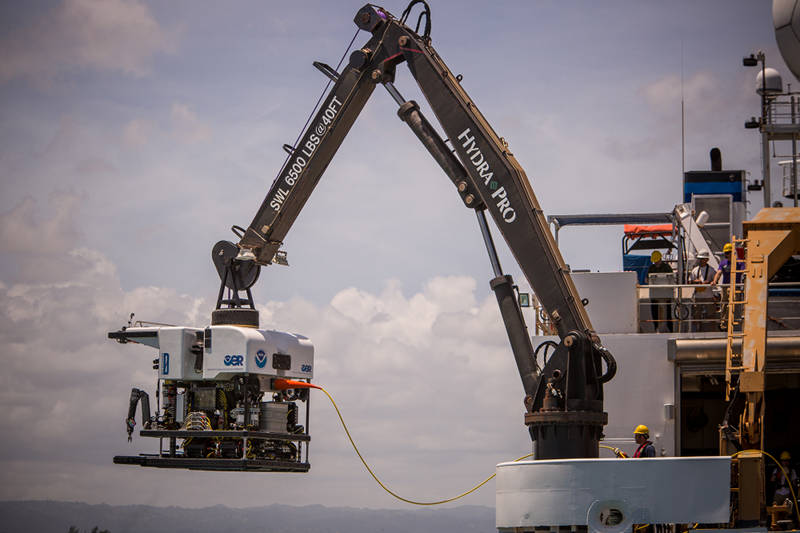 For the last several years, Okeanos Explorer has been operating far offshore in the Atlantic and the Gulf of Mexico. Operating in an area like Puerto Rico, where we can access deep water near shore, was a bit of a novelty for us. Our onboard water-making system requires we be at least 20 miles offshore in order to make water and there is only so much water we can store on the ship. So, we had to carefully plan our cruise track to capitalize on offshore water-making time while still hitting priority dive sites closer to shore. We also have to plan around seafloor hazards such as derelict fishing gear, submarine cables, unexploded ordinances, and other hazards to remotely operated vehicle (ROV) navigation.
The Science Team
The next step is to identify our science team. This winter, we started reaching out to academic researchers from all corners of the U.S. and several researchers from Europe to invite them to participate as part of our shore-based science team and suggest individual discreet dive targets.
In the weeks leading up to the cruise, we held a series of cruise planning teleconferences to get the more than 80 shore-based researchers to help us refine our operating area and identify priority dive targets and mapping boxes. We also held a series of training sessions to about the collaboration tools we use to maintain constant contact between the ship and shore.
While all of this cruise planning is taking place, our mission engineering team was busy prepping the vehicles, installing and testing new equipment, and making sure all of our telepresence and data management systems are in peak working order.
A telepresence-enabled expedition allows us to expand our science team beyond what any research vessel could accommodate and capitalize on this extended base of knowledge, but it also has a lot more moving parts that need to be kept in order.
After months of preparation, the hard work (and the fun) begins as we leave the pier and move into around the clock operations while at sea—ROV operations during daylight hours and mapping operations at night.