Unexplored Waters of Alaska and California Mapped During Uncrewed Expedition
Unexplored Waters of Alaska and California Mapped During Uncrewed Expedition
The Aleutians Uncrewed Ocean Exploration expedition has resulted in the mapping of more than 45,000 square kilometers (17,375 square miles) of seafloor in previously unexplored areas around Alaska's Aleutian Islands and off the California coast.
The collection of critically important seafloor mapping data is difficult, time consuming, and expensive. Yet, ambitious seafloor mapping goals have been set by the National Strategy for Mapping, Exploring, and Characterizing the United States Exclusive Economic Zone and the global Seabed 2030 initiative.
The purpose of this interagency public-private project was to better understand the ocean and seafloor in one of the most remote and understudied parts of the United States and move us closer to achieving these goals. It was sponsored primarily by NOAA Ocean Exploration and the Bureau of Ocean Energy Management (BOEM) and facilitated and led by the NOAA Ocean Exploration Cooperative Institute .
The Aleutians Uncrewed Ocean Exploration expedition entailed tasking Saildrone's innovative Surveyor , the world's largest uncrewed ocean mapping vehicle, with collecting ocean mapping and environmental data in areas identified as high priority by NOAA, BOEM, the U.S. Geological Survey, and the broader federal Interagency Working Group on Ocean Exploration and Characterization. It served as an excellent example of how public-private partnerships and uncrewed surface vessels (USVs) like the Surveyor can increase the pace and efficiency of seafloor mapping and help us reach national and international goals. Whether used on their own or paired with traditional ship-based operations, USVs can act as force multipliers, expanding capabilities in a way that is cheaper, more environmentally friendly, and safer.
"NOAA Ocean Exploration is excited to see the results of this remarkable multi-partner expedition come to fruition," said Jeremy Weirich, director of NOAA Ocean Exploration. "By joining forces with other federal agencies, academia, and industry, we were able to leverage a variety of expertise and multiple technologies to investigate areas off of Alaska and California that were otherwise unexplored. In order to map and characterize vast and remote expanses of the ocean, we need new technologies like the Saildrone Surveyor to augment ship-based exploration."
Exploring Alaska's Unknown Waters
Alaska's coastline is approximately one-third of the entire U.S. coastline, far longer than that of any other U.S. state or territory. And even though the waters off Alaska represent the largest distinct region of the U.S. Exclusive Economic Zone (EEZ), they remain one of the least explored areas in the United States. Prior to this project, of Alaska's approximately 3.7 million square kilometers (1.4 million square miles) of ocean, only 31% had been mapped to modern standards (100-meter resolution).
Between August and October 2022, the Saildrone Surveyor mapped 16,254 square kilometers (6,276 square miles) of unknown seafloor around the Aleutian Islands over 52 days. Preliminary data revealed unprecedented detail of the Aleutian arc seafloor including previously unknown structures, some which indicate potential hydrothermal vents.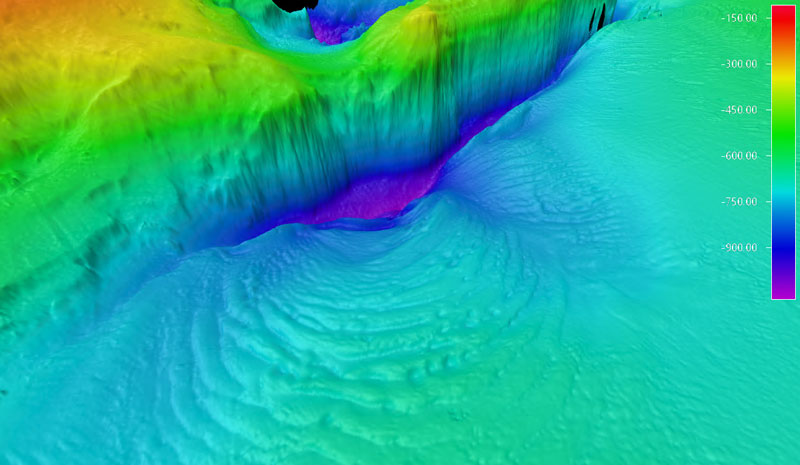 But, the exploration didn't stop at mapping. During the expedition, the Surveyor was also equipped with an Environmental Sample Processor (ESP) from MBARI (the Monterey Bay Aquarium Research Institute) . This groundbreaking "lab in a can" was used to sample and preserve environmental DNA (eDNA) — the genetic "fingerprints" left behind by marine life that can inform our knowledge about marine biodiversity and ocean health.
Throughout its time in Alaskan waters, the Surveyor performed well, despite challenging weather and tidal currents, enabling the partners to collect critical high-quality data in this remote part of the world without risk to human life and with a reduced carbon footprint.
Mapping Coastal California
During the second half of the expedition off the coast of California, the Surveyor mapped an additional 29,720 square kilometers (11,475 square miles) of the U.S. EEZ, including an unknown seamount rising approximately 1,000 meters (3,200 feet) off the seafloor. Discoveries like this improve our understanding of the physical processes of the ocean and help us identify unique habitats that need further exploration.

What's Next
Data collected during the Aleutians Uncrewed Ocean Exploration expedition will be made publicly available through NOAA's National Centers for Environmental Information to further exploration and characterization efforts and in support of U.S. and international mapping initiatives, including the Seascape Alaska regional mapping campaign. NOAA Ocean Exploration is already using some of the preliminary data collected by the Surveyor to inform its exploration of Alaskan waters with NOAA Ship Okeanos Explorer during its 2023 field season. These expeditions, the first for the ship in the region, will fill gaps in our understanding of Alaskan deep waters through mapping and remotely operated vehicle operations. These operations will establish baselines to help sustainably manage and protect Alaska's deep waters and the resources they provide and contribute to safer navigation and community access, hazard mitigation, and a deeper comprehension of and appreciation for the region's marine environment.
---
NOAA Ocean Exploration and the Bureau of Ocean Energy Management were the primary sponsors of the Aleutians Uncrewed Ocean Exploration expedition, which was led by NOAA Ocean Exploration Cooperative Institute partners at the University of New Hampshire in active partnership with Saildrone and MBARI (Monterey Bay Aquarium Research Institute). Additional funding and support came from the National Oceanographic Partnership Program, NOAA Research, NOAA's Office of Coast Survey, NOAA's Deep Sea Coral Research and Technology Program, and the U.S. Geological Survey. This project directly addressed priorities highlighted in the National Strategy for Mapping, Exploring, and Characterizing the United States Exclusive Economic Zone.
Published March 15, 2023
Updated June 14, 2023