SUNFISH® Autonomous Underwater Vehicle
Underwater caves are some of the most difficult places on this planet for us to explore. Not only do you have to deal with the cold, the pressure, and the darkness, (and for humans, the lack of oxygen!), but if something goes wrong, you can't just pop up to the surface—you have to find your way out the way you came in. Unlocking the secrets of such difficult-to-access, uncharted features requires cutting-edge technology, and that's where the SUNFISH® autonomous underwater vehicle (AUV) comes in.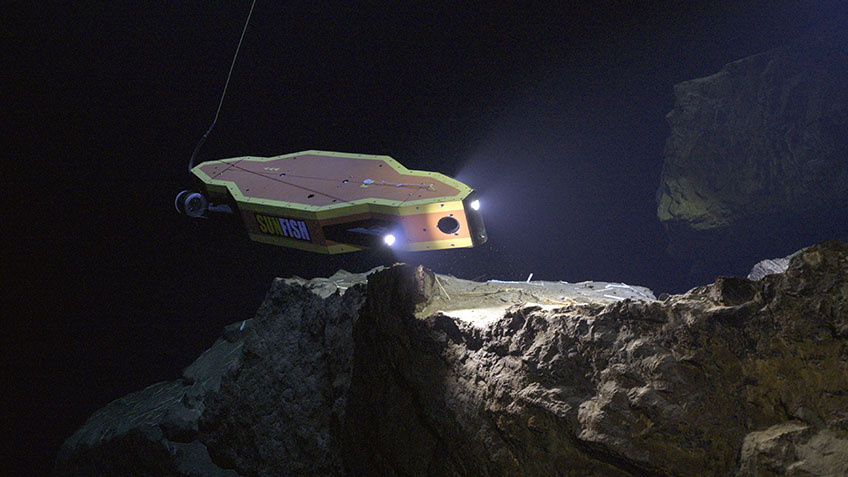 Developed in collaboration with NASA to support technology for future exploratory missions to the Jovian moon Europa, SUNFISH® is a robotic underwater explorer designed to go where no one else can. It blends advanced navigation and imaging systems to find its way through complex 3D underwater environments like reefs, caves, and tunnels. Equipped with precise six-degree-of-freedom (6-DOF) maneuverability, SUNFISH® can navigate through winding passageways and uneven terrain, pointing its sensors wherever required to get the most useful data.
One of the key capabilities of SUNFISH® lies in its autonomy. Powered by sophisticated artificial intelligence algorithms, it can navigate through and explore unknown environments without direct human control. The AUV's onboard sensors, including a high-precision inertial measurement unit, Doppler velocity log, multibeam sonar, and high-resolution camera, provide a comprehensive 3D view of the environment.
SUNFISH® combines all this data into a real-time map of the area it is exploring and then uses that map to find its way around. After returning from a mission, these real-time maps can be post-processed to provide high-resolution 3D models of the places the robot went, providing valuable context and insight for scientists to understand the remote places SUNFISH® can get to.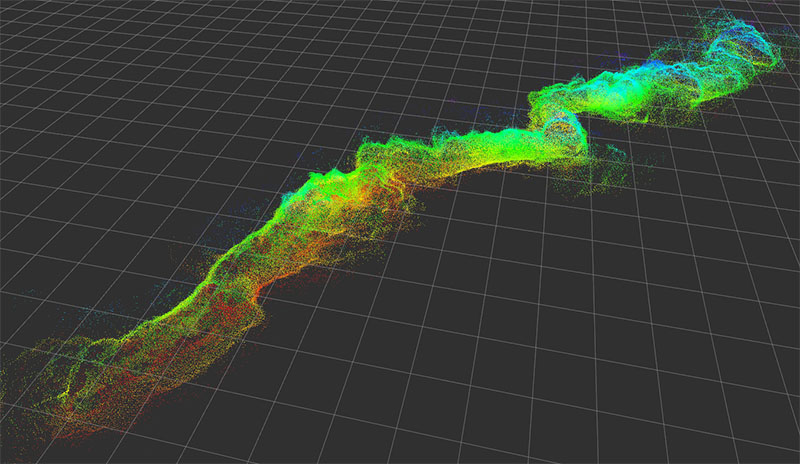 While it's moving around underwater, SUNFISH® can also trail a fiber-optic thread for high-bandwidth communications to the surface, allowing scientists to "look over its shoulder" and understand the vehicle's environment as it is being explored. This allows us to take advantage of the best capabilities of both robots and people: the robots can safely see and maneuver in places no human can go, while a human observer can provide high-level guidance, situational understanding, and expertise the robot cannot understand. Working together, we ensure optimal exploration and data collection.
SUNFISH® has gone all over the world to explore complex underwater features. For the Our Submerged Past project, it will first do high-resolution multibeam surveys of potential targets identified in 2022. It will then move in close to particular areas of interest identified from its maps in real-time and scan these areas with its camera to confirm if they are truly caves, rock overhangs, or just an anomalous reading.
If we identify an interesting cave, SUNFISH® can move inside to map it, bringing back valuable data for the science team. Based on these maps, the dive team can then select targets for sampling and maximize their effective time on the bottom while gathering sample cores.
In the future, we hope to add both a sampling system and autonomous sediment targeting capabilities to SUNFISH® to allow it to bring back samples from where divers can't reach.
---
More information:
---
By Kristof Richmond, Our Submerged Past Principal Investigator; CTO, Sunfish, Inc.
Published May 23, 2023